Make colorful Jellyfish sun catchers with this Easy Ocean Craft for Kids idea. This is a great summer craft that's cute to display on the windows and simple to do! It's Perfect for preschoolers, kindergarten kids, and school-age kids. Come on in and I'll share this fun craft that you can make with supplies you probably have lying around the house right now…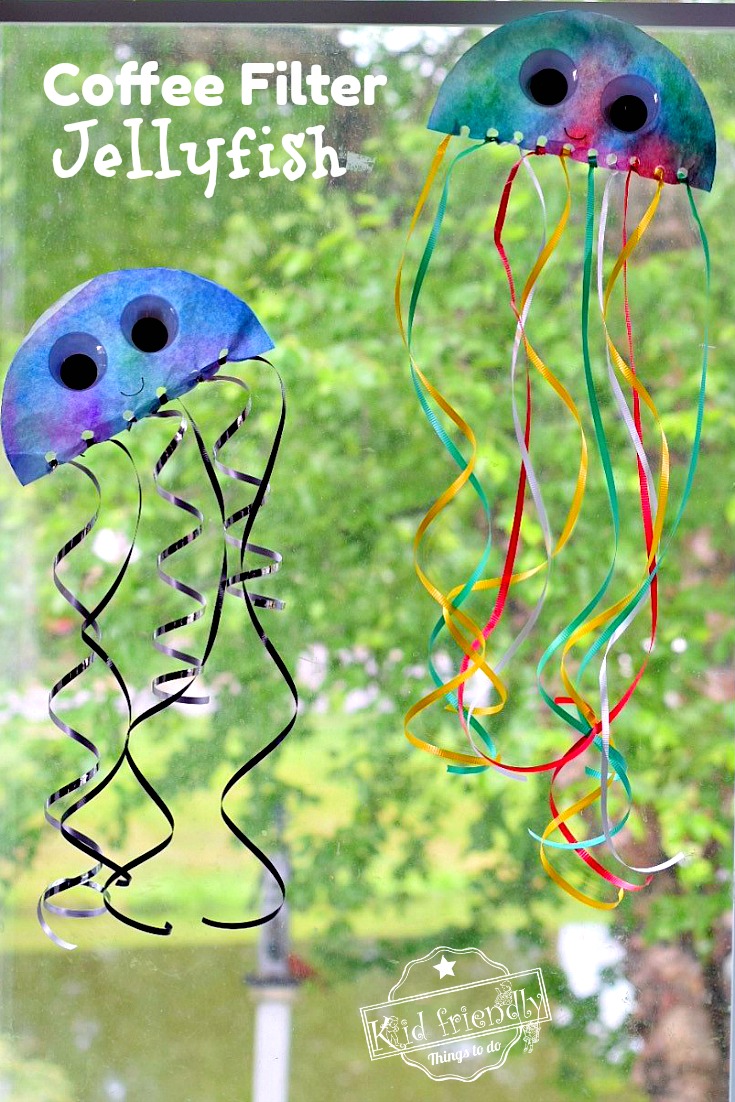 I love how colorful and cheerful these Jellyfish are hanging on the windows. They are a little touch of summer for our house.
If you are looking for Ocean themed crafts, then you might like my post on making a paper plate crab craft, or a paper plate fish craft, or Fishbowl Craft or this cute glove Octuopus
Here's a fun video on how you can make this Simple Jellyfish Suncatcher, today!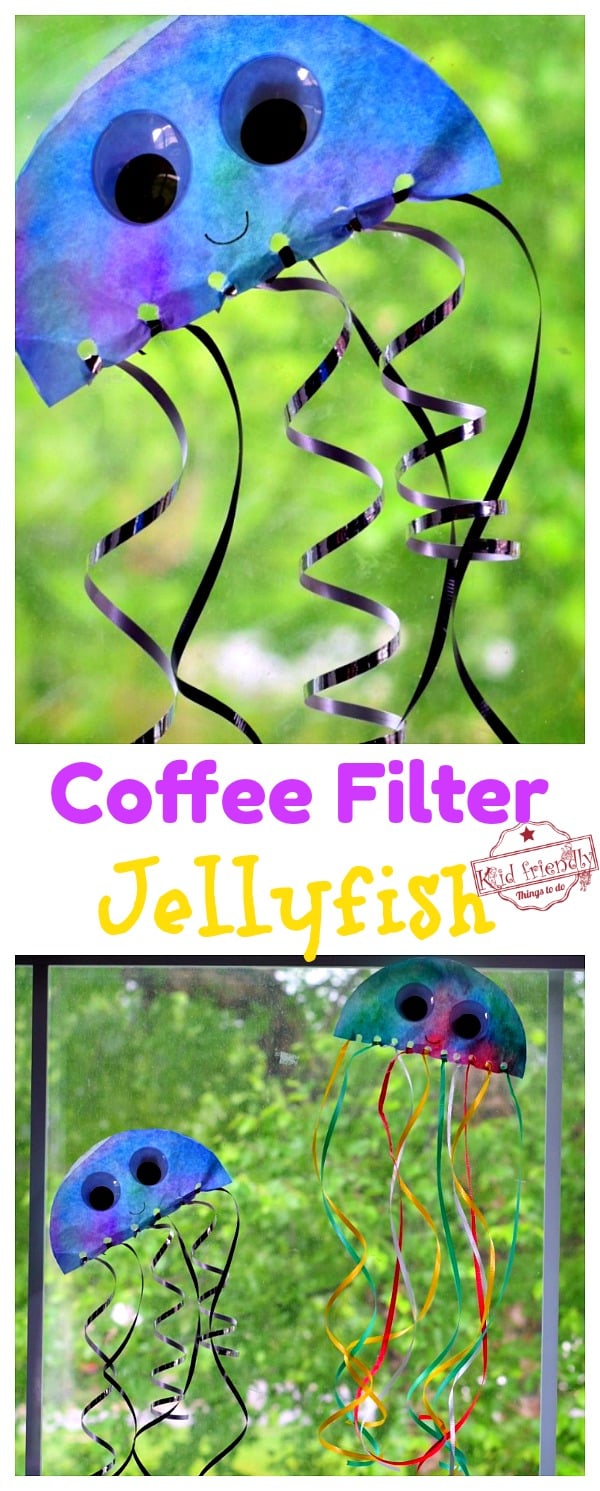 Using colorful markers to easily tie-dye the coffee filters makes this craft even more fun. You can easily change the look of each jellyfish just by blending different colored markers together.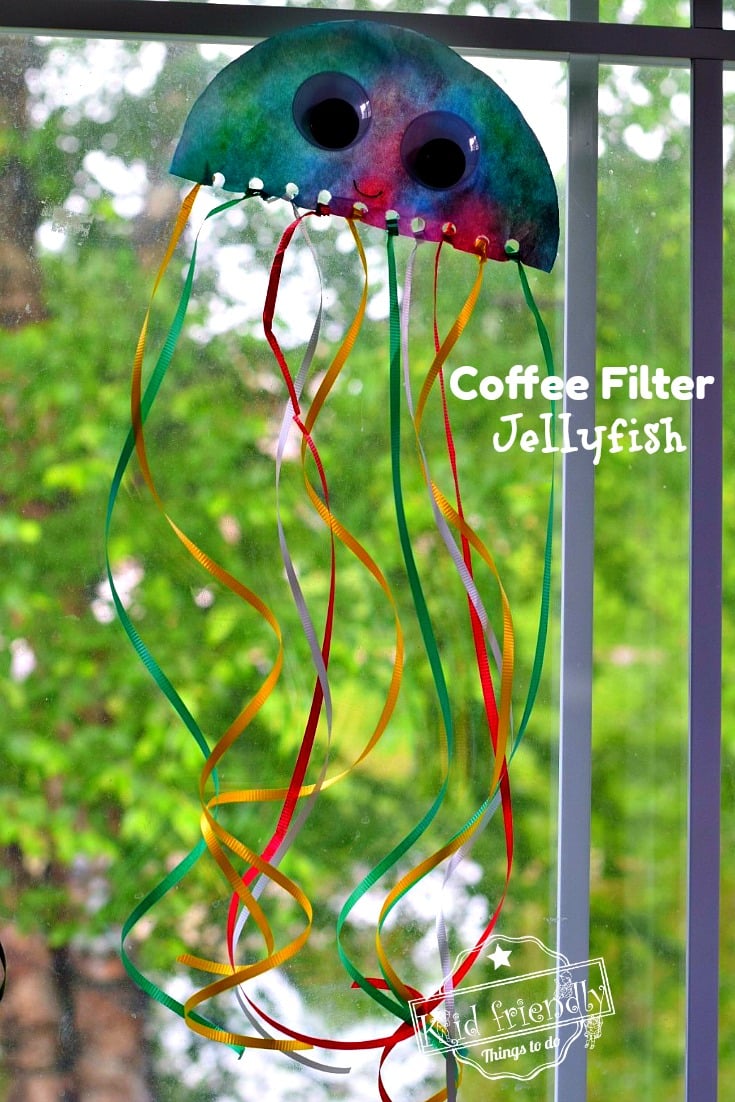 Curling ribbon colors are another quick and easy way to customize each jellyfish ocean craft.
Here are some supplies you'll need to make your Coffee Filter Jelly Fish Ocean Craft for Kids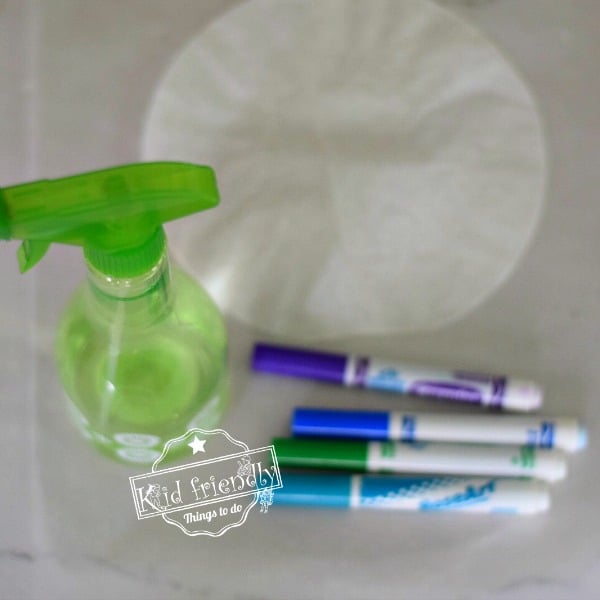 Supplies Needed
Coffee filter
Markers – we used washable school markers
Spray bottle filled with water
*Protected work surface – I'd use a tray for each kid or at least a plastic tablecloth
Curling ribbon
Paper hole punch
Scissors
Black marker
Google Eyes – Large (about 1-1&1/2 inches)
Glue stick – unless you get self-adhesive eyes 
Here are my top Amazon Picks for this Jellyfish Ocean-Themed Craft…
(affiliate links)
[box] [/box]
How do you make a Jellyfish out of Coffee Filters?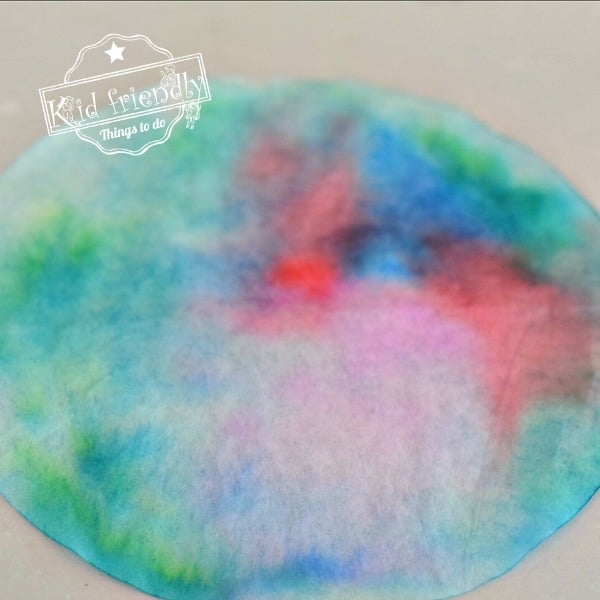 Instructions
Use a variety of colorful markers to color in some of the coffee filters
*You don't have to color it all in – the water will make the colors spread together
Kids can make swirl lines, zig-zag lines, or big dots to color the coffee filter. Again, you don't have to color it fully. You can leave some places untouched
Now…on a protected surface, spray the water from the water bottle onto the coffee filter
The colors should start running together to make a fun tie-dye pattern
Lift the coffee filter off of the wet surface and set it out in the sun, or any warm place to dry. We set ours on the grass in the backyard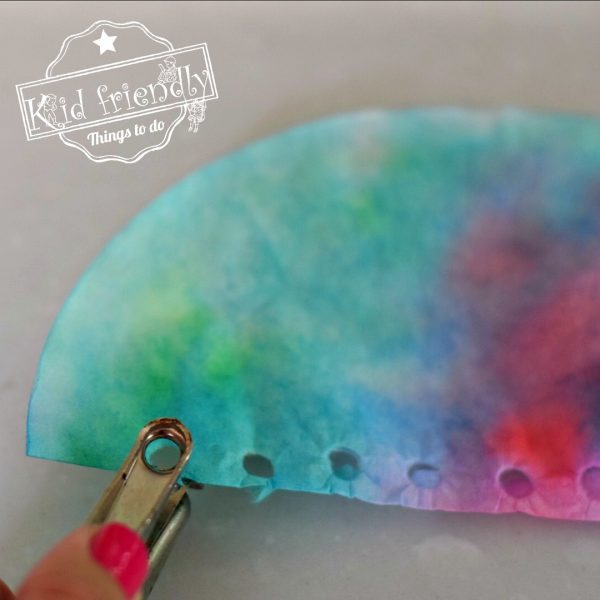 When the filter has dried, fold it in half
Punch holes along the straight egde
*I got a little carried away with the amount of holes in this jelly fish. You don't need more than 6 or 7 holes going across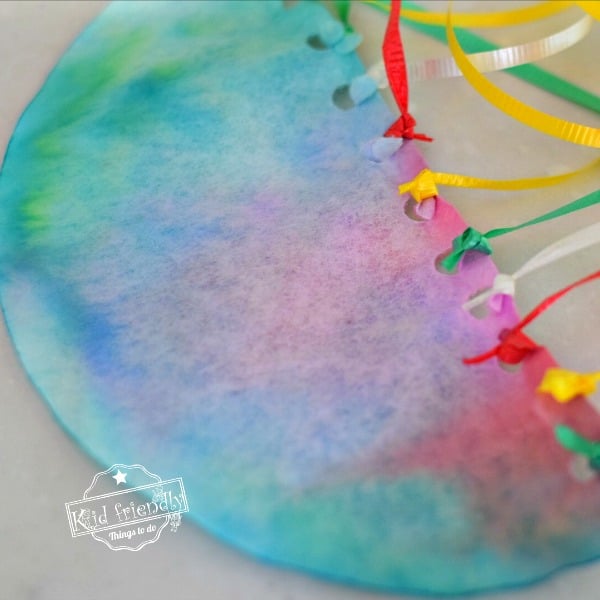 Cut various lengths out of your curling ribbon to tie to the holes and use knots to secure them in any pattern you want
Trim excess ribbon away from the knots
Use a glue stick to add google eyes and a black marker to make a smile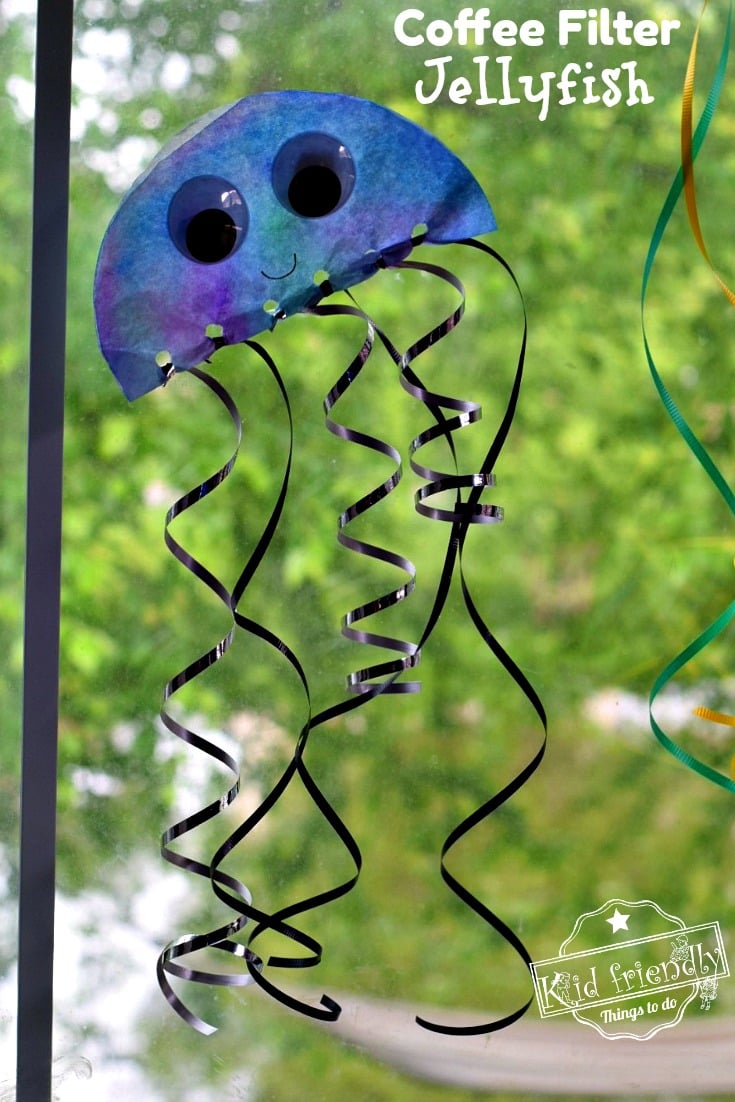 That's it! Enjoy your cheerful summertime ocean craft!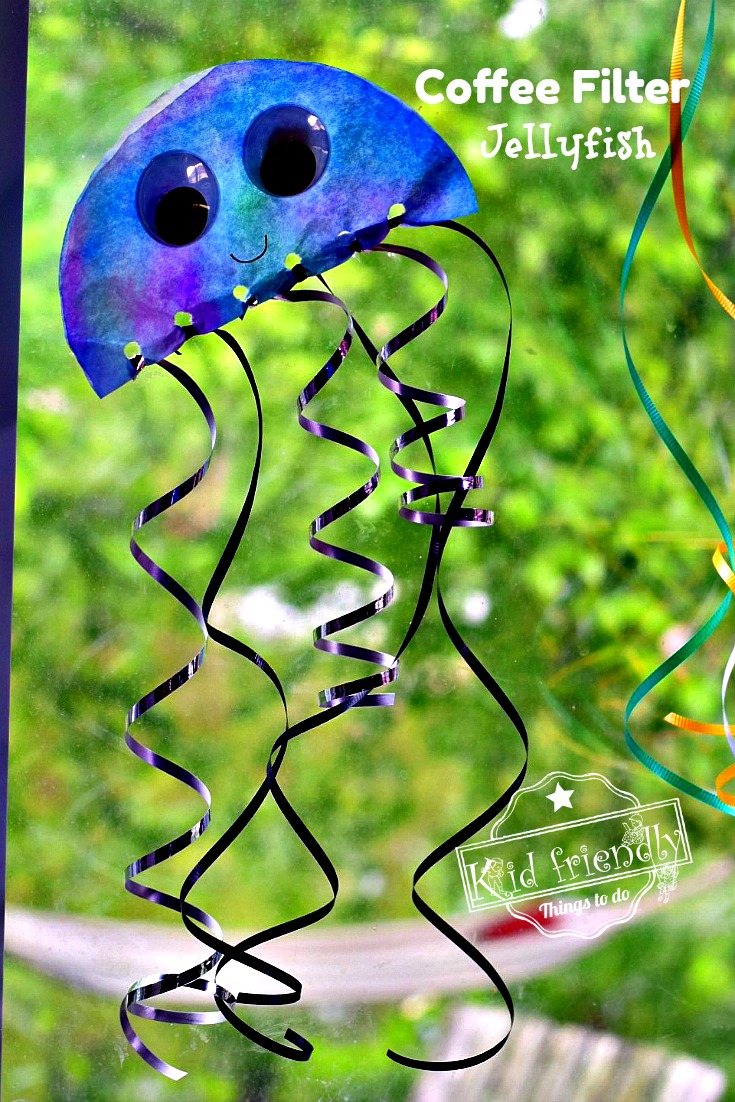 ~Melissa – Kid Friendly Things To Do