With a couple of items you probably have hanging out around the house, you can make snow paint. Have more fun on your next snow day with this homemade snow paint recipe.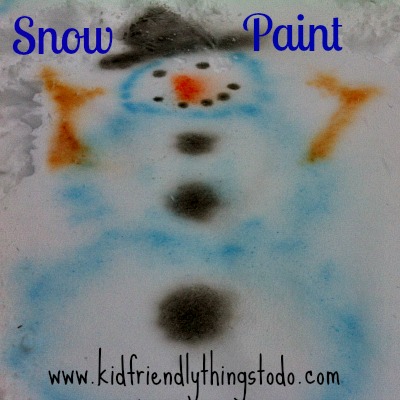 Snow Paint Recipe 
Ingredients:
Food Coloring
Water
Spray Bottles – If you don't have any empty ones, maybe your Windex (Or, whatever cleaning supplies are residing in bottles) can live in another container, while you borrow the spray bottle for the day
Now, Here's What To Do:
Fill up your spray bottles with a mixture of food coloring and water
**Darker colors will be more vibrant in the snow, so add some extra drops of coloring to your water, if it's too diluted.
Now, you can go out and paint some snow. Here are some pictures to get you started.
Just don't aim at the house 🙂
~Melissa
KidFriendlyThingsToDo.Com