Capturing Real Spider Webs is a fun activity to do with the kids and a great follow-up to a science lesson at school. It's really easy to do and so much fun to observe the beauty of the spiderwebs.
Capturing Real Spider Webs
Are you looking for science activities to do with the kids? Check out some of my other fun projects…
This year, for several little reasons, I homeschooled my kids for a short time. My intention with this idea was to use it as a follow-up activity, after a lesson on spiders.  But, fittingly enough we are catching spider webs in the Halloween time frame. So…it's not only a cool project, it's a cool decoration for Halloween.
Here's what we did before looking for spider webs 
We first talked about the different types of spider webs
We found pictures of all types and learned about funnel webs, tangled webs, and our favorite – orb webs (that's the circular one everyone pictures)
Instructions on Catching a Spider Web
You'll need a can of spray paint – you have to have this, otherwise, the web will just be transparent, and disappear on your paper. I know, because I tried to do without the paint. Live and Learn
Then go on a spider web hunt. We found several in the trees, on birdhouses, and to the kid's horror, on the playground
Spray the web you intend on capturing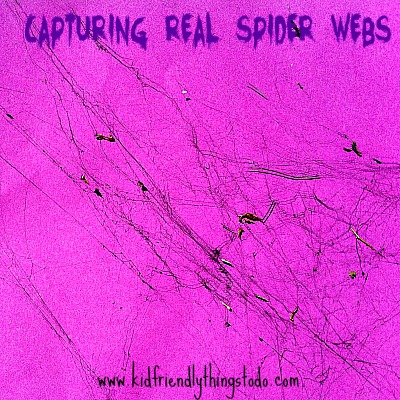 Place the construction paper behind the web. Use your fingertips to gently push the outside points of the web onto the paper. Pull the paper towards you to capture the web
Be sure to stop in at Preschool Powol Packets for more pictures, and fun facts about spiders for preschool
~ Melissa – KidFriendlyThingsToDo.com – recipes, crafts, fun foods, party ideas, DIY, Home & Garden, and fun things to do with the whole family!