Homemade Bath salts make such great gifts. They are the perfect craft for Mother's Day, Birthdays, and Holidays. Making bath salts with essential oils is a great way to have some creative fun and relax a little bit, later.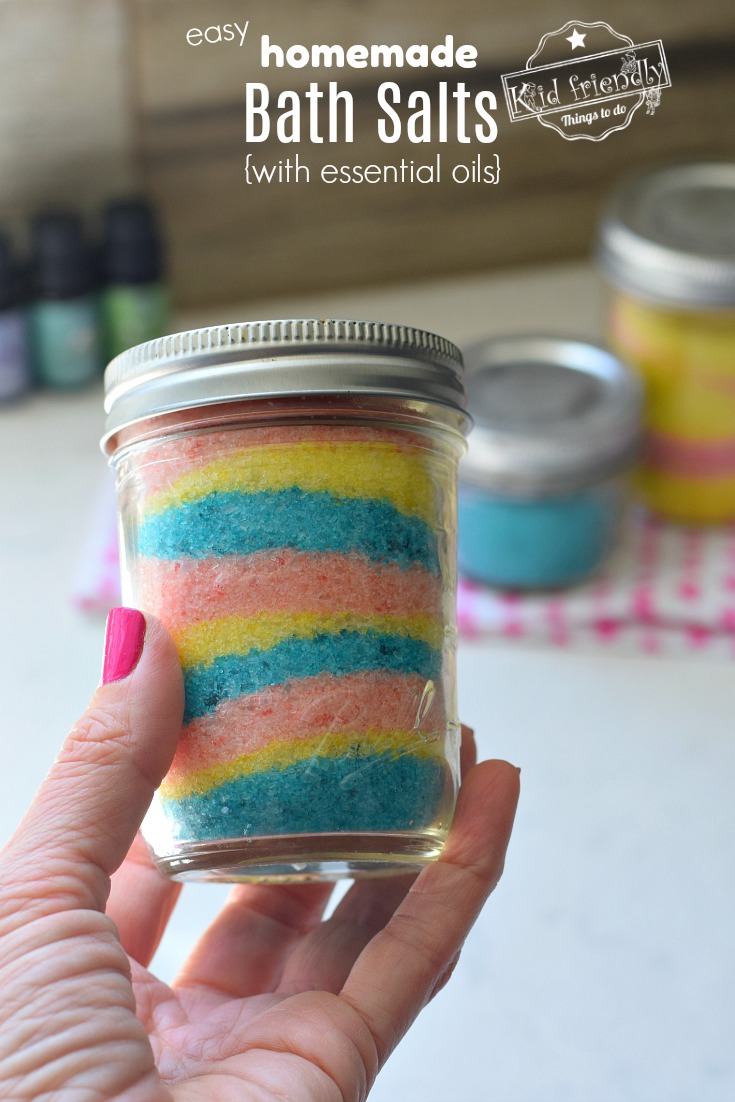 Homemade Bath Salts with Essential Oils
The kids and I used to make fun homemade gifts like this all of the time. This is a great gift to give out, but you might also love making Homemade Pixie Sticks with the kids. Another sweet and colorful gift or homemade craft is making a Popsicle Stick Flower Pot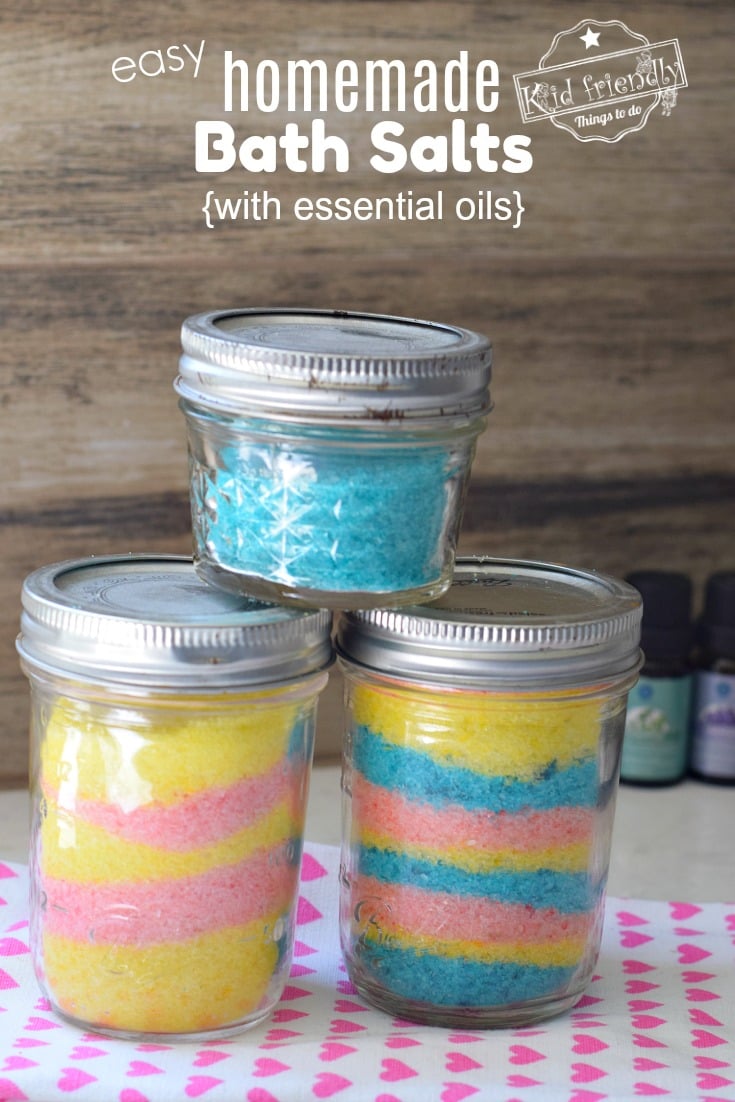 Bath salts are a fun and creative activity to do with the kids. Making bath salt designs is a lot like making sand art designs.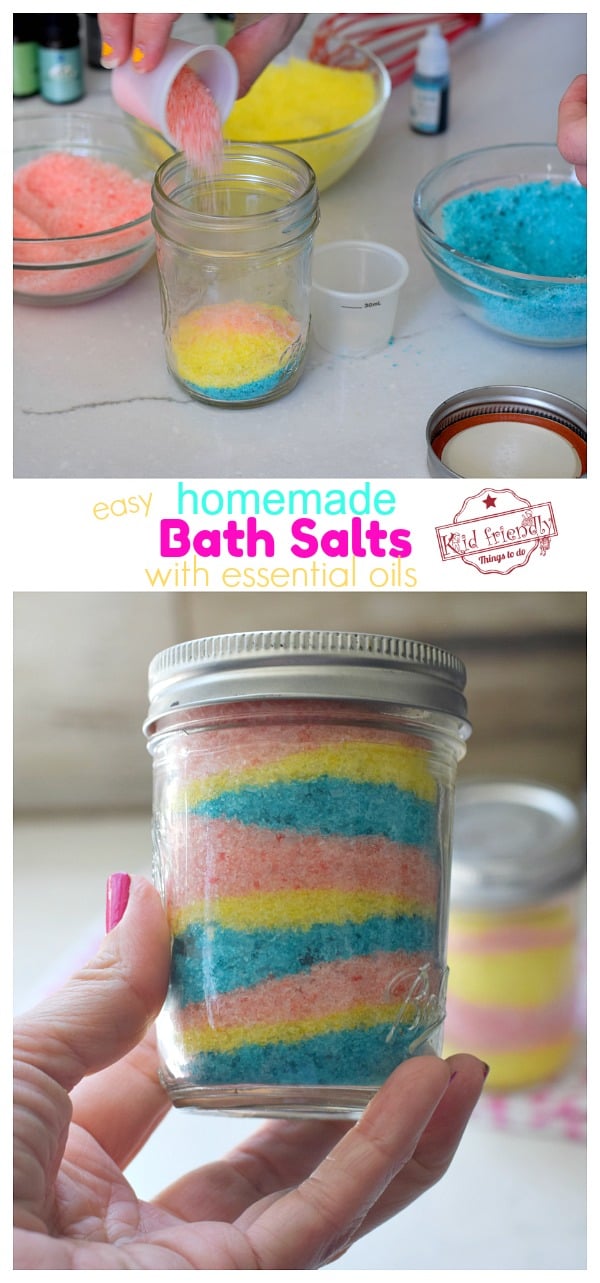 You can really get carried away making some fun designs. The end result is a nice fragrant, healing bath salt to give away or use yourself.
What Kinds of Salts are Good for Making Bath Salts?
Here's a little information on salt so you can decide which is right for you –  I used 2 salts that have great healing properties and the big bonus reason is – They are easy to find locally and inexpensive. Amen to that!
*Sea Salt has many healing qualities, including soothing, and healing itchy rashes. Sea Salt speeds up healing of lesions on the skin from poison ivy, acne, eczema, not wearing gloves at recess, etc.
*Epsom Salt has many healing qualities, including the healing of bruises, aches, and pains
Here's a link to many more salt choices and their healing properties – Organic Facts and Salt Works
What Essential Oils Should I Use for Making Bath Salts?
Here is a list of some essential oils and what they claim to help with…
lemongrass – aids in muscle pain, kills bacteria, wards off insects
peppermint – helps digestion, and mental focus helps with headaches and relieves tight muscles
lavender – reduces stress, improves brain function, heals burns, slows aging
Tea Tree – helps with acne, chickenpox, bacteria infections, cold sores, congestion, ear infections
Eucalyptus – helps with bronchitis and asthma
Rosemary – improves memory, increases circulation, muscle aches
Orange – increases circulation, kills bacteria, decreases wrinkles
Ingredients you'll need to make bath salts:
One or more Salts – We used Sea Salt and Epsom Salt
Essential Oils – for a little fragrance and healing properties
Soap Colorant – This can be found in the soap-making aisle of craft stores. You can make several different shades from only one color.
Suggested Equipment Needed:
Choose between containers with lids or bowls to mix the salts in…
Several different containers with tight-fitting lids (choose this method if you want to let the kids have fun shaking the salts to mix the colors and oils in
OR several Mixing bowls (choose this method if you'd rather whisk the salt colorant and oils with the salt)
Also suggested:
Something to scoop the salt with – Measuring cups  work great
A funnel for pouring salt into the jars
See-through gift containers to hold the salt. You'll want to admire the beautiful layers. I am using Mason Jars in this post, but we have also found great gift containers at the  Dollar Tree, and Michael's Craft Store
Here are some of my Amazon top picks for making bath salts…
(affiliate links)
[box]      [/box]
Instructions:
Pour one or more types of salt into each container
Add soap colorant
*start with just a few drops and mix it in. You can add more for a darker color
*think about leaving one of the salts without colorant. White salt provides a beautiful contrast to the colors
Add about 15-20 drops of essential oil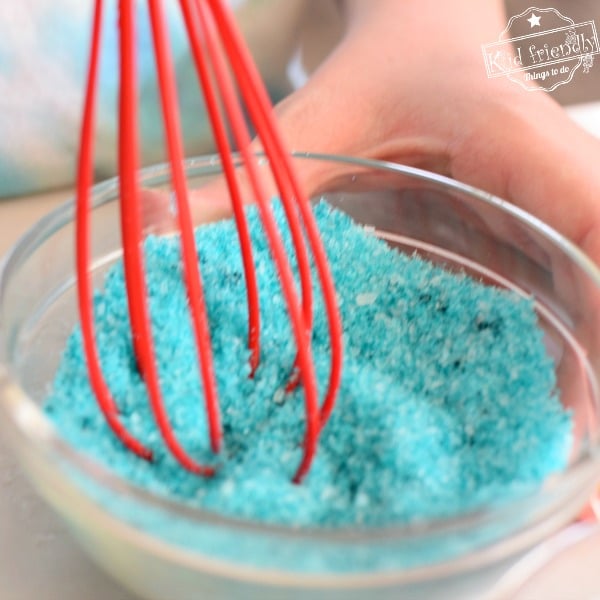 Mix with your whisk – or
Put lids on, and let the kids SHAKE the colorant to mix the color and oil into the salt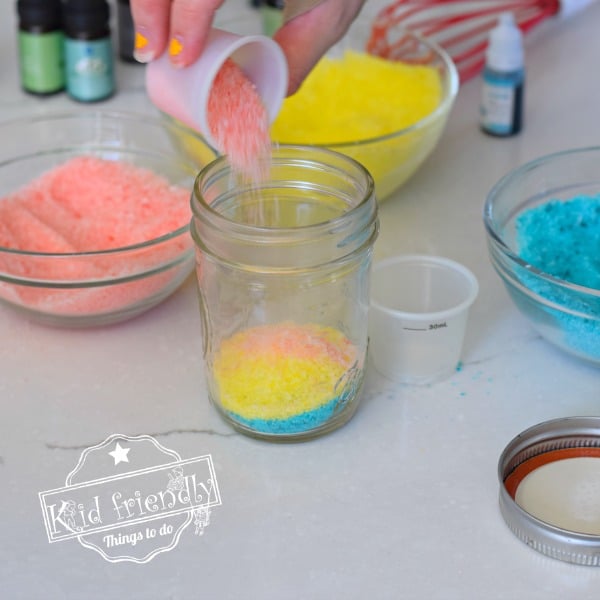 Open lids, and scoop out enough of each color to provide a layer in your gift container
Begin layering colors
*we decided to layer colors that had certain essential oils together and make our own essential oil blends like Peppermint and Eucalyptus for a Vapor Rub Effect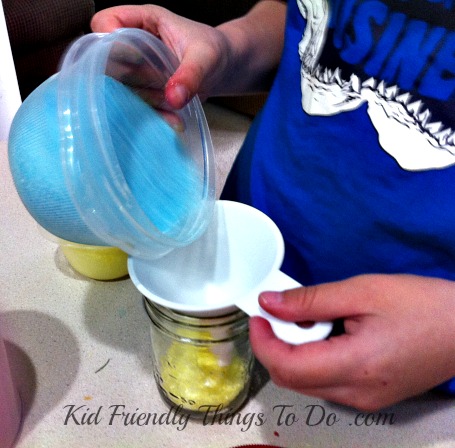 You can let little ones pour salts through a funnel-like my little guy is doing here
Only do a little of each color at a time, so you can layer the colors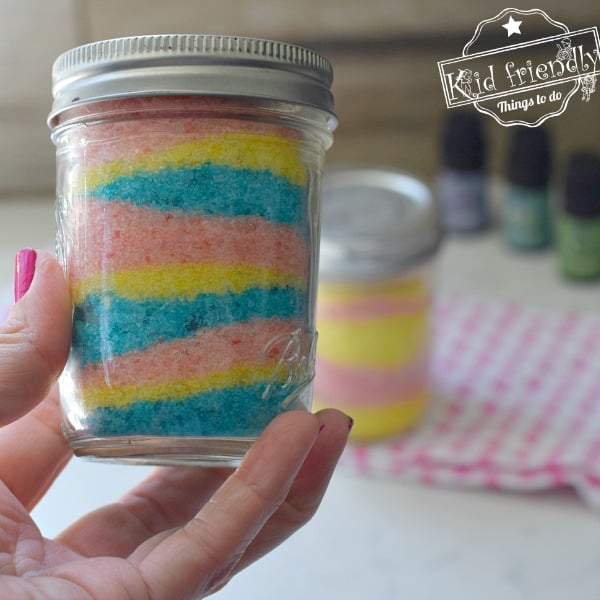 [box] [/box]
~Melissa
KidFriendlyThingsToDo.Com