DIY – Making Bath Salts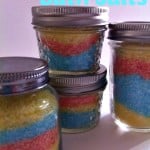 Posted by Melissa in Arts & Crafts, craft, Fall, Game Ideas, Gift Idea, Mother's Day, Mother's Day, Valentine's Day, Valentines Day, Winter | 0 comments
I am giving some old posts a face lift, and re-posting them. This craft is perfect for Mother's Day gifts!
Bath salts make such a great gifts, and they are so much fun to make. The craft is really, a lot like sand art. You can really get carried away making some fun designs! The end result is a nice fragrant, healing bath salt to give away or use yourself. Here's the tutorial on DIY – Making Bath Salts

Here's a little information on salt so you can decide which is right for you – I used 2 salts that have great healing properties and the big bonus reason – They are easy to find locally and inexpensive! Amen to that!
*Sea Salt has many healing qualities, including soothing, and healing itchy rashes. Sea Salt speeds up healing of lesions on the skin from poison ivy, acne, eczema, not wearing gloves at recess, etc.
*Epsom Salt has many healing qualities, including healing of bruises, aches, and pains
Here's a link to many more salt choices and their healing properties – Organic Facts and Salt Works
Ingredients you'll need:
One or an Assortment of Salts – We used Sea Salt, and Epsom Salt
Essential Oil – for a little fragrance
Colorant – This is also found in the soap making aisle of craft stores. You can make several different shades from only one color.
Equipment Needed:
Several different containers with tight fitting lids. The more containers, the more colors!
Something to scoop the salt with – Measuring cups work great or a funnel to pour the salt into
See through gift containers to hold the salt. You'll want to admire the beautiful layers. I am using Mason Jars in this post, but we have also found great gift containers at the Dollar Tree, and Michael's Craft Store
Here's What You Should Do:
Pour the two different types of salt into each container, add a few of drops of essential oil – adjust the amount to the size of your container. Very large containers may need more oil
Add colorant – Start with a few drops of colorant. Once you have mixed it, add more to darken the color – if desired
You can always Leave ONE WHITE. It provides a great contrast
Put lids on, and SHAKE
Open lids, and carefully scoop out enough of each color to provide a layer in your gift container
You can pour it through a funnel, like Connor is doing here
Only do a little of each color at a time, so you can layer the colors
Now, close the container tightly! That's it! Wasn't it fun?!
These are salts we made for Valentine's Day – years ago I know the images are horrible, but the kids had so much fun and they look so cute in their jammies….
I couldn't bring myself to delete them from the old post. 🙂
Some of the suggested equipment needed for this craft
~Melissa
KidFriendlyThingsToDo.Com