Copycat Cracker Barrel's Vegetable Soup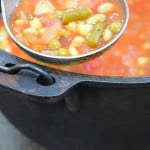 Posted by Melissa in Easy Family Recipes, Soups & Salads | 31 comments
It's Update time! Finally…right?! I've had several comments about the vast amount this soup makes. I mean it's A LOT! When I made this soup, I happened to have a kettle that is able to hold more than the average large pot you might have at home. Understandably, I have received questions about the overwhelming amount. So, while I was on vacation last month in Tennessee (Cracker Barrel's birthplace!), I played around with the recipe and downsized it. We taste tested it, and it is soooooooooooo goo-ood! It tastes so much like Cracker Barrel's soup. I was even more excited with the updated version than the first. It's still A LOT, but you'll be able to make it on your stove top with your normal extra large pot or large slow cooker. Here's both versions, enjoy!
OLD POST: It's that time of year when I get to go to my sister's and use her awesome kettle to make soup over a fire! There is nothing like having everyone gathered around a backyard fire with the smell of homemade soup on a crisp fall day.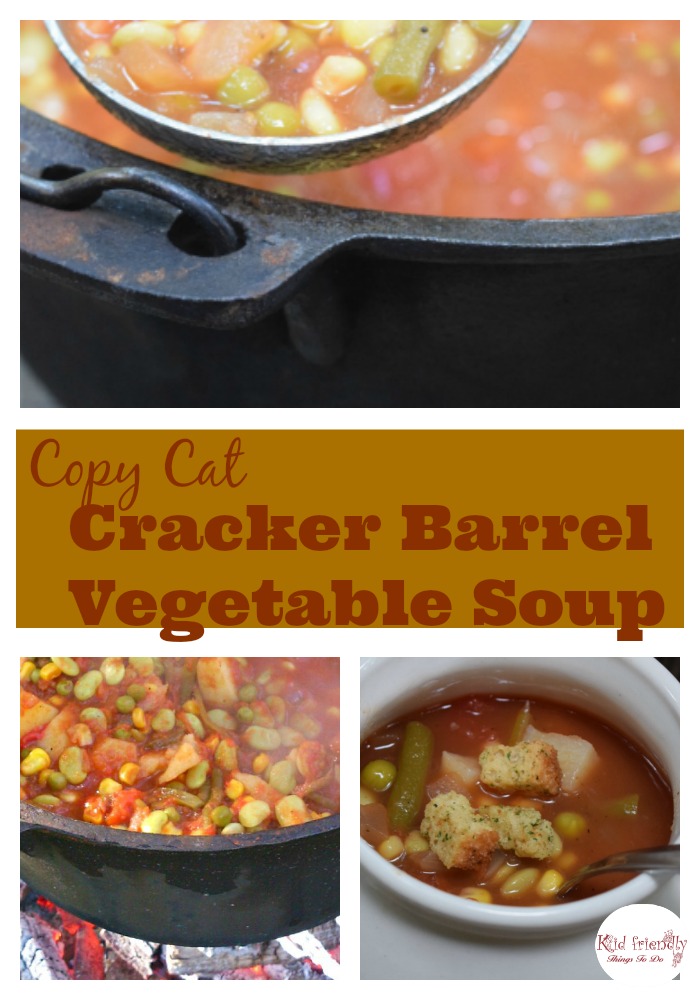 This time, being in Cracker Barrel Country, I took the opportunity to order vegetable soup the night before I tried the recipe out. I wanted to be able to really compare flavors, plus WE LOVE CRACKER BARREL. Really, we do! It was even on our summer bucket list. Check! Got that one done.
I remember eating the soup that I ordered and thinking, wow..this soup has a strong ground pepper flavor. So, I upped the ground pepper in the new recipe. It really compares, but you'll definitely want to tone it down from a full teaspoon like I did, and then add more to adjust to your liking. Once you've added it, there's no going back, but you can always add more. I happen to LOVE it, as is and it was pretty spot on from the soup I ordered the night before.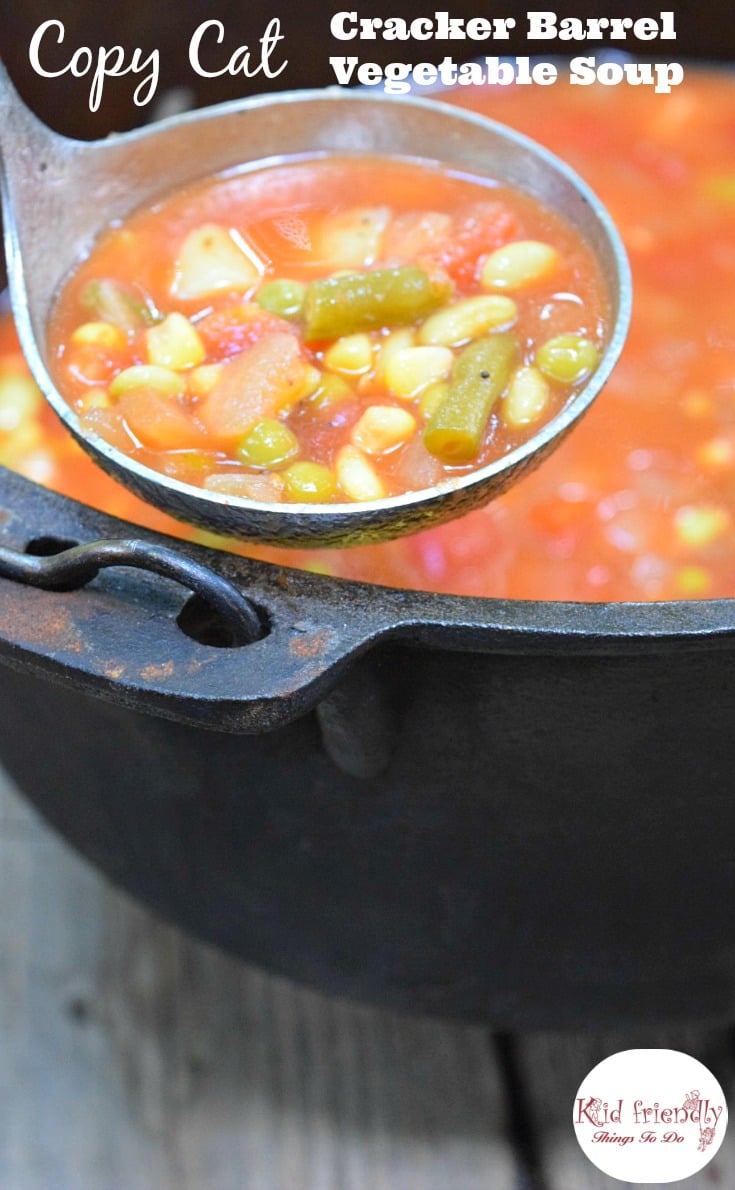 The new recipe still makes a lot! I found a large pot in the cabin we stayed in, and measured it. It was between 5 and 6 quarts. Even with my adjustments, it was filled to the tippy-top! You'll have plenty of left overs to freeze for later.
Or, you can eat it for 3 days in a row, like we did.
Here's the updated recipe that makes roughly 5-6 quarts of soup.
*(If you have a 5 quart pot, hold back on the amount of V8 – add it at the end. You should be able to fit MOST of it. Pour as much as you can to fill your pot. Once you have made the soup, and have scooped out some servings…you can pour the rest in and mix with the rest of the soup.
Print
Cracker Barrel Copy Cat Vegetable Soup – Makes 5-6 quarts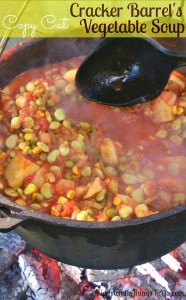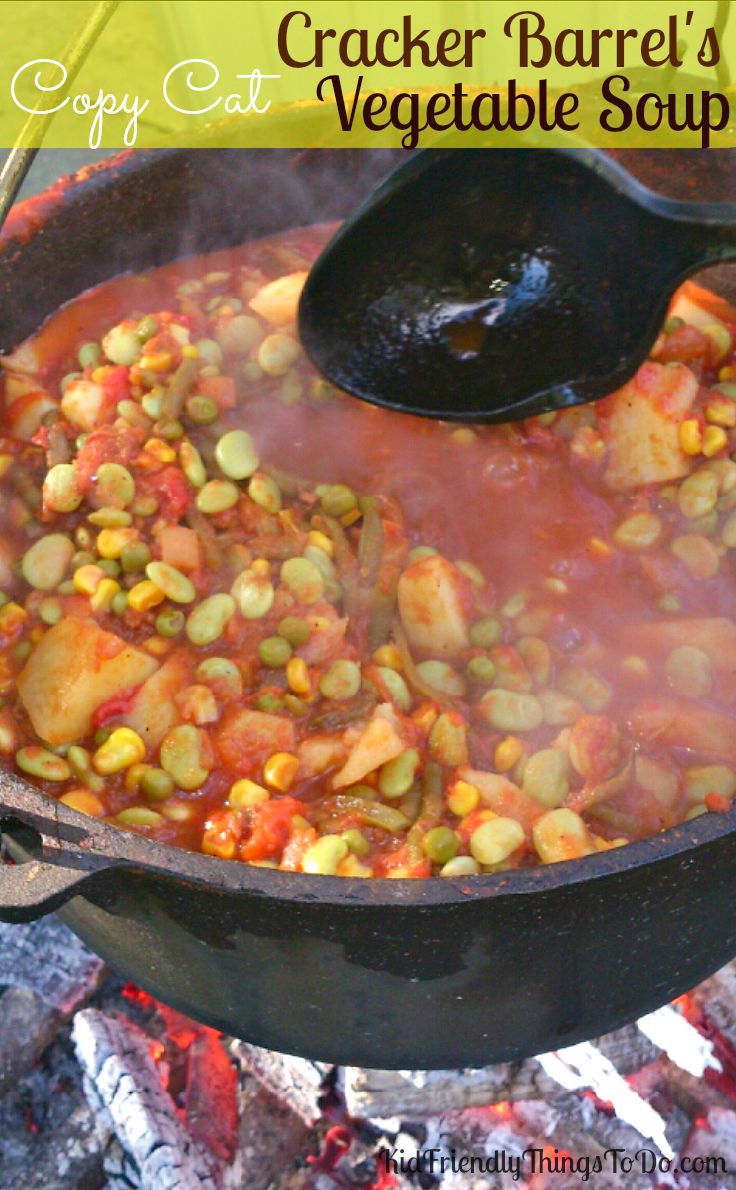 Author:
Prep Time:

15

Cook Time:

60

Total Time:

1 hour 15 minutes

Yield:

5

1

x
Scale
Ingredients
1

(10 oz.) or small bag of frozen onions

1

small frozen bag of the following: (about

12 oz

. each)
peas
lima beans
corn

1

can of normal cut green beans with the juices (

16 oz

.)

2

(14 oz.) cans of diced tomatoes

4

beef bouillon cubes

1 tsp

. of salt

1 tsp

. of ground pepper – remember to add less (I'd start with

1/2 tsp

.) and then add more for flavor later

2

celery stalks sliced

2

large russet potatoes peeled and cubed

8 cup

s of water

32 oz

. of Vegetable Juice
Instructions
Pour everything into the pot, stir and bring to a boil.
Lower the temperature to medium – a small boil, Cover and cook for about 1 hour or until potatoes are tender.
Notes
You can also make this in a slow cooker. You'll need to cook it pretty much all day on high to make the potatoes tender enough to enjoy.
Also, don't forget to sign up for my newsletter! And, please like us on Facebook. Have a wonderful day.
Here's the older soup recipe that makes about 9 quarts of soup: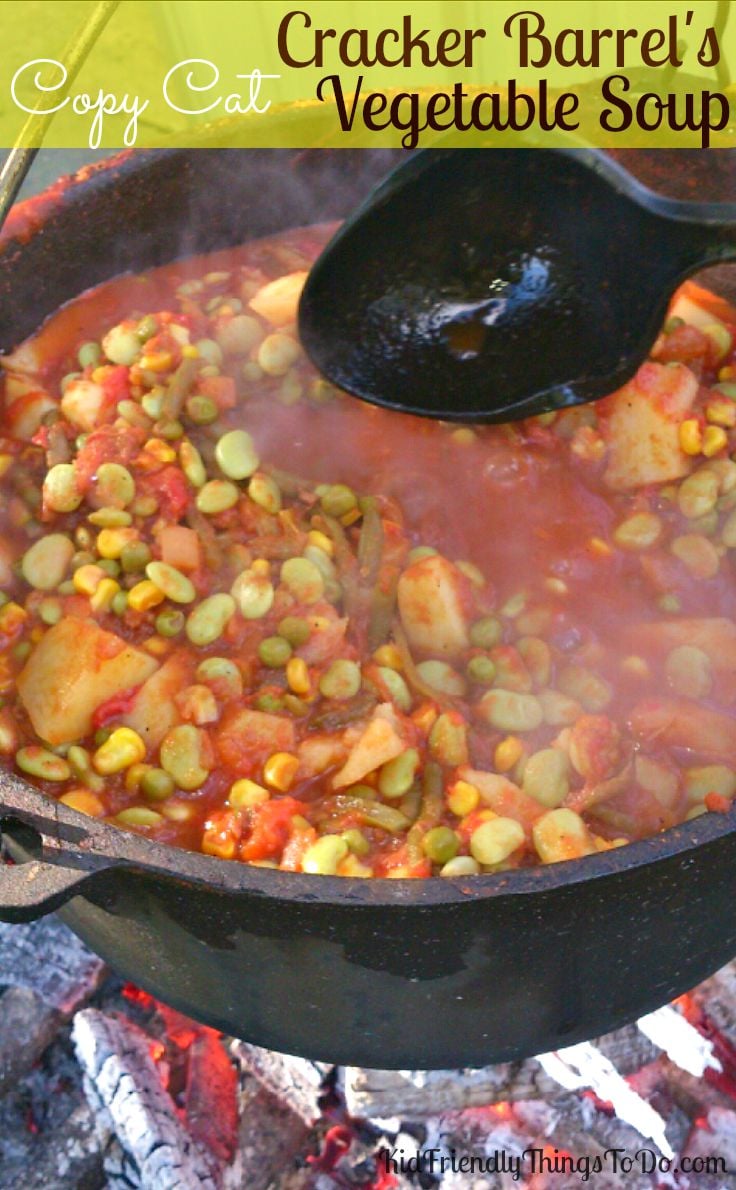 This time, I wanted to make the soup I always ask for when we are eating at Cracker Barrel. I love the old fashioned flavor of their vegetable soup. There's something about it that reminds me of grandma's homemade soup. It reminds me of the Good Ole' Days! Here's the recipe for you to enjoy:
This is the older version that makes an entire 9 quart kettle…
You'll Need:
1 can of V8 (46 oz.)
3 cans of diced tomatoes (14.5 oz.)
1 (16 ounce) can green beans
2 – (12 ounce) pkg frozen corn
2 – (12 ounce) pkg frozen peas
2 – (12 ounce) pkg frozen baby lima beans
1 bag of frozen chopped onions (12-14 oz.)
1 cup of sliced celery
1 gallon of water (16 cups)
6 cubes of beef bullion
1 lb. idaho potatoes – peeled, and cubed


Salt and Pepper to taste – I used about 1 Tbsp. of salt – I like it on the salty side, so adjust to your preference.
Now:
Just dump it all in together in a large pot, bring to a boil, simmer it down a bit, and let it cook for an hour, or until potatoes are tender! It's that simple!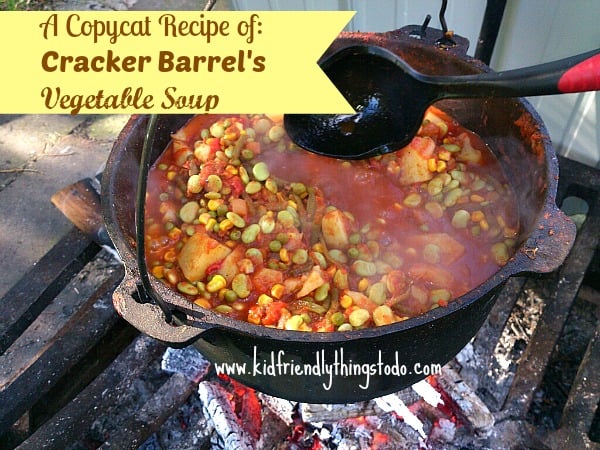 * The Dutch Oven shown is a 9 quart cast iron soup kettle
Thank you so much for stopping by. Enjoy!
Here is some equipment that your might need or even want for this recipe:
~ Melissa – KidFriendlyThingsToDo.com