Here it is! By special request…my version of Olive Garden's Minestrone Soup! I think you're gonna want to try this one. It's pretty darn yummy, if I do say so, myelf. 😉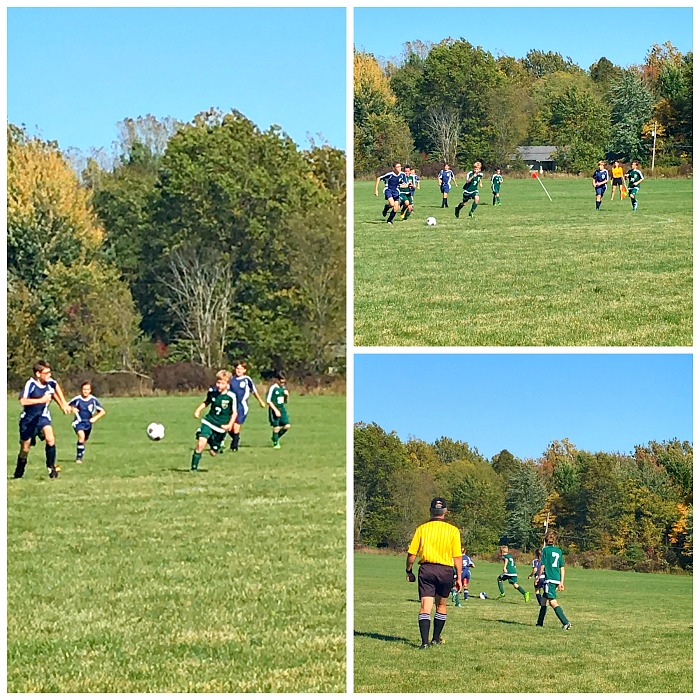 What a great fall weekend! My boy, blonde #7 was so much fun to watch in soccer! Boy, I had no idea what a competitive person I was until soccer got competitive. It's fun and stressful all in one. I can't imagine what the high school level will be like. Nail biters, I'm sure!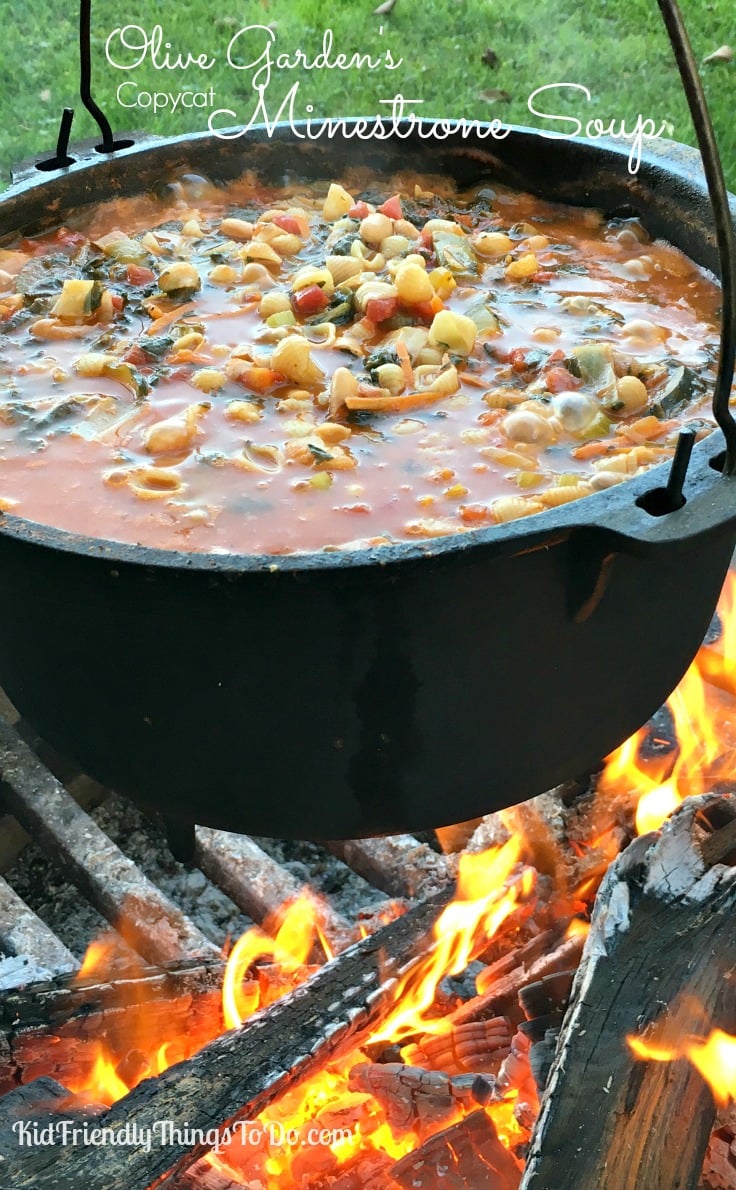 Then to add to our fun fall day…there's soup. And, not just any soup. And, not just any ole' cooking method. It's Olive Garden's Copycat Minestrone Soup over a fire, y'all!
I scoured the internet for recipes, reviews, and recommendations about Olive Garden's yummy soup. I didn't just stop reading once I found a recipe, I read tons of reviews with ideas on how to make it better. I ruled some out, listened to some, and added a few ideas of my own.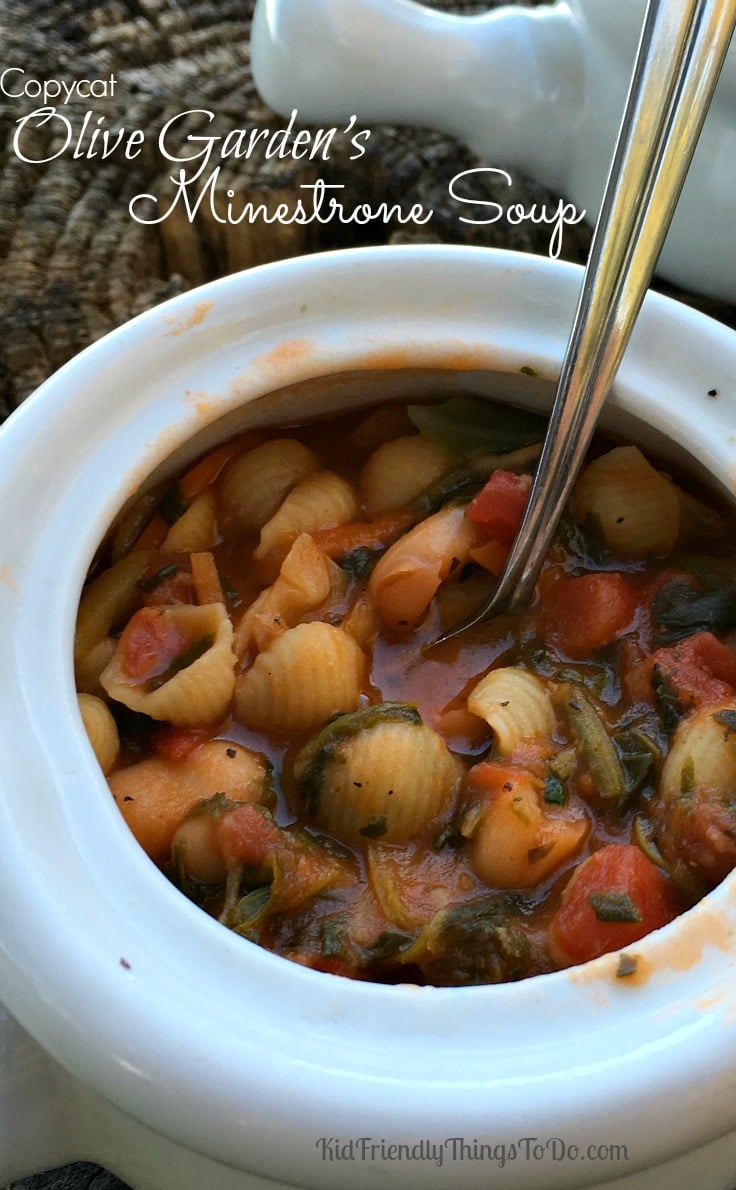 And…here it is! It's good y'all. Really yummy! My dad ( I think he liked it) kept asking if I was writing everything down. Of course! I've got it all here for ya!
Olive Garden's Copycat Minestrone Soup
Step one
2 Tbsp

. of olive oil

2

small zucchini sliced

1

small head of cabbage – chopped

1

small sweet onion – chopped

1

(10 oz.) bag of shredded carrots

2

cans of Italian cut green beans – drained
Step two
4 cups

of vegetable broth

3 cups

of water

2

(28 oz.) of diced tomatoes

2

cans of white kidney beans (drained)

1

small can of tomato paste

2 Tbsp

. fresh parsley – chopped

1

&1/2 tsp. oregano

1

&1/2 tsp. salt

1 tsp

. ground black pepper

1/2 tsp

. basil

1/4 tsp

. thyme
Step three
16 oz

. frozen chopped spinach

1/2 cup

of red cooking wine

1 Tbsp

. of red wine vinegar

1

box (10 oz.) of small shells – pasta
Instructions
Pour the olive oil into a large pot, over med/high heat
Add the rest of the ingredients from step one, and cook for about 5-10 minutes, or until vegetables become tender
Add everything from step two, and set the temp. to high so the soup comes to a full rolling boil
Reduce heat, and simmer for about 15 min.
Add the ingredients from step three, and cook for another 10 minutes
Notes
You can freeze leftovers, or if you're going to eat them with a week, store them in an airtight container in the fridge. Because of the starch in this soup, it tends to thicken up overnight. Add a little broth or tomato sauce to loosen it up.
*The kettle I used holds 9 quarts. As you can see the soup fills it to the tippy-top. Please plan on using a 9 qt. or larger kettle
Here's some equipment you might need or even want for this recipe:
[box] [/box]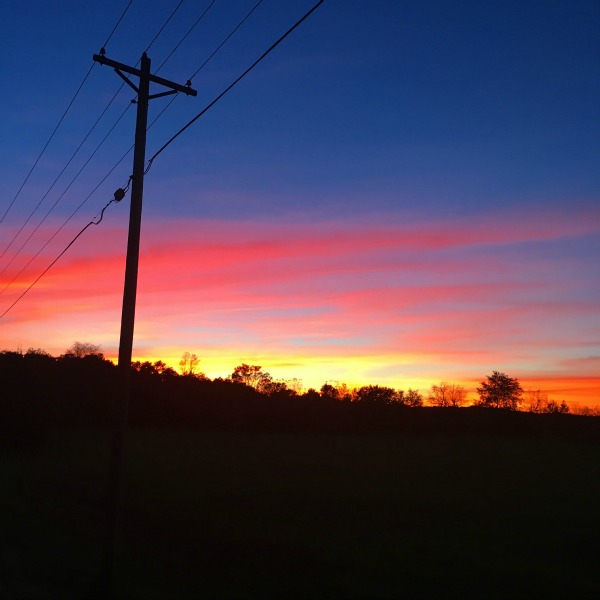 I almost forgot…I snapped a picture of the evening's sunset in our wide open Indiana sky! Well actually, I did a U-turn on the way home, pulled off into a field and ran out to get it. My kids are used to me doing that on a regular basis. It doesn't even phase them, anymore. A great end to our fall day!
Thanks for stopping by, and listening to my ramblings. I hope you'll come back, soon!
[box] [/box]
Adapted from: food.com, and sparkrecipes.com