Say that five times fast! Phew! Luckily it's a dang good sandwich. These Slowcooker Southwestern Shredded BBQ Pork Sliders are easy to make. The only thing missing, in my opinion is cole slaw on top. Mmm, Mmm. Pair this dinner with Taste N Creates Bear Claws, and it's a fun meal to create, too!

In the spirit of a full disclosure, I received Bear Claws at a discounted rate in exchange for an honest review. This post contains affiliate links, which means, if you click through, and purchase the product, I might receive a small comission – at no additional cost to you! I only recommend products that I love, and use myself, so you're in good hands. 🙂 Thank you for allowing me to share products I love, and support this blog!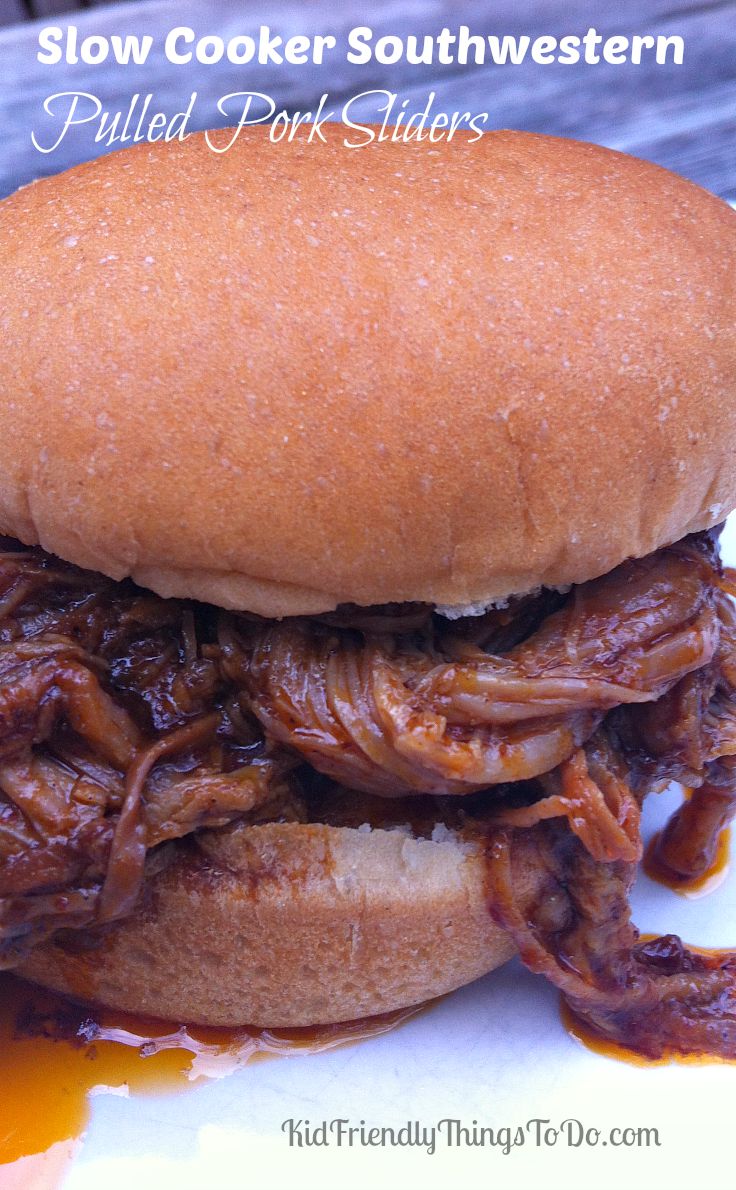 Don't you love slow cooker meals? I love the smell of something tasty filling up the kitchen. And, I really love looking forward to a BBQ pork sandwich! Yum!
Have you ever used Bear Claws in the kitchen? Before last week, I never really thought about a tool like this, and had no idea what I was missing out on. I just used my forks, and knives to pull meat apart, and my hand to hold the watermelon as I cut a million slices off for the kids! Well, I'm happy to say, I have seen the light. I'm bringing myself, and my kitchen into the modern world with Taste N Create,s fun Bear Claws! Hallelujah!
If you are parent to boys, then you can probably guess what my boys did as soon as I pulled these babies out of their handy little velvet drawstring bag. Yep…they put them on, and pretended they were Wolverine! They even asked to use them for Halloween! Oh boy!
I have to say, these are a good tool to get the guys to help more in the kitchen.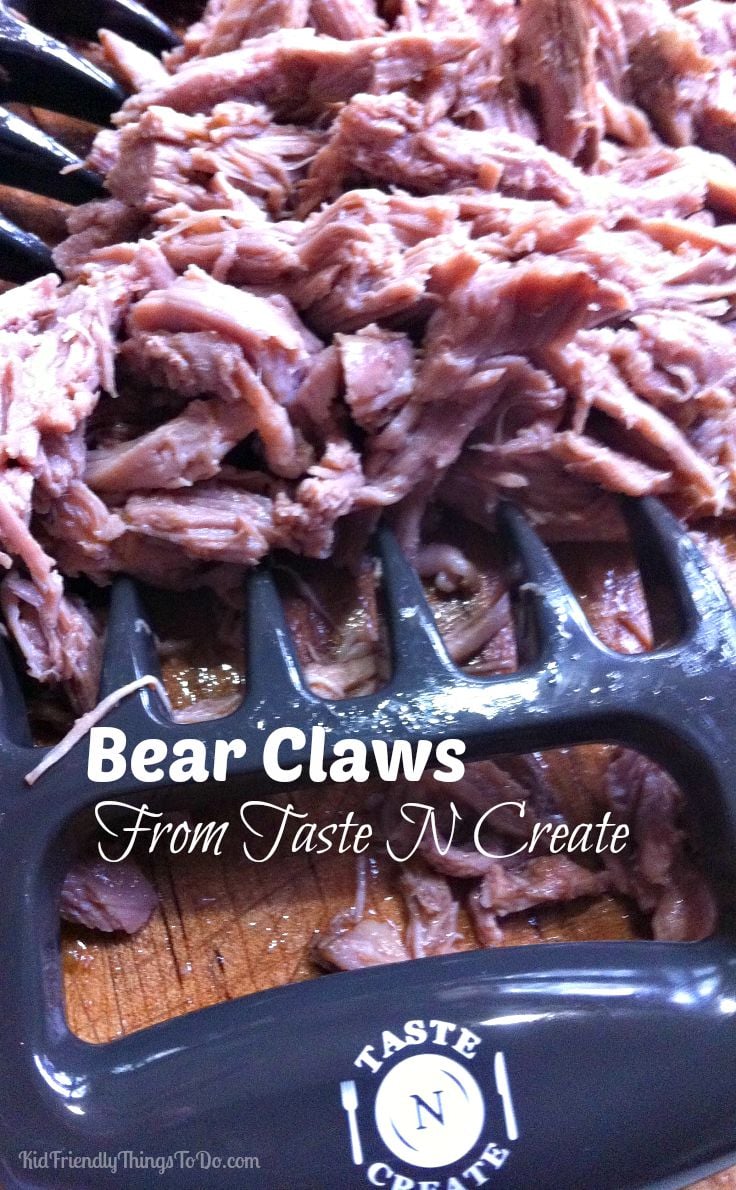 I made thesse yummy pulled pork sandwiches in the crock pot the other day. Thinking the claws would be fun to try out, I plopped my pork roast on the cutting board, and dug in. I'm telling you, these claws just attract the guys. My husband was in awe over these claws! As they were a new toy for me, I hogged them for myself. Next time though, I'm delegating.
Once I was done pulling the pork, I grabbed my claws, turned them around and scooped the meat up to put back in the sauce. Now, that's handy! Anytime there is a convenient tool that saves me from washing more dishes…I'm in!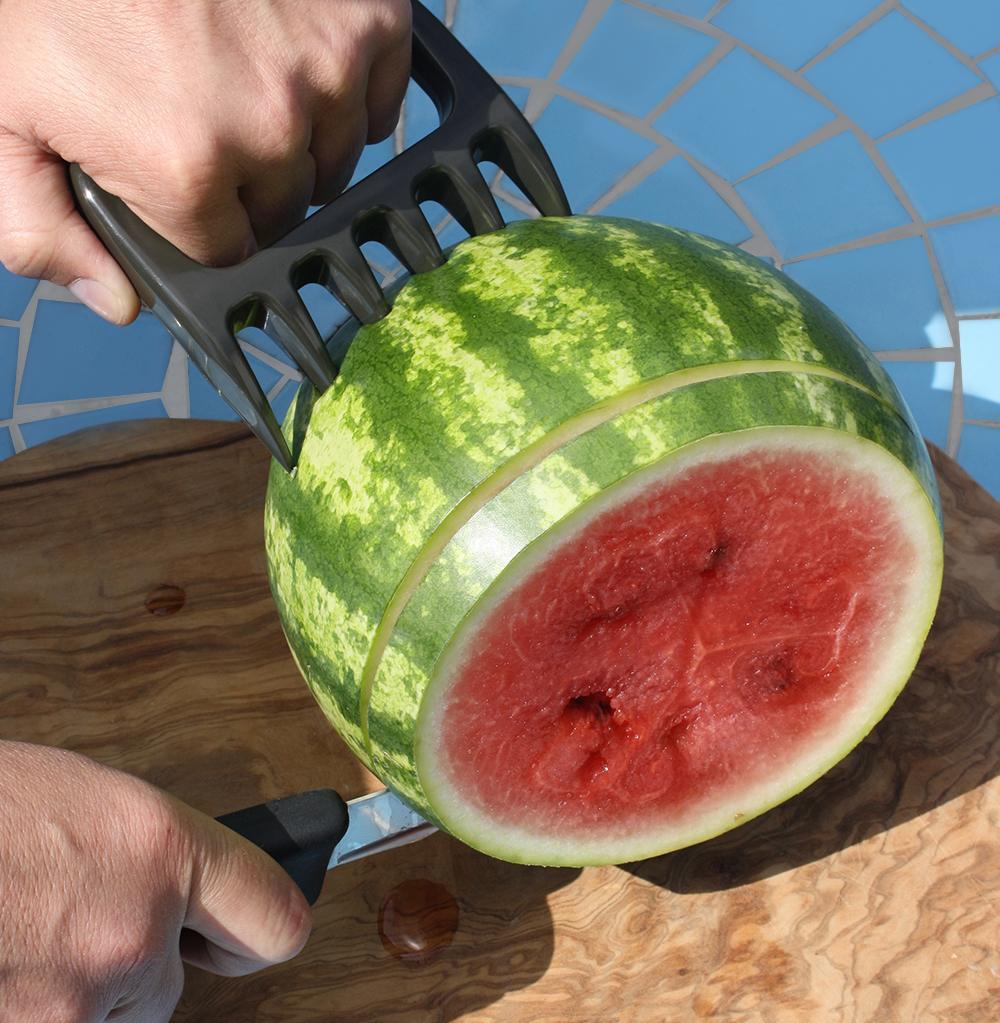 Have you ever worried a little about your hand that's holding onto the wobbly watermelon, just inches away from the butcher knife? The Bear Claws are perfect for that, too! Just sink the Bear Claws teeth into the watermelon to hold theit, and no worries for you anymore, my friend! Phew!
If you'd like to try some claws out for yourself, you can use this link to get you some! 😉
[box] [/box]
Finally, here's the recipe for ya!
Slow Cooker Southwestern Pulled Pork Sliders
2

cans – 4 oz. chopped green chilies

1

can – 8 oz. tomato sauce

1 cup

of store bought BBQ sauce – a spicy flavor would work nicely, here

1

large sweet onion, sliced thin

1/4 cup

of chili powder

1 tsp

. ground cumin

1/2 tsp

. basil

1

boneless pork loin roast – 2-3 lbs.
Slider buns
Instructions
In slow cooker, combine everything, but the pork roast
Add the pork roast into the mixture
Cook on low for about 8 hours, or until the meat is tender
Remove the pork from the sauce
When the meat has cooled off enough, shred the pork, and return it to the sauce to heat through
Serve on slider buns
~Melissa – KidFriendlyThingsToDo.com