Creamy French Dressing – Kid Friendly Things To Do .com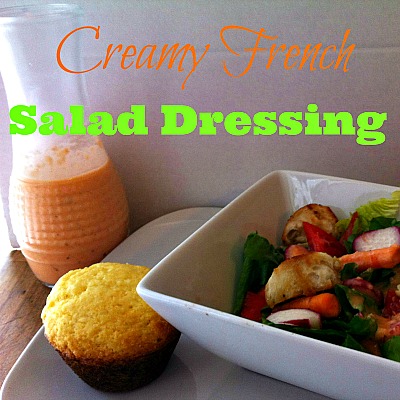 Posted by Melissa in Sauces, Soups & Salads | 0 comments
As a volunteer Field Editor for Taste of Home Magazine, I am asked to rate and review recipes. This month, I have a bountiful tomato harvest, and needed some tomato recipes, pronto! I found this Creamy French Dressing recipe on Taste of Home .com, and we all absolutely love it! As a matter of fact, I had to stop everyone from indulging long enough to get my picture! Here's the recipe:
You'll Need:
1/2 cup of mayonnaise
2 fresh tomatoes – peeled, and cored
1/4 cup of white vinegar
1/2 cup of sugar
1 small sweet onion – coarsely chopped
1/2 t of salt
1/4 t of pepper
1/2 cup of olive oil
Now:
Using a food processor, or blender chop grind everything, but the oil, together. Gradually add the oil, and continue mixing. Best served immediately, but you can refrigerate the left over (if that's possible 😉 )
Adapted from TasteofHome.com
~ Melissa – KidFriendlyThingsToDo.com – Fun foods, recipes, crafts, DIY, Home & Garden, and fun things to do with the whole family!