This Fried Pickles Recipe with Ranch Dipping Sauce is sure to be a family favorite snack. These pickles make a delicious and interesting appetizer for your party or family fun.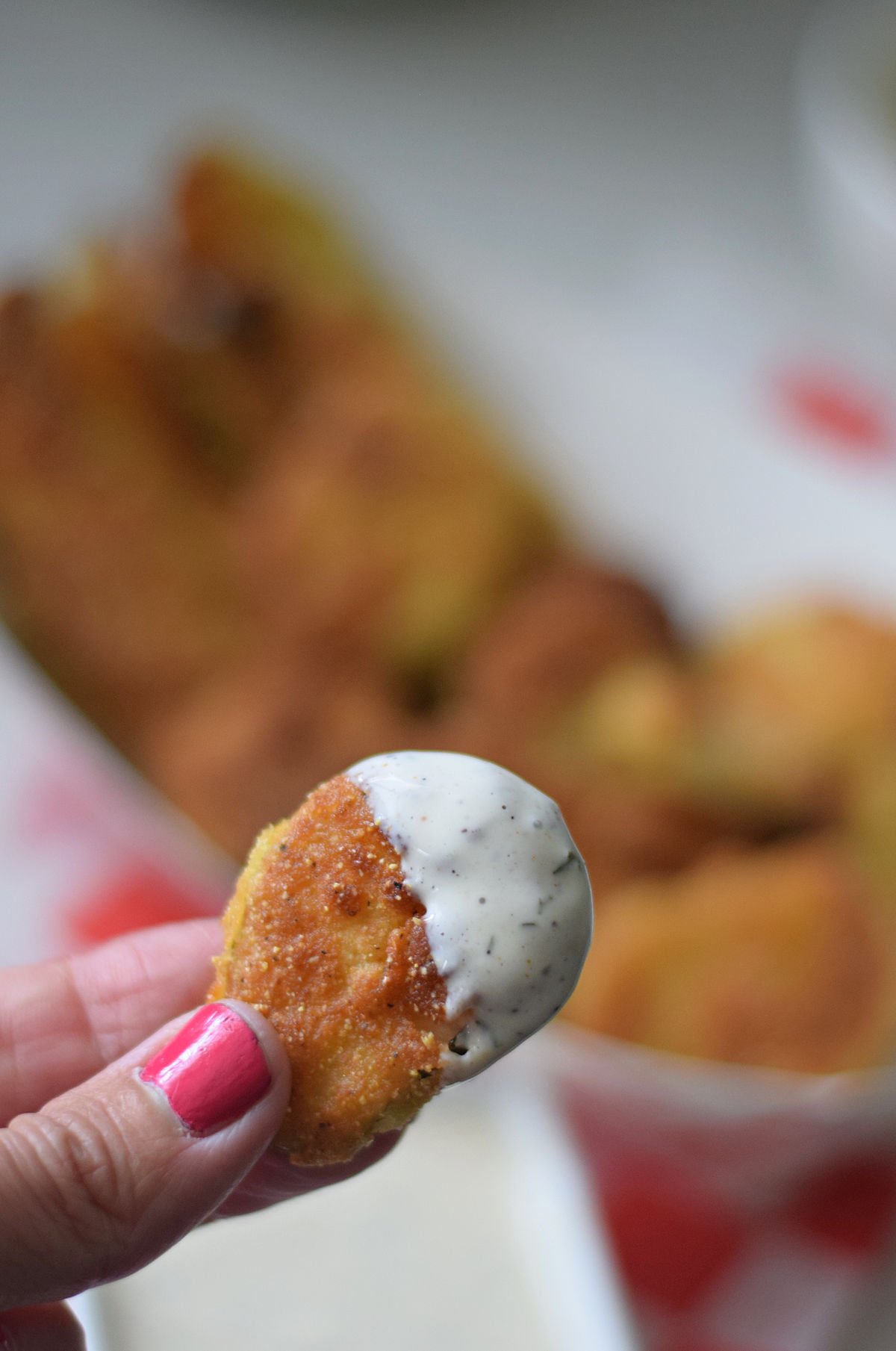 Fried Pickles Recipe
I found my love for fried pickles while at an Apple Festival. I was waiting in the food line, counting my cash for the hundredth time, and trying to figure out how to get all six of us something everyone could agree on. As usual, I was also having a conversation with complete strangers. They all convinced me to try fried pickles with ranch dipping sauce.
Let me tell you, I have not been able to forget about those delicious fried pickles since!
I've made my own version of the fried pickles from the apple festival a couple of times. Each time that I make these pickles, the kids gather around like vultures. Everyone has their opinions on whether or not the spears or chips are better. The chips are a little easier to handle. They are bite-sized. The spears are super juicy and might require a knife and fork to make them bite-sized. Both are delicious.
I have a few more fried recipes that I'd love to share with you. Fried Green Tomatoes are a Southern tradition and something my Aunt in Alabama made every time we came to visit. This recipe for Fried Cabbage is passed down from my mom who made it on a regular basis. Finally, Fried Apples are always a family favorite.
What I love about this recipe
everyone loves it. It's a crowd-pleaser and tastes just like the fried pickles at the fair
this recipe is easy to make and follow with step-by-step instructions
the pickles are crisp on the outside and on the inside
Ingredients: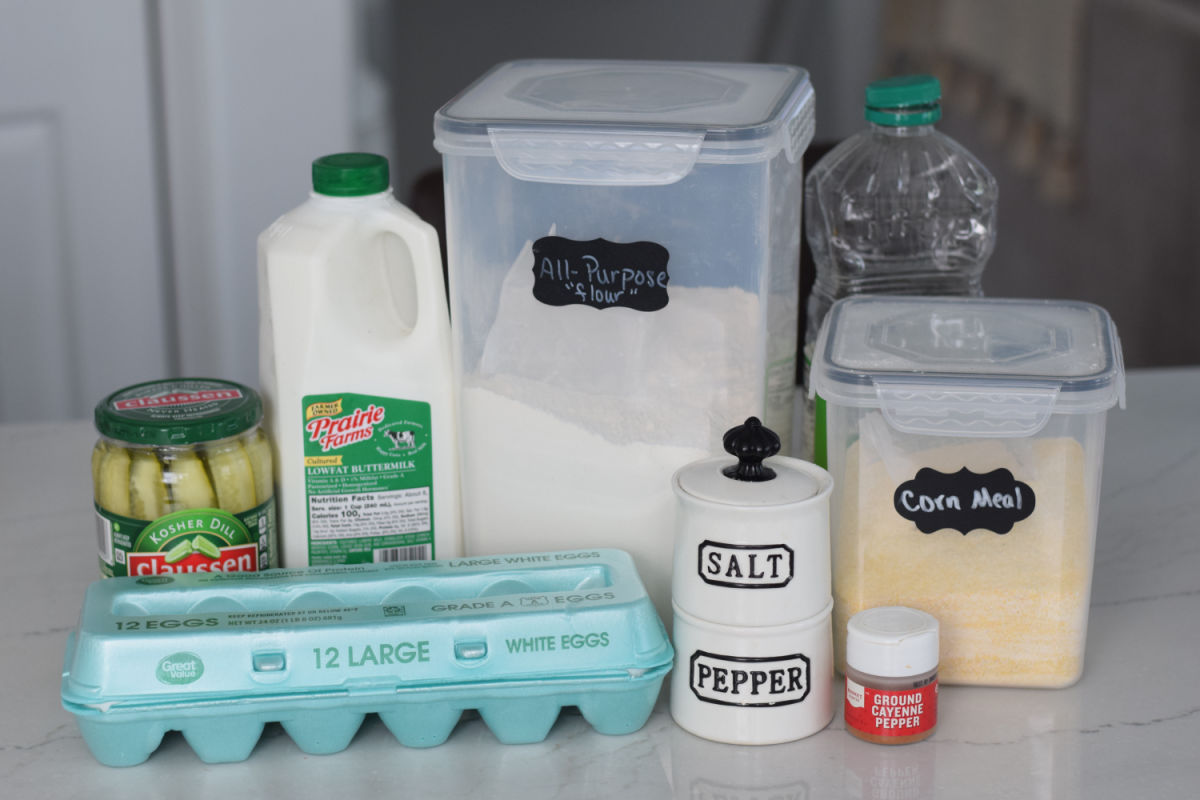 Cornmeal Mix
cornmeal – cornmeal adds a nice crisp texture to the outside of these fried pickles
all-purpose flour – a thickening agent that also helps the batter stick to the pickles
ground black pepper – this is used to give these pickles a little bit of a heat flavor
cayenne pepper – don't worry, it only enhances the flavor. The amount used gives it a mild flavor. If you want spicy pickles then you can adjust the heat with the amount of cayenne pepper
salt – salt is used to enhance the other flavors
Wet batter Ingredients
buttermilk – I would not use regular milk for this recipe. Buttermilk is so much thicker and helps with coating the pickles
egg – the egg will help the batter stick to the pickles
flour – a thickening agent that also helps the batter stick to the pickle and helps the batter puff up
Dipping Sauce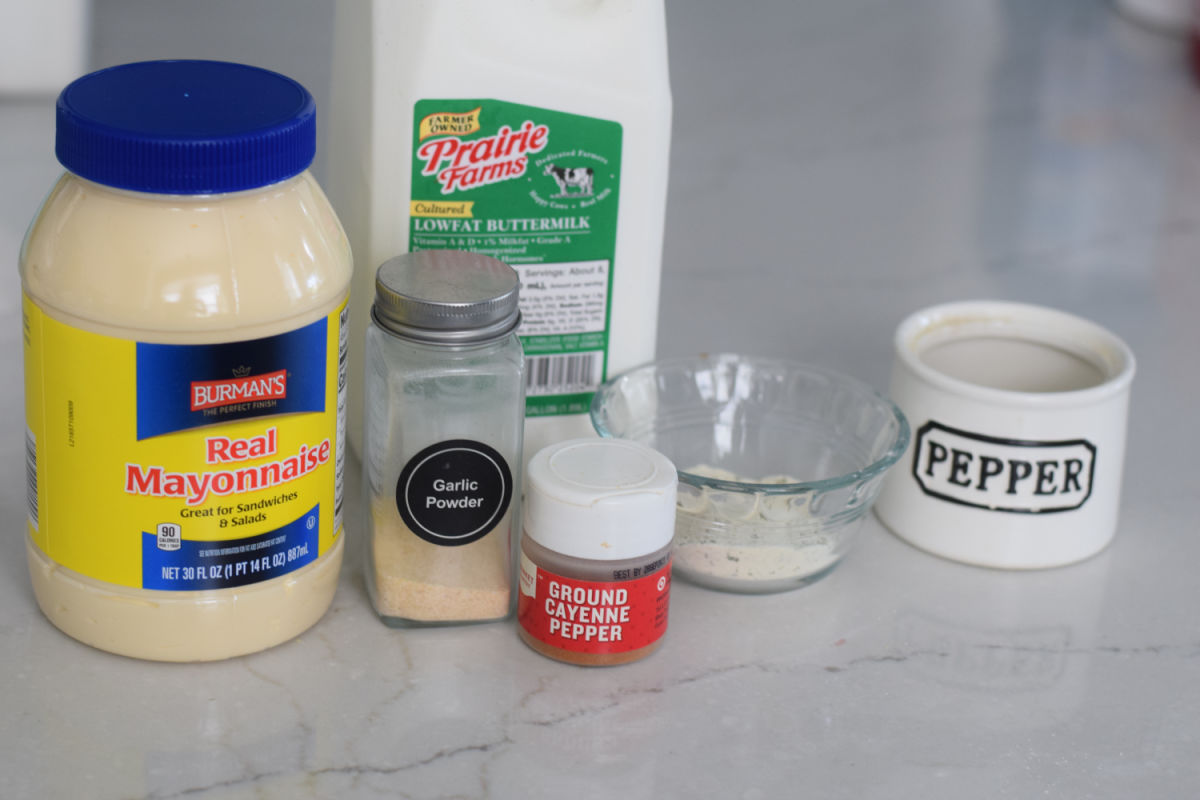 ranch dressing mix – this is the base of the dipping sauce. You do not need to purchase a particular brand
cayenne pepper – adds a layer of flavor to the dipping sauce, but it won't make it too spicy
garlic powder – this adds another layer of flavor to the dipping sauce
ground pepper – another spice to add flavor
mayonnaise – mayo is a staple in most dipping sauces. You do not need to purchase a specific brand
buttermilk – You can use whole milk, but buttermilk really helps this dipping sauce come together and shine
More
dill pickles – deli fresh pickles are the absolute best pickle for this recipe. They are juicy and so crisp. If you only have bottled pickles, that is perfectly fine, as well
How to make Fried Pickles
To prepare the Ranch Dipping Sauce, mix the dipping sauce ingredients together, cover, and place in the refrigerator to chill for at least 30 minutes
Using a large resealable bag, mix the cornmeal, and the 1/3 cup of flour together, add the spices Seal, and shake.
Put the remaining 1/2 cup of flour into a separate medium-sized bowl
Mix the buttermilk, and egg together
Place pickles on a paper towel to absorb some of the juices
Toss the pickles into the bowl of flour
Dip a handful of floured pickles into the egg/buttermilk mixture
Place, one at a time, into the cornmeal mixture
Seal the bag, and shake to coat
Spread the prepared pickles on a rack, and continue with the rest
Heat oil in a large pot over medium/ high heat to about 350 degrees
*If you don't have a thermometer, test the oil by dropping a little piece of a pickle into the heated oil, if it immediately starts to bubble, it's ready to fry
Place some paper towel on a platter, and put a handful of pickles in the heated oil
Fry for about 3 minutes, turning halfway through – or until golden brown on each side
Remove the fried pickles with a slotted spoon, and place them on a paper towel to dry
Allow to cool
Serve while still warm with dipping sauce
How do you reheat leftover fried pickles?
The best way to reheat fried pickles is in the oven. Set your temperature to 350 degrees and heat them for about 10-15 minutes or until they are heated through.
How do I reheat them and make them crispy again?
You can take them out of the oven after about 5 minutes and transfer them to a frying pan with hot oil. Fry them for a few seconds on each side to crisp them up again.
More Finger Food Appetizers
Here are my top Amazon Picks for this Fried Pickles with Ranch Dipping Sauce Recipe…
(affiliate links)
[box] [/box]
Here's the recipe, and the how-to…so you can decide for yourself :):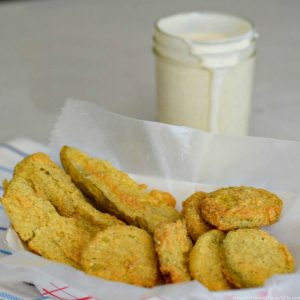 Fried Pickles With Ranch Dipping Sauce
Ingredients
Batter Ingredients
¾

cup

of cornmeal

⅓

cup

of flour

½

tsp

black pepper

¼ – ½

tsp

of cayenne pepper – You pick your hotness level

¼

tsp

of salt
Wet Dipping Ingredients
⅔

cup

of buttermilk

1

large egg
Pickles
1

24 oz.

Pickle Spears

chips, or wedges – the thick ones pack the most juice
For the Ranch Dipping Sauce
3

tsp

Hidden Valley Ranch Dressing Mix

– Buttermilk Recipe preferred

1

cup

mayonnaise

½

cup

buttermilk

¼

tsp.

course ground black pepper

¼

tsp.

cayenne pepper

½

tsp.

garlic powder
Instructions
To prepare the Ranch Dipping Sauce, mix the dipping sauce ingredients together, cover, and place in the refrigerator to chill for at least 30 minutes

Using a large resealable bag, mix the cornmeal, and the 1/3 cup of flour together, add the spices Seal, and shake.

Put the remaining 1/2 cup of flour into a separate medium sized bowl

Mix the buttermilk, and egg together

Place pickles on a paper towel to absorb some of the juices

Toss the pickles into the bowl of flour

Dip a handful of  floured pickles into the egg/buttermilk mixture

Place, one at a time, into the cornmeal mixture

Seal bag, and shake to coat

Spread the prepared pickles on a rack, and continue with the rest

Heat oil in a large pot over medium/ high heat to about 350 degrees

*If you don't have a thermometer, test the oil by dropping a little piece of a pickle into the heated oil, if it immediately starts to bubble, it's ready to fry

Place some paper towel on a platter, and put a handful of pickles in the heated oil

Fry for about 3 minutes, turning halfway through – or until golden brown on each side

Remove the fried pickles with a slotted spoon, and place on paper towel to dry

Allow to cool

Serve while still warm with dipping sauce
Notes
Nutrition values are only an estimate 
Nutrition
Serving:
6
g
Calories:
845
cal
Carbohydrates:
20
g
Protein:
4
g
Fat:
84
g
Saturated Fat:
13
g
Polyunsaturated Fat:
48
g
Monounsaturated Fat:
19
g
Trans Fat:
0.5
g
Cholesterol:
29
mg
Sodium:
373
mg
Potassium:
107
mg
Fiber:
2
g
Sugar:
2
g
Vitamin A:
158
IU
Vitamin C:
0.1
mg
Calcium:
40
mg
Iron:
1
mg
~Melissa – KidFriendlyThingsToDo.com
– See more at: http://kidfriendlythingstodo.com/2013/11/copycat-outback-steakhouse-ranch-dressing-kid-friendly-things-to-do-com/#sthash.FlO5xpzg.dpuf
1&1/2 t of Hidden Valley Ranch Dressing Mix – Tod says to only use the Buttermilk packet. I only had the plain 'ole Ranch. I went with what I had! If you have the buttermilk version, that's even better!
1 c of mayonnaise
1/2 c of buttermilk
1/4 t of course ground black pepper
1/8 t of cayenne pepper
1/8 t of garlic powder
– See more at: http://kidfriendlythingstodo.com/2013/11/copycat-outback-steakhouse-ranch-dressing-kid-friendly-things-to-do-com/#sthash.FlO5xpzg.dpuf
1&1/2 t of Hidden Valley Ranch Dressing Mix – Tod says to only use the Buttermilk packet. I only had the plain 'ole Ranch. I went with what I had! If you have the buttermilk version, that's even better!
1 c of mayonnaise
1/2 c of buttermilk
1/4 t of course ground black pepper
1/8 t of cayenne pepper
1/8 t of garlic powder
– See more at: http://kidfriendlythingstodo.com/2013/11/copycat-outback-steakhouse-ranch-dressing-kid-friendly-things-to-do-com/#sthash.FlO5xpzg.dpuf