Fried Pickles with Ranch Dipping Sauce Recipe is sure to be a family favorite snack. These pickles make a delicious and interesting appetizer for your party or family fun. Come on in and I'll share my recipe for these delicious fried pickles with you…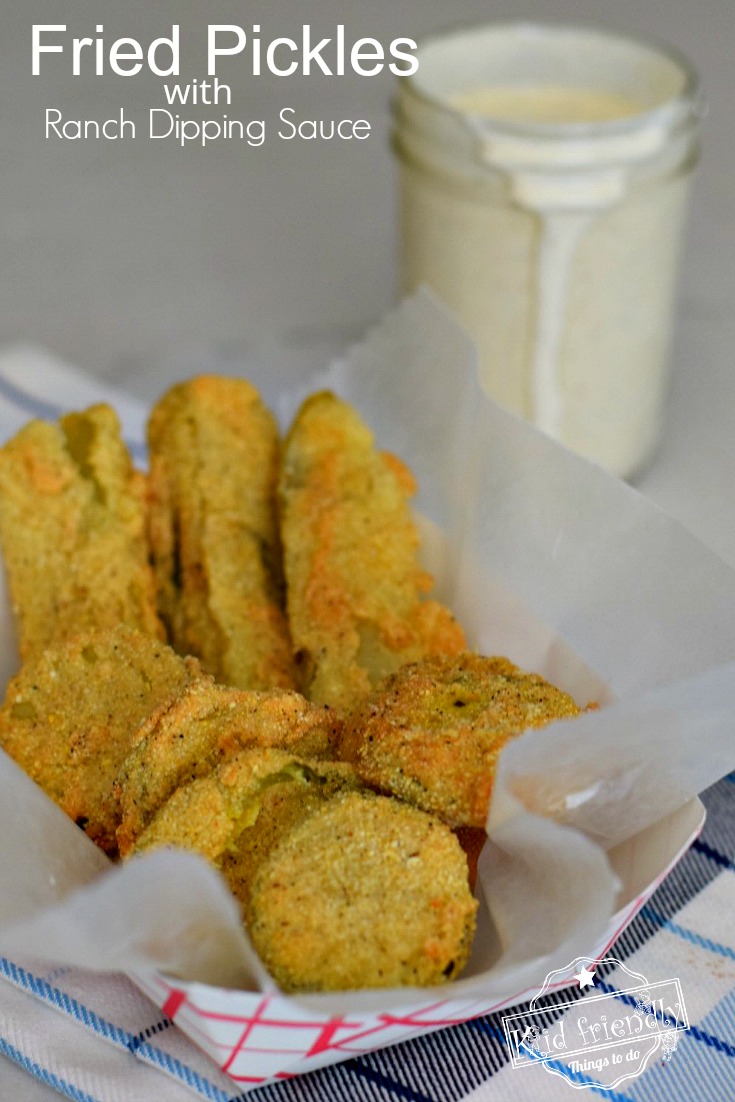 Homemade Fried Pickles Recipe
I found my love for fried pickles while on at an Apple Festival. I was waiting in the food line, counting my cash for the hundredth time, and trying to figure out how to get all six of us something everyone could agree on. As usual, I was also having a conversation with complete strangers. They all convinced me to try fried pickles with ranch dipping sauce.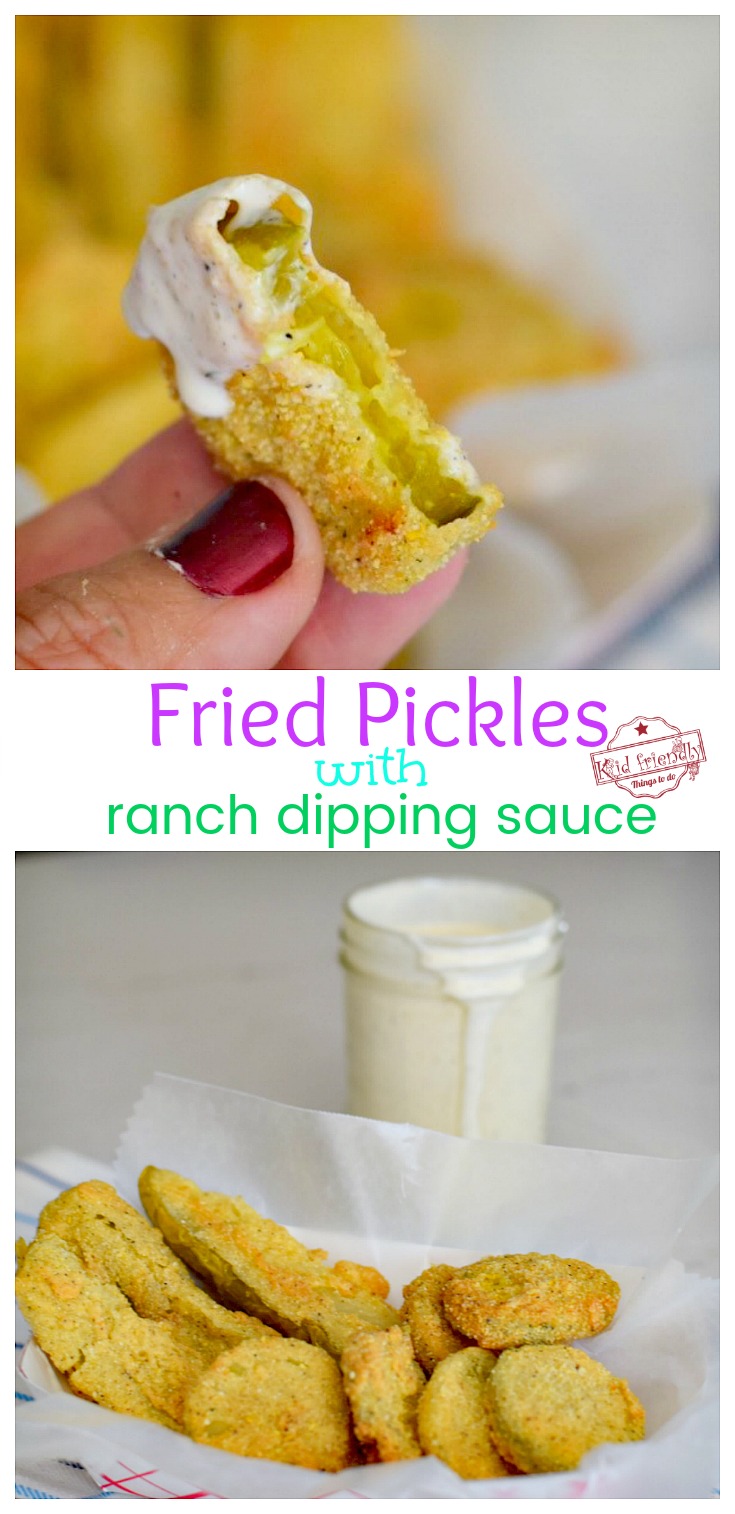 Let me tell you, I have not been able to forget about those delicious fried pickles since!
I've made my own version of the fried pickles from the apple festival a couple of times. Each time that I make these pickles, the kids gather around like vultures. Everyone has their opinions on whether or not the spears, or chips are better. The chips are a little easier to handle. They are bite-sized. The spears are super juicy and might require a knife and fork to make them bite-sized. Both are delicious.
How do you reheat leftover fried pickles?
The best way to reheat fried pickles is in the oven. Set your temperature to 350 degrees and heat them for about 10-15 minutes or until they are heated through.
How do I reheat them and make them crispy again?
You can take them out of the oven after about 5 minutes and transfer them to a frying pan with hot oil. Fry them a few seconds on each side to crisp them up again.
If you are looking for more Finger Food Appetizers, then check out these links…
Easy Vegetable and Ranch Dressing Pinwheels – Finger Food Appetizer
Spinach Stuffed Mushrooms – The best ever!
Cheesy Garlic Bread Bites – You have to try…so yummy
Here are my top Amazon Picks for this Fried Pickles with Ranch Dipping Sauce Recipe…
(affiliate links)
[box] [/box]
Here's the recipe, and the how to…so you can decide for yourself :):
Print
Fried Pickles With Ranch Dipping Sauce
Author:
Prep Time:

10

Total Time:

10 minutes

Yield:

4

1

x
Batter Ingredients
3/4 cup

of cornmeal

1/3 cup

of flour

1/2 tsp

black pepper

1/4

–

1/2

tsp of cayenne pepper – You pick your hotness level

1/4 tsp

of salt
Wet Dipping Ingredients
2/3 cup

of buttermilk

1

large egg
Extra
Another

1/2 cup

of all-purpose flour
Pickles
Spears, chips, wedges, whatever – the thick ones pack the most juice
For the Ranch Dipping Sauce
3 tsp

of Hidden Valley Ranch Dressing Mix – Buttermilk Recipe preferred

1

c. of mayonnaise

1/2

c. of buttermilk

1/4 tsp

. of course ground black pepper

1/4 tsp

. of cayenne pepper

1/2 tsp

. of garlic powder
Instructions
To prepare the Ranch Dipping Sauce, mix the dipping sauce ingredients together, cover, and place in the refrigerator to chill for at least 30 minutes
Using a large resealable bag, mix the cornmeal, and the 1/3 cup of flour together, add the spices Seal, and shake.
Put the remaining 1/2 cup of flour into a separate medium sized bowl
Mix the buttermilk, and egg together
Place pickles on a paper towel to absorb some of the juices
Toss the pickles into the bowl of flour
Dip a handful of  floured pickles into the egg/buttermilk mixture
Place, one at a time, into the cornmeal mixture
Seal bag, and shake to coat
Spread the prepared pickles on a rack, and continue with the rest
Heat oil in a large pot over medium/ high heat to about 350 degrees
*If you don't have a thermometer, test the oil by dropping a little piece of a pickle into the heated oil, if it immediately starts to bubble, it's ready to fry
Place some paper towel on a platter, and put a handful of pickles in the heated oil
Fry for about 3 minutes, turning halfway through – or until golden brown on each side
Remove the fried pickles with a slotted spoon, and place on paper towel to dry
Allow to cool
Serve while still warm with dipping sauce
~Melissa – KidFriendlyThingsToDo.com
– See more at: https://kidfriendlythingstodo.com/2013/11/copycat-outback-steakhouse-ranch-dressing-kid-friendly-things-to-do-com/#sthash.FlO5xpzg.dpuf
1&1/2 t of Hidden Valley Ranch Dressing Mix – Tod says to only use the Buttermilk packet. I only had the plain 'ole Ranch. I went with what I had! If you have the buttermilk version, that's even better!
1 c of mayonnaise
1/2 c of buttermilk
1/4 t of course ground black pepper
1/8 t of cayenne pepper
1/8 t of garlic powder
– See more at: https://kidfriendlythingstodo.com/2013/11/copycat-outback-steakhouse-ranch-dressing-kid-friendly-things-to-do-com/#sthash.FlO5xpzg.dpuf
1&1/2 t of Hidden Valley Ranch Dressing Mix – Tod says to only use the Buttermilk packet. I only had the plain 'ole Ranch. I went with what I had! If you have the buttermilk version, that's even better!
1 c of mayonnaise
1/2 c of buttermilk
1/4 t of course ground black pepper
1/8 t of cayenne pepper
1/8 t of garlic powder
– See more at: https://kidfriendlythingstodo.com/2013/11/copycat-outback-steakhouse-ranch-dressing-kid-friendly-things-to-do-com/#sthash.FlO5xpzg.dpuf