Fried Green Tomatoes – A Kid Friendly Thing To Eat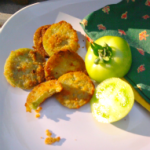 Posted by Melissa in Easy Family Recipes | 0 comments
I'm on a southern kick this week. I do love the South! Truthfully, we've been eating these because my 2 year old can't wait for our tomatoes to turn red! He just picks the green ones for the fun of picking something out of the garden 🙂 These Fried Green Tomatoes would go nicely with the Sweet Tea Popsicles from last week 🙂 Here's What You'll Need For These Fried Green Tomatoes:
This recipe is going to sound very casual – I don't have exact measurements this time 🙁
 Bowl of Progresso Garlic Bread Crumbs – The tastiest bread crumbs, in my opinion & the key to this recipe. If you can't find Progresso, try to find another brand with a garlic flavor – so yummy!
I always add a couple dashes of salt into the bread crumbs, but I love salt.
A couple of whipped eggs in a bowl
Oil for the frying pan – I use olive oil, it goes nicely with tomatoes
Sliced green tomatoes
Now, here's what you'll want to do: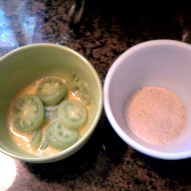 Get your oil heated up enough to fry the tomatoes (Med-High heat). Test it with a little piece of tomato – if it sizzles, it's ready!
Start an assembly line – dip the tomatoes into the egg, then into the bread, then place them into the frying pan.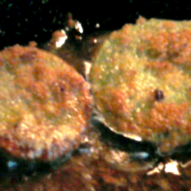 Turn them once the bottoms have turned golden. Let both sides turn golden. They're done! Enjoy Warm!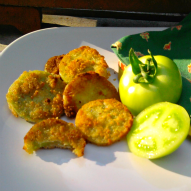 ~ Melissa – KidFriendlyThingsToDo.Com – A site providing kid friendly recipes, crafts and ideas! Plus, if you're in the Connecticut, Massachusetts or Rhode Island area, fun things to do with kids are reviewed including pictures.