This is one of my favorite desserts. This Old Fashioned Peach Cobbler Recipe is one of the best I've ever tasted. It's easy to make and perfect for summer potlucks or a delicious treat at home.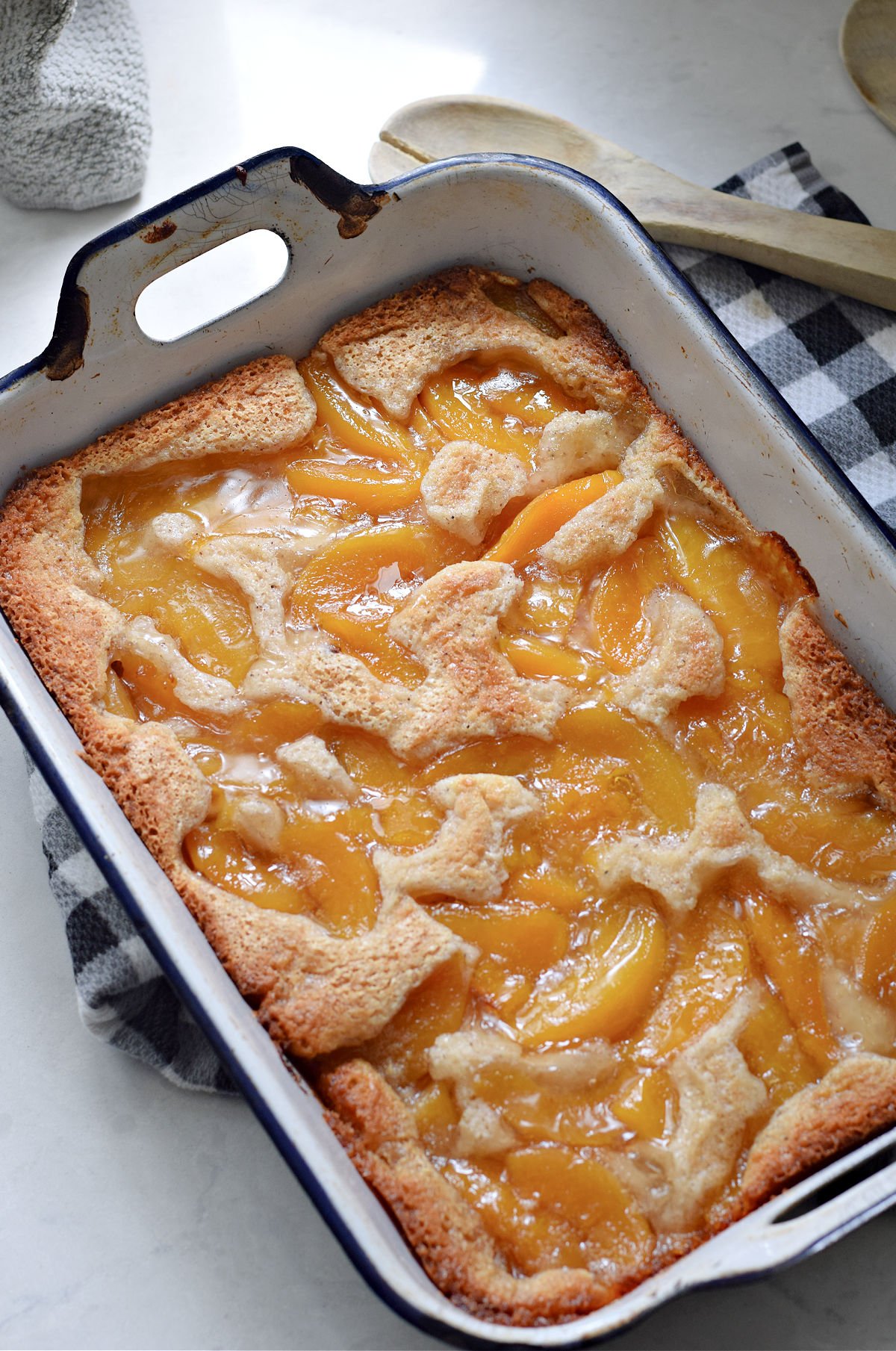 Peach Cobbler
It's no secret that I love old-fashioned desserts. I grew up with the good ones like Pistachio Fluff which is so easy to make and always a hit at any gathering, and an old-world nut roll which was devoured at every holiday.
This peach cobbler was the focal point for every family gathering. My mom originally shared this recipe with my aunt who brought it to every single family function. I think she knew how much I looked forward to it. She never came without it. God Bless Her.
What I love about this recipe
It is a recipe that has been around for generations – an old-fashioned peach cobbler that is tried and true
Easy to make and can be customized
This easy peach cobbler is always a hit and the star of the potluck or holiday dinner
This peach cobbler is made with fresh peaches but it can also be a peach cobbler made with canned peaches. Just look at the notes in the recipe card to find out how
Are you ready to make this Peach Cobbler? Let's Make sure that you have everything you need…
Ingredients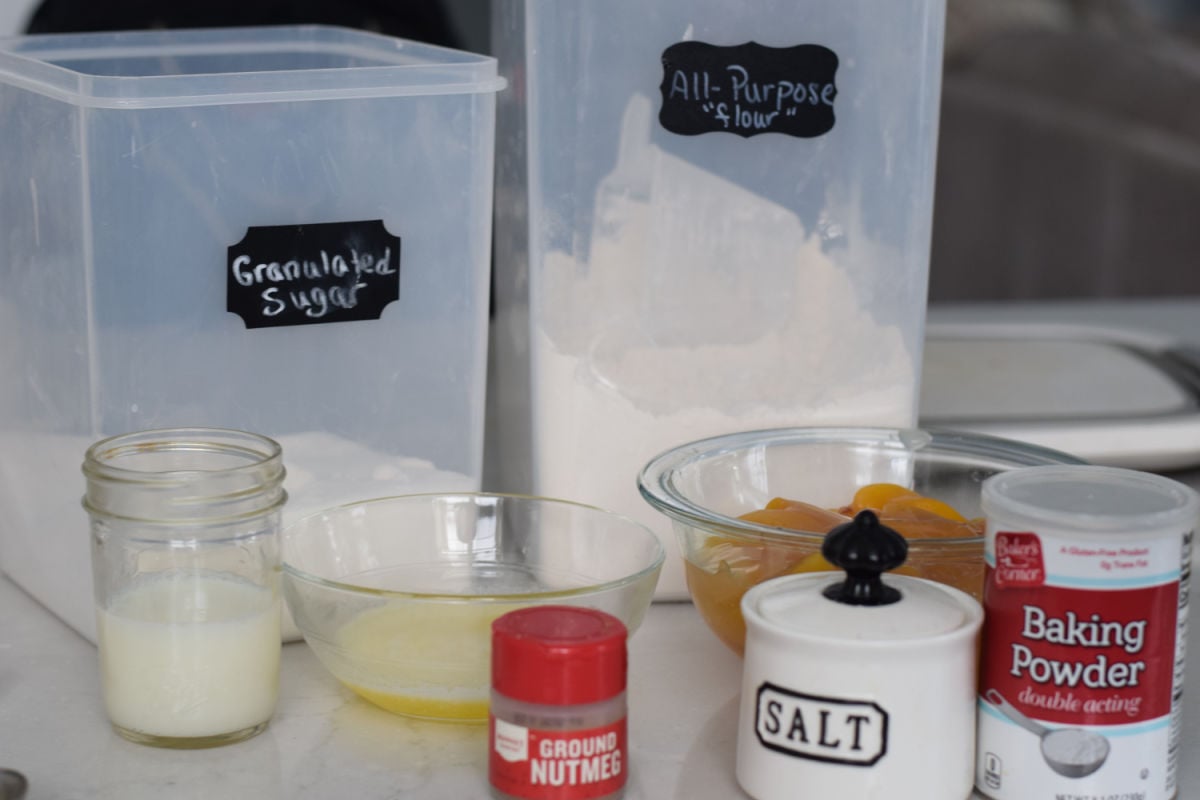 fresh peaches – Fresh peaches are my favorite way to make this recipe, but they are not always in season. If you can't find fresh peaches then you can substitute canned peaches in syrup, but you'll want to omit the 1/2 cup of sugar that is in the filling section of the recipe. You'll want to grab 2 cans of peaches with heavy syrup and drain one of the cans.
granulated sugar – You'll use sugar in both the filling with fresh peaches and also in the batter
butter – Butter will be melted and spread around the bottom of the baking dish. This will be the base that you build the cobbler on top of
all-purpose flour – This will be used to make the batter portion of this recipe
baking powder – baking powder is usually used in baking recipes in order to make the bread rise and puff up
salt – salt is always used to balance the recipe and strengthen the dough
milk – milk has fat in it, so the bread is softer and it also lends a sweet flavor
nutmeg – this is optional, but it is so delicious. I like to sprinkle some on top of the cobbler
Equipment You'll Need
saucepan for cooking fresh peaches – you'll need to cook the fresh peaches down making them soft and creating a syrup
mixing bowls – you'll only need a bowl for the batter
baking dish – you can use a smaller size for a thicker cobbler, or use a 9×13-inch to give you more cobbler but maybe a little bit thinner
How to Make Peach Cobbler
Step One
Preheat your oven to 350 degrees
place fresh peaches in a large saucepan and heat them on low heat allowing the peaches to sweat out for a minute
Add the sugar and stir in
Increase the heat to medium/high and boil the sliced fresh peaches with the sugar for 5 minutes. It will soften the peaches and form a syrup
Stir constantly – sugar may burn if you do not watch it
Step Two
Pour the melted butter into a 10×8-inch pan or 9×13-inch pan
Spread the butter around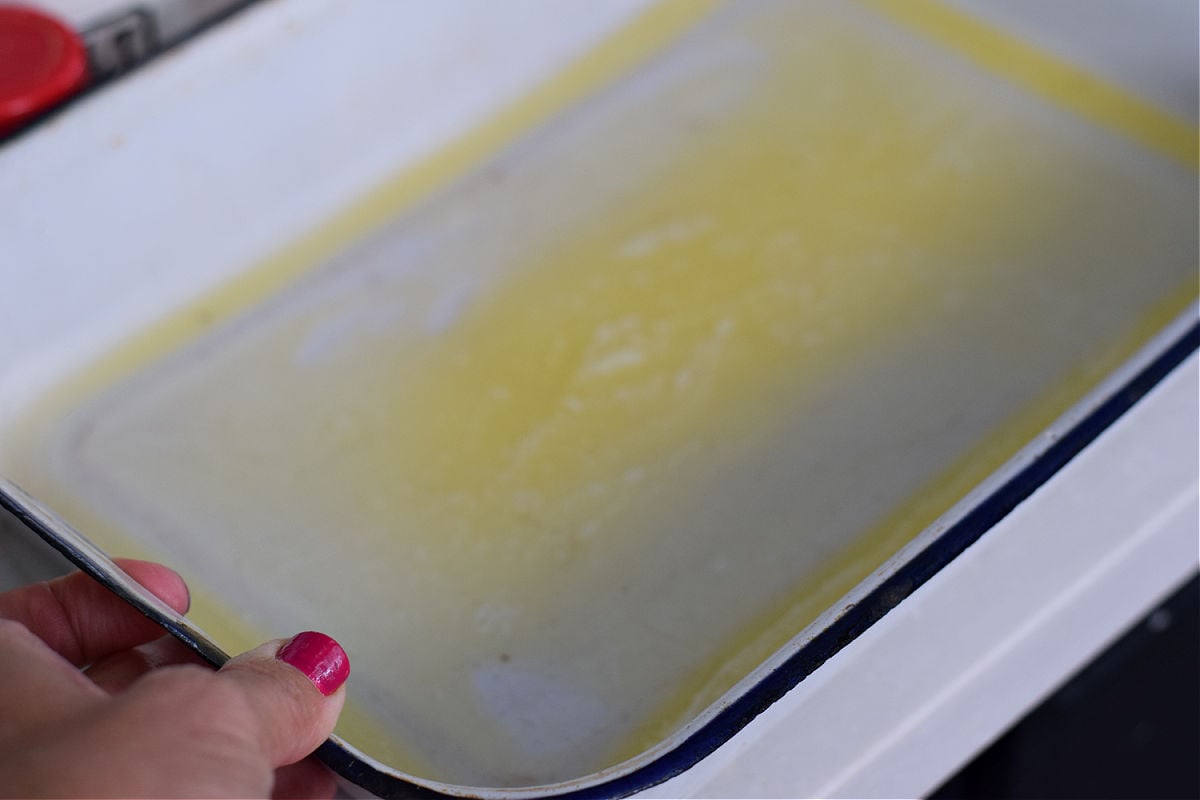 Step Three
Sift together the – sugar, flour, baking powder, salt, and nutmeg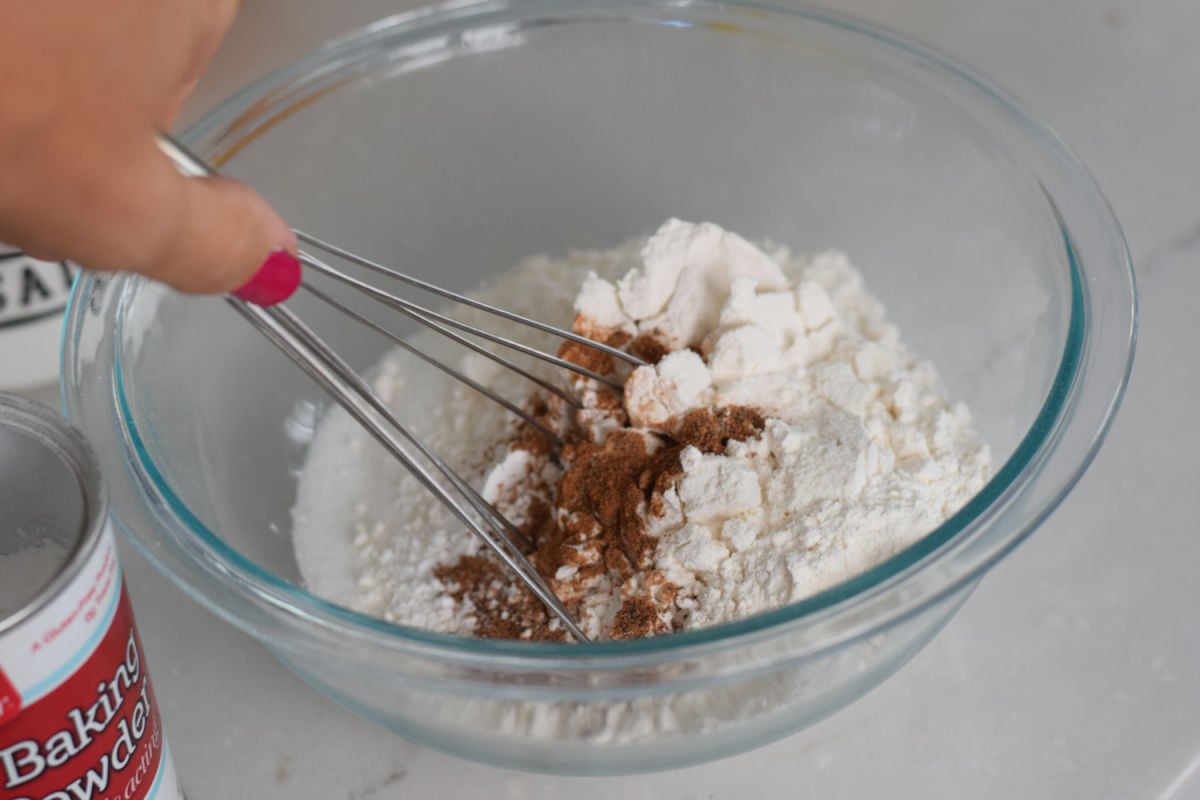 Step Four
Add the milk to the dry ingredients and mix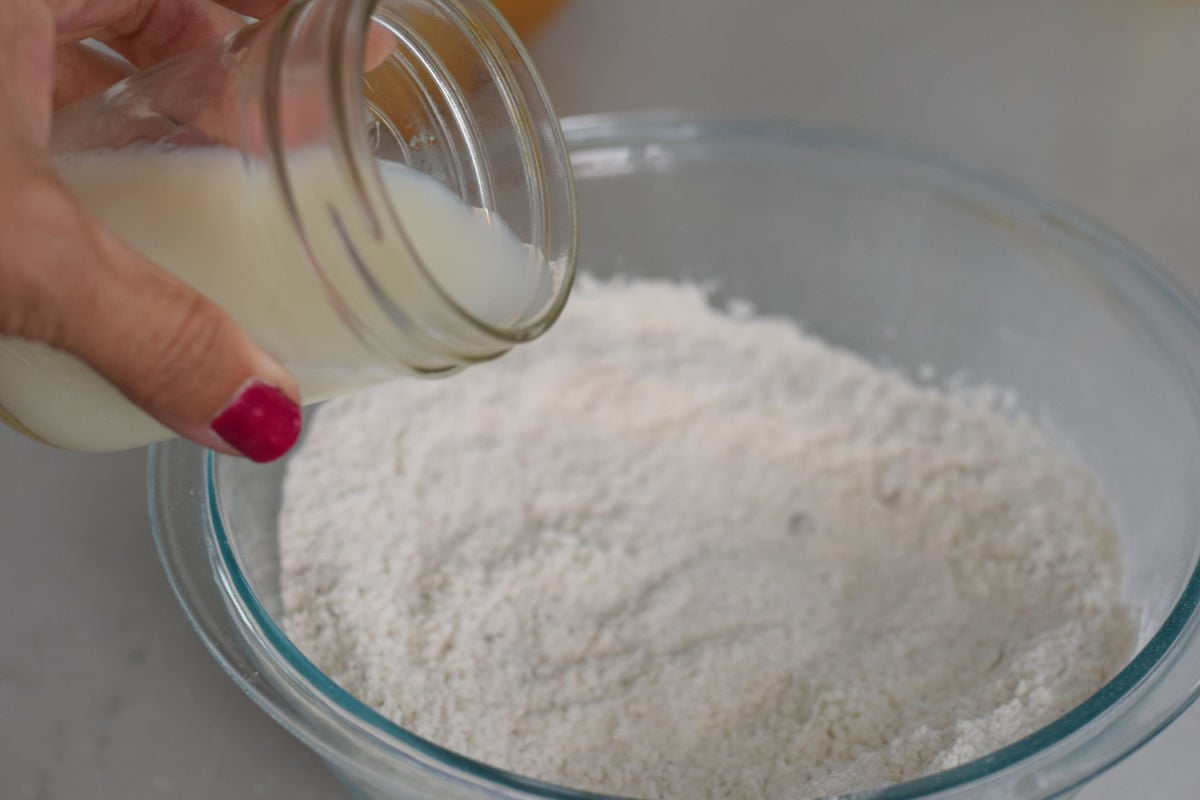 Step Five
Pour the mixture over the melted butter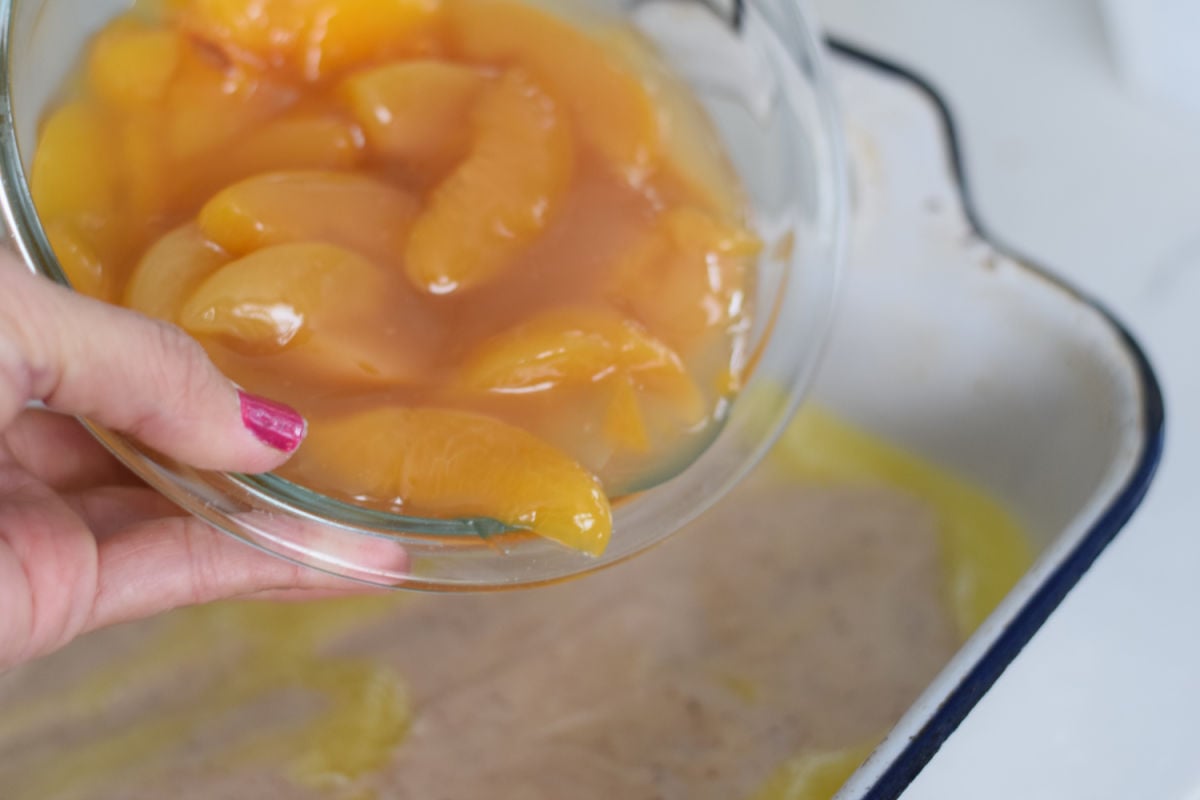 Spoon peaches over the batter
Bake for 1 hour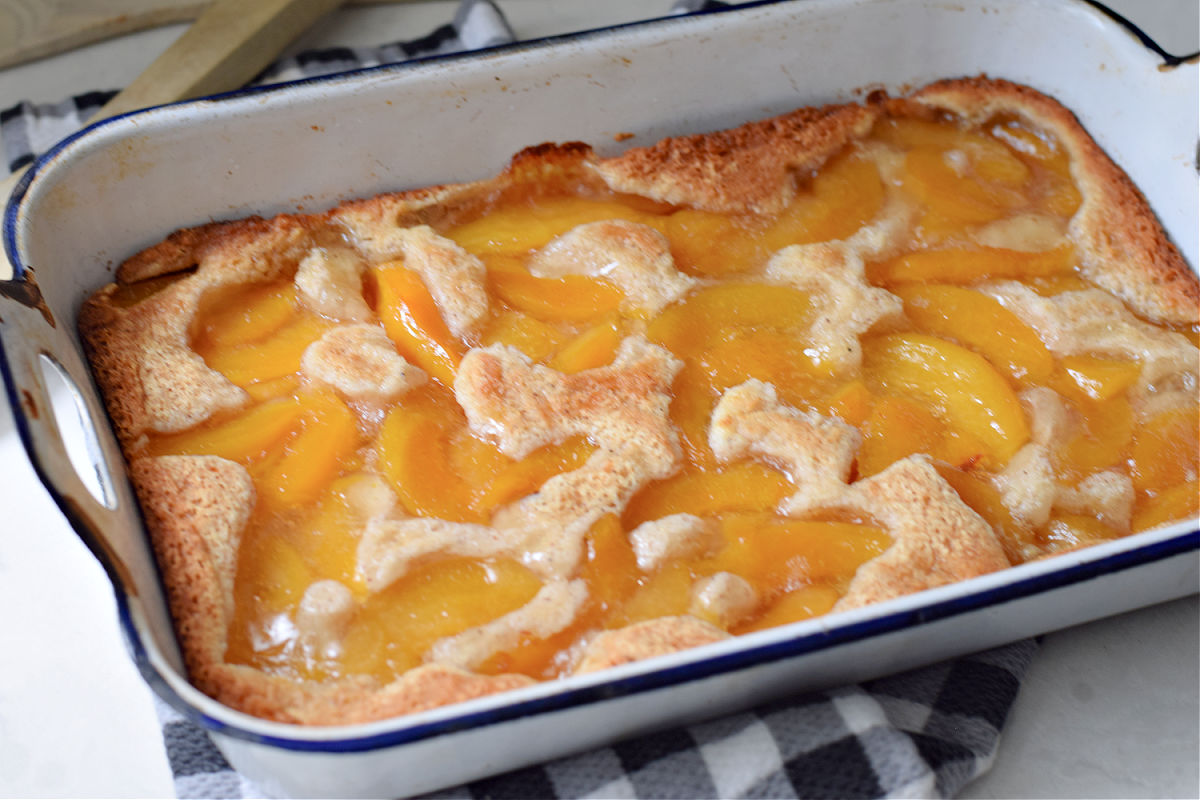 Optional: sprinkle a little extra nutmeg over the peach cobbler for a little extra flavor!
Expert Tips
Try to pour the batter evenly over the butter. If you need to spread the batter out then try not to mix it with the butter
When spooning the peaches out, spoon them out evenly all over the pan. If you need to spread them out, then try not to mix them with the batter. The batter will puff up around the peaches
Peeling the Skin off of Peaches
Blanching the Peaches
First use a paring knife to mark an X into the bottom of the peach
Boil a large pot of water. In the meantime, fill a large bowl with ice water
Place peaches, 2-3 at a time, into the boiling water for about 30 seconds
Remove the peaches and place them immediately into the ice water
Let them cool for about 1 minute
Starting at the X you made with your paring knife, start pulling the skin away from the peach
Variations to this Easy Peach Cobbler Recipe
You can use the batter and butter as a base for any fruit cobbler try…
Blackberry cobbler by cooking fresh blackberries in sugar to make a syrup, pour the blackberry syrup over the butter and batter base
Strawberry Cobbler would be delicious. Use the same method as the blackberry and peach cobbler. Cook strawberries with sugar to form a syrup and pour over the butter and batter base
Other types of cobbler that would be delicious would be – mixed berry cobbler, blueberry cobbler, and berry-peach cobbler
What to serve with Homemade Peach Cobbler
Vanilla Icecream
Roasted Chicken
Grilled Ribs
Hamburgers
FAQs
What is Cobbler
Cobbler is a dessert of fruit that is topped with batter or biscuits as a crust
What happens when ou use milk instead of water in bread?
Milk has a sweet fat, so it enriches the bread softening it, with a less open crumb, and making it sweeter
What is the difference between a cobbler and a crumble?
A cobbler is a fruit dessert topped with batter or biscuits. A crumble is a fruit dessert that is topped with a brown sugar streusel and sometimes oats
Storing and Reheating
Store leftover peach cobbler covered at room temperature for about a day. You can cover it and store it in the refrigerator for up to three days
Reheating: I like to reheat slices of peach cobbler in the microwave for about 30 seconds or until heated through
More Dessert Recipes
Serving Size
This cobbler will serve about 8-10 people. Of course, that is all relative to the amount that each person scoops out of the pan
Can you double the recipe? Yes and no. When you double baking dishes the amount of baking powder gets tricky. Baking is a science and it's hard to play around with the ingredients and get the right result
If you want extra, then sorry to say, you might need to make another batch
Come Hang out with Me on Social Media
I would love to see you over on Pinterest and on Facebook. I have a couple of pages. One is called Cooking Up Fun where I share crafts, games, and recipes and the other is Recipes Passed Down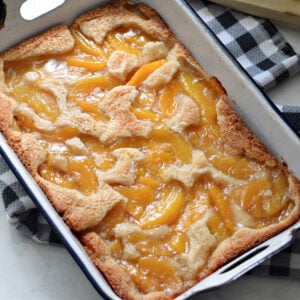 Peach Cobbler
A delicious and easy dessert that is always a big hit
Print
Pin
Rate
Ingredients
Filling with Fresh Peaches : (see notes for canned peach alternative)
2

quarts

fresh peaches

peeled and sliced

½

cup

sugar
Batter:
¼

cup

butter melted

1

cup

sugar

1

cup

flour

all-purpose

1

tsp.

baking powder

⅛

tsp.

salt

¾

cup

milk

1

tsp.

nutmeg
Instructions
Preheat your oven to 350 degrees

place fresh peaches in a large saucepan and heat on low heat allowing the peaches to sweat out for a minute

Add the sugar and stir in

Increase the heat to medium/high and boil the sliced fresh peaches with the sugar for 5 minutes. It will soften the peaches and form a syrup. Stir constantly – sugar may burn if you do not watch it

Pour the melted butter into a 10×8-inch pan or 9×13 inch pan

Spread the butter around

Sift together the –  sugar, flour, baking powder, salt, and nutmeg

Add the milk to the dry ingredients and mix

Pour the mixture over the melted butter

Spoon peaches over the batter

Bake for 1 hour

Optional: sprinkle a little extra nutmeg over the peach cobbler for a little extra flavor!

Serve suggestion: serve with ice cream or whipped cream
Notes
Canned Peach Filling
*You can substitute canned peaches by omitting the fresh peaches and the 1/2 cup of sugar and substituting 2 15 oz. cans of peaches in heavy syrup – Drain 1 can
nutrition facts are only an estimate 
Nutrition
Calories:
369
cal
|
Carbohydrates:
75
g
|
Protein:
5
g
|
Fat:
8
g
|
Saturated Fat:
4
g
|
Polyunsaturated Fat:
1
g
|
Monounsaturated Fat:
2
g
|
Trans Fat:
0.2
g
|
Cholesterol:
18
mg
|
Sodium:
181
mg
|
Potassium:
344
mg
|
Fiber:
4
g
|
Sugar:
59
g
|
Vitamin A:
986
IU
|
Vitamin C:
10
mg
|
Calcium:
79
mg
|
Iron:
2
mg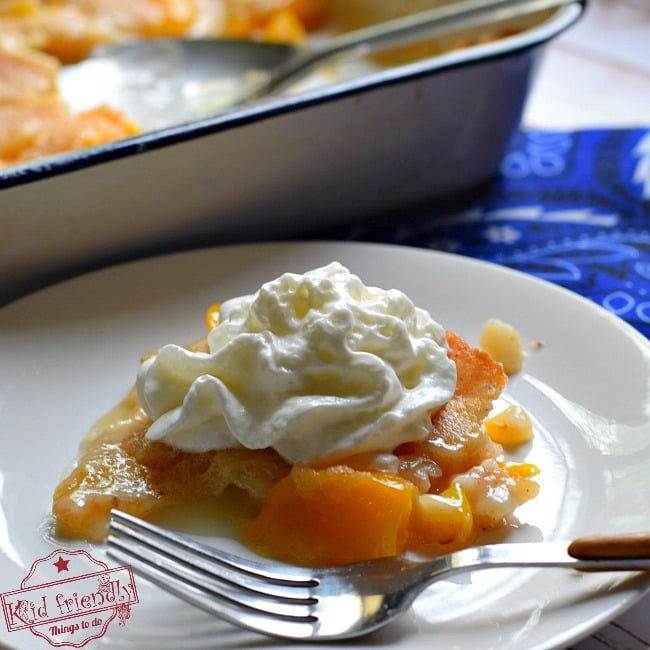 ~Melissa – KidFriendlyThingsToDo.Com