With chicken being a huge part of our diet, dinners can get a little monotonous. Hoping to liven up dinner, I bought some corn flakes and set to work on crispy baked chicken. I have to say, the cornflakes stayed on perfectly and gave it the perfect crunch! The chicken reminded me of KFC extra crispy chicken, but no frying necessary! Come on in and I'll share the recipe for Baked Corn Flake Chicken Recipe with Ranch Dressing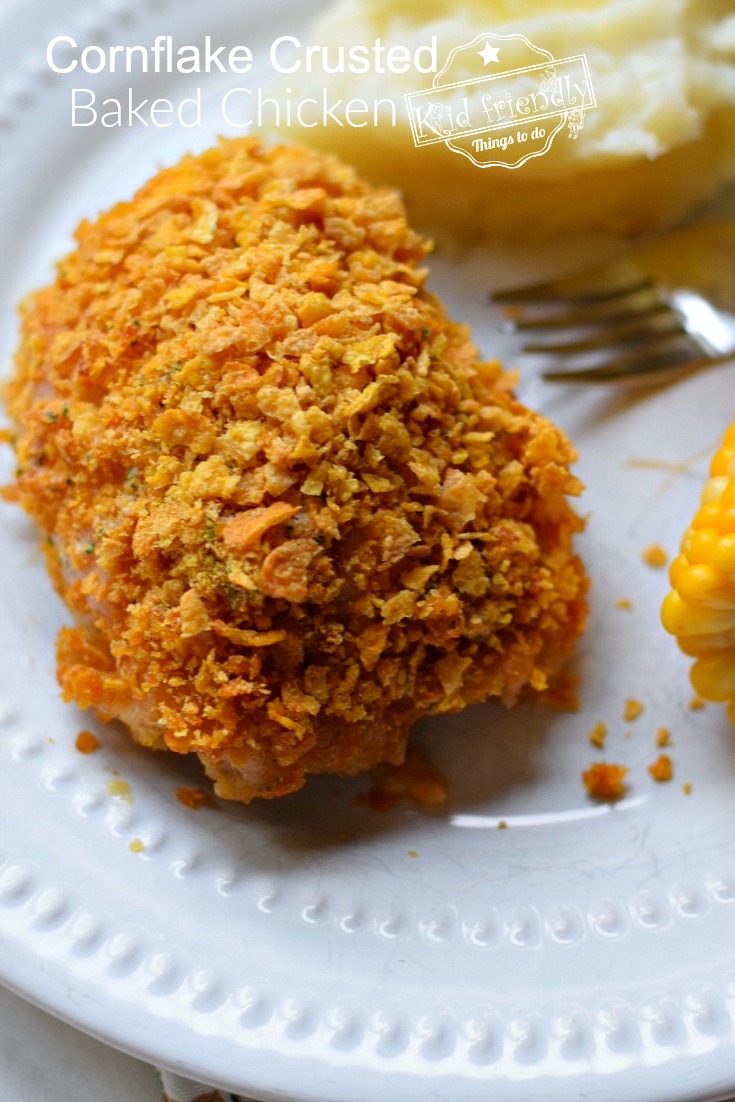 Here's a quick video tutorial on making this Juicy and Flavorful Corn Flake Crusted Chicken…
[box] [/box]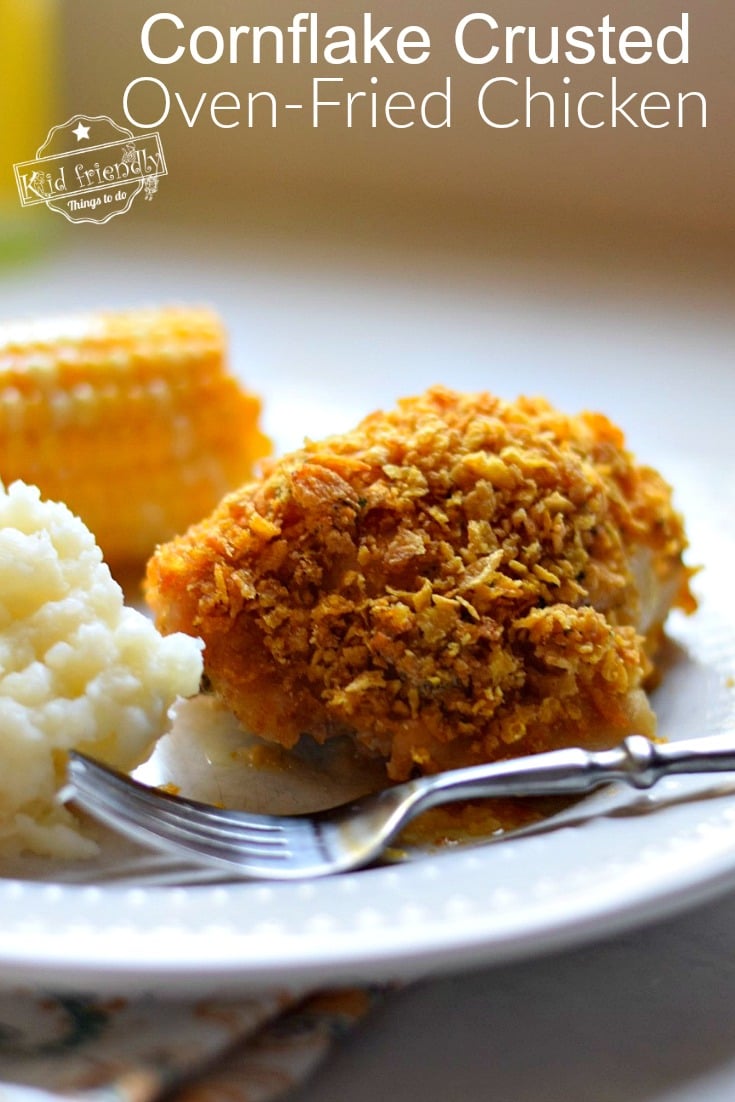 Here are my Top Amazon Picks for this Corn Flake Baked Chicken Recipe…
[box] [/box]
Baking times will vary depending on the cut you are using. Use this chart for deciding on how long to bake your particular cut of chicken.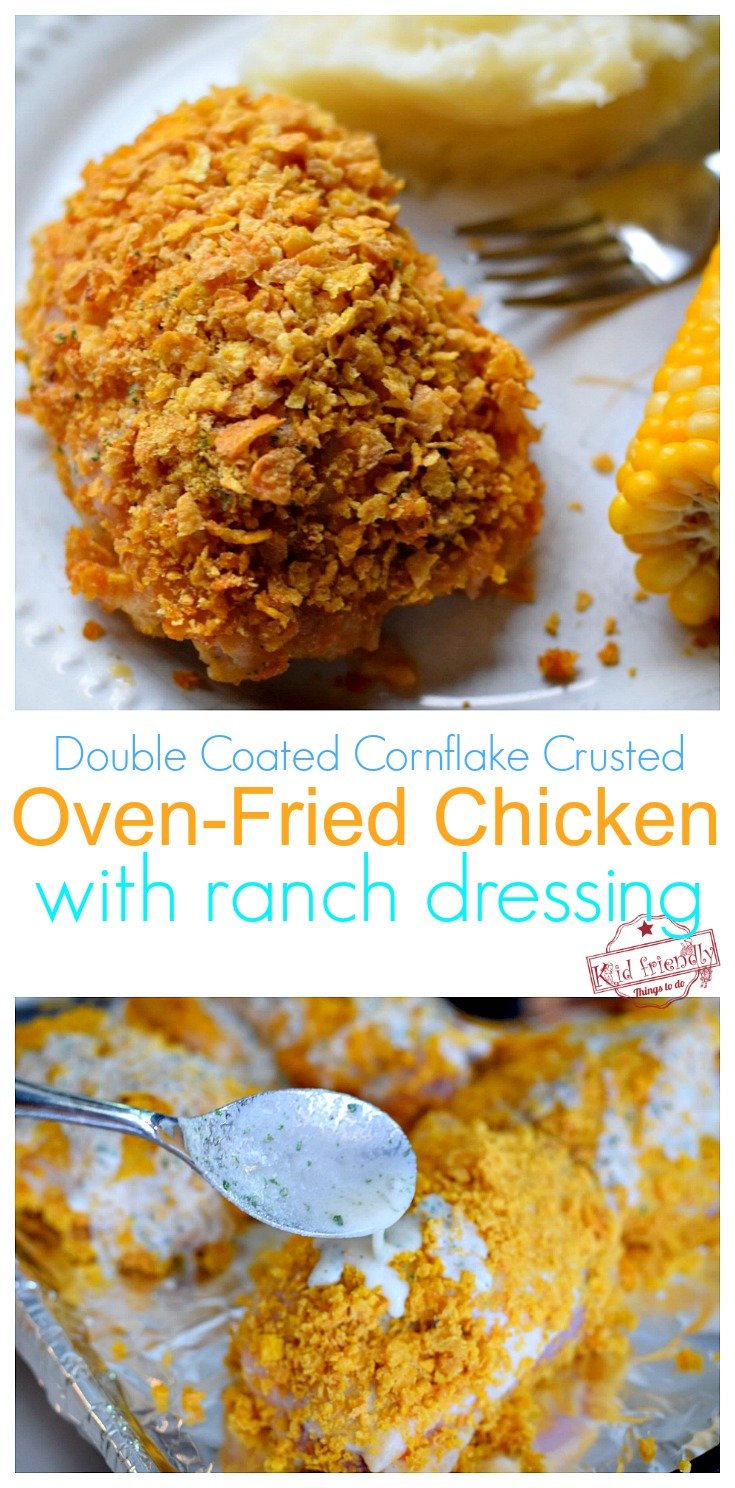 These chicken breasts are double coated with ranch and buttermilk in between layers. I mean…yum!
Finally, Here's the Corn Flake Crusted Baked Chicken Recipe…
Print
Baked Corn Flake Crusted Chicken
8

Chicken Thighs or Breasts – best with skin left on
Buttermilk – about 1 cup, or enough to fill up the bottom of a large pan for coating chicken

1

package of Ranch Dressing Mix
About

3 cups

of Corn Flakes (Crushed) – I used Kellogs
Salt, and Pepper
Instructions
Preheat your oven to 350 degrees
Now set out a pan, or large bowl of buttermilk – if you don't have buttermilk, add a little squeeze of lemon juice to regular milk. Let is sit for a few minutes, and it turns to buttermilk!
Whisk in your seasoning
In a separate pan pour in crushed cornflakes
Pour buttermilk into a shallow container, and mix in the ranch dressing packet contents
Place your chicken in the milk and using tongs coat both sides
Use tongs to lift the chicken out of the buttermilk, and place into the cornflakes
Coat both sides
Set onto a baking sheet – I used non stick foil
Spoon more buttermilk mixture onto the coated chicken
Sprinkle more Cornflakes onto the ranch mixture coating the chicken a second time
Sprinkle chicken with salt, and pepper
Set in the oven and depending on your chicken pieces bake 40+ minutes (temp in the meatiest part should read 170, meat should not be pink at the bone, and juices should run clear) Use the baking chart above to help with length of cooking time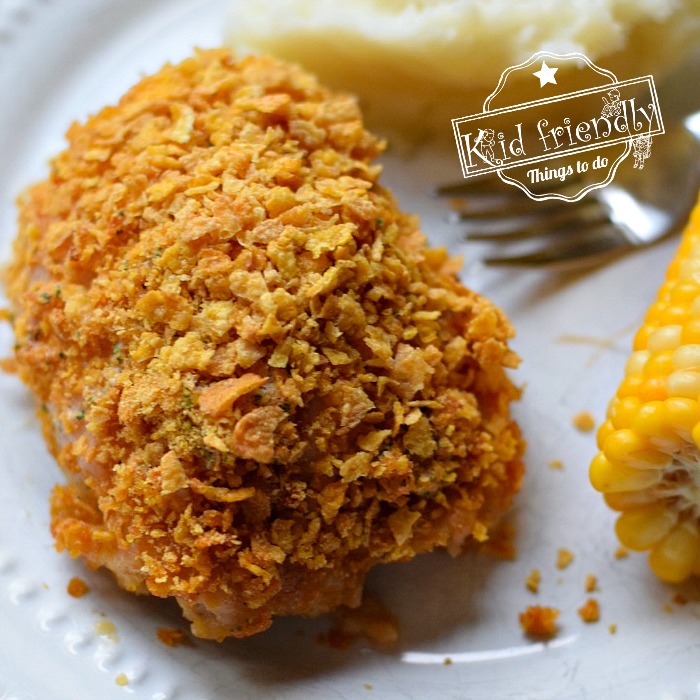 If you enjoyed this recipe for Corn Flake Crusted Baked Chicken With Ranch and Buttermilk Coating – Please follow allong with me to see more free recipes, crafts, DIY, Home & Garden, and so much more!
[box] [/box]
~Melissa – KidFriendlyThingsToDo.com