How To Make Rice Krispies Treats Maracas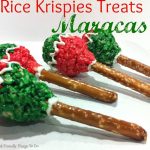 Posted by Melissa in Birthday/Holiday & Celebration Dish, Cinco De Mayo, Cinco De Mayo, Easy Family Recipes, Fun Food Crafts, Game Ideas, Holiday Fun Foods, Marshmallow Fun | 0 comments
I am pulling this one out of the archives to show you a fun treat for Cinco De Mayo. I made these last year for the kids and they were so much fun. The M&Ms inside, actually make a rattling sound when you shake them! Here you go:
These are the best! Perfect for Cinco De Mayo! Fair Warning though, if you make these with the kids around! They will drive you nuts! My kids, plus their friends were circling the kitchen island like sharks! Brutal working conditions! I needed a force field around these Rice Kripies Treats Maracas. They could not wait to tear into one. The end result, well…Connor snuck one. He's a sneaky little devil. The rest of the kids – They loved them!
Here's my tutorial on How To Make Rice Krispies Treats Maracas
You'll Need:
6 cups of Rice Krispies Cereal
10 oz. Marshmallows – like Jet Puffed
3 Tblsp. butter
red and green food coloring
melted white chocolate melts – such as Wilton
Pretzel Rods – broken in half
Butter flavored cooking spray
Mini M&Ms
Equipment:
Mini muffin tin – non-stick
Mini Tart Shaper, or something similar
2 Medium saucepans
Squeeze tube for melted chocolate or a baggie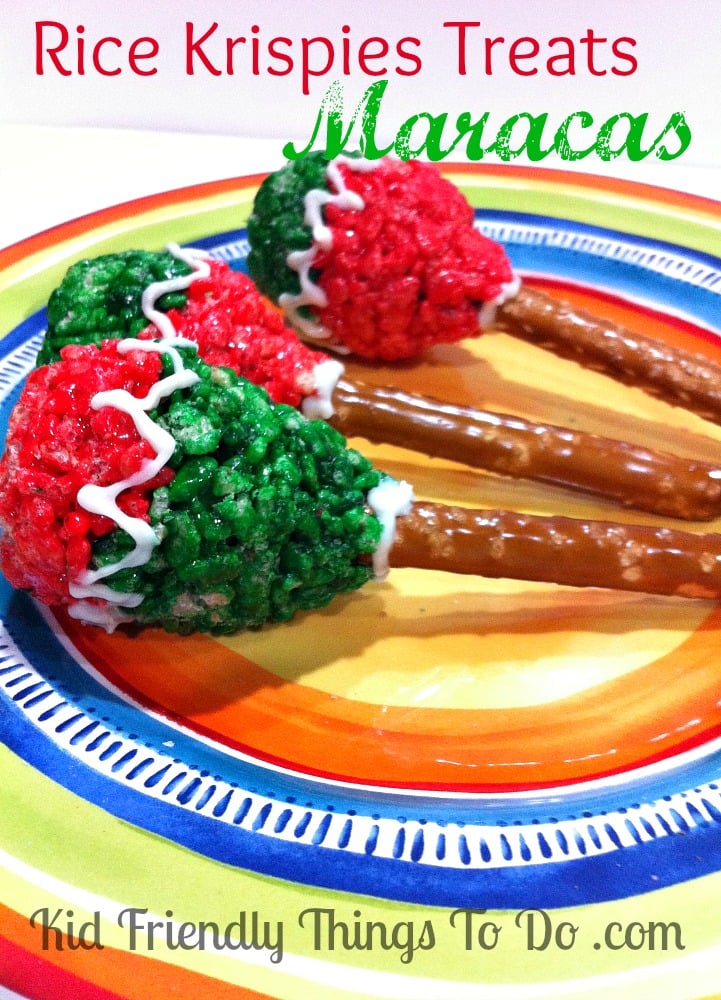 *Here's one tip before you get started. Have everything ready to go. The marshmallow mixture hardens quickly. You'll want to work fast while it's still warm so you can mold it.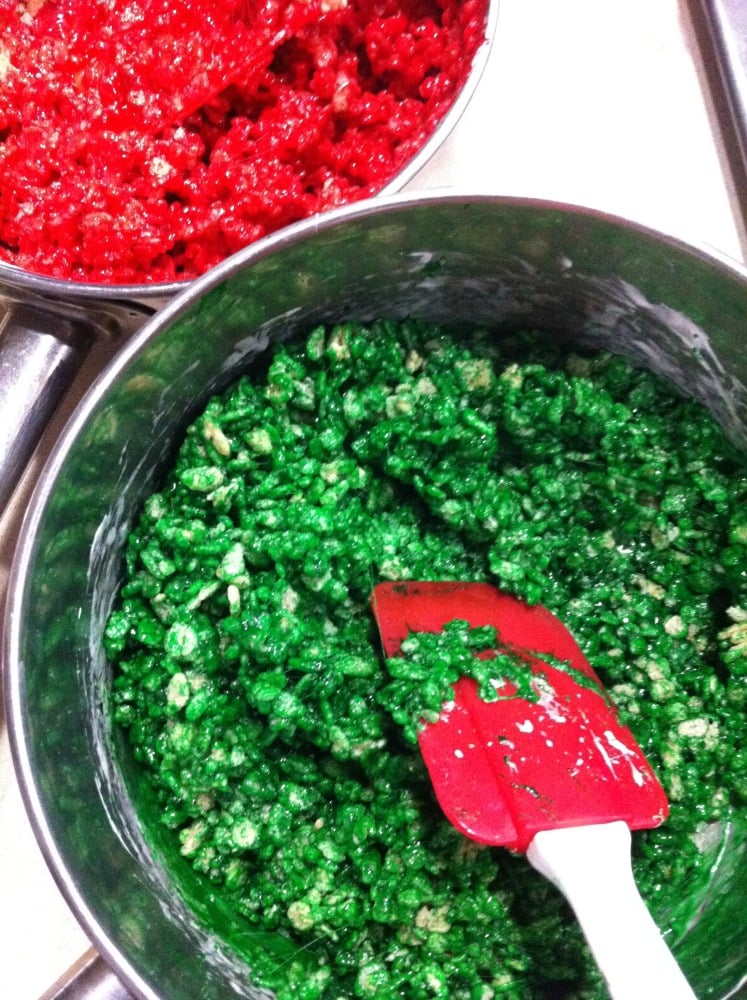 I used the original Rice Krispies Treat Recipe – I divided it up between 2 saucepans
In each sauce pan, I melted 1&1/2 Tbsp of butter, and turned the heat off
I added 1/2 of the bag of 10 oz. marshmallows to the melted butter, and stirred until the marshmallows melted
Then I added food coloring to each saucepan – green in one, red in the other (it takes a lot of red)
Finally, I stirred in 3 cups of Rice Krispies Treats into each saucepan, and mixed until my arm wanted to fall off!
With the Rice Krispies colored, I started spooning – about 1 Tbsp., of each color into my Mini Muffin Tin
I had 1 dozen of each color in the tin
Then, I sprayed my Mini Tart Tool with cooking spray, and pushed the centers to form bowls
I filled the green half with M&M Minis, and then placed the red half over the green and gently sealed them by pressing the ends together
I used a butter knife to loosen the green half out of the mold, and pressed around the middle a little more until they were sealed together
I set those down on a plate, and got to work on the pretzel rods
I grabbed some more Rice Kripies Treats out of the sauce pan and wrapped some around the end of the pretzel rod
I attached the pretzel rod to the maraca, and gently molded it together with the maraca
Then I decorated them with Melted White Chocolate Melts
I used a handy squeeze tube, but you can also snip the end of a baggie that is filled with melted chocolate
I decorated one side, put them in the refrigerator to set up
Then, I spun them around to decorate the other side
*This is an important step: I added a little strength to the pretzel handle seal by putting some chocolate there, also
The chocolate works like glue. It's great stuff. Use it to your advantage.
And, there you have it! Rice Krispies Maracas! Fun stuff!
If you enjoyed this post on How To Make Rice Krispies Treats Maracas – Don't forget to follow along for so much more fun foods, recipes, crafts, and more!