These Carrot Chocolate Covered Strawberries are dipped in orange chocolate and made to resemble cute little carrots. They are perfect for your Easter celebration or summer picnic. Come on in and I'll share how to make these Easy Carrot Strawberries: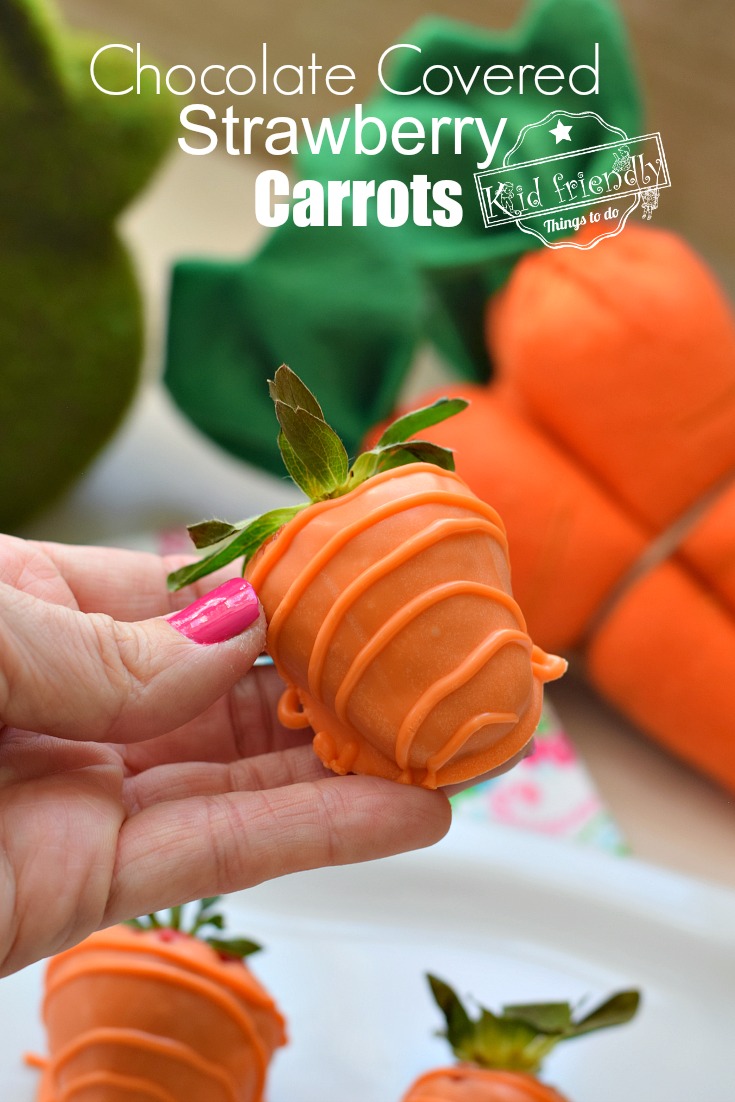 Carrot Chocolate Covered Strawberries…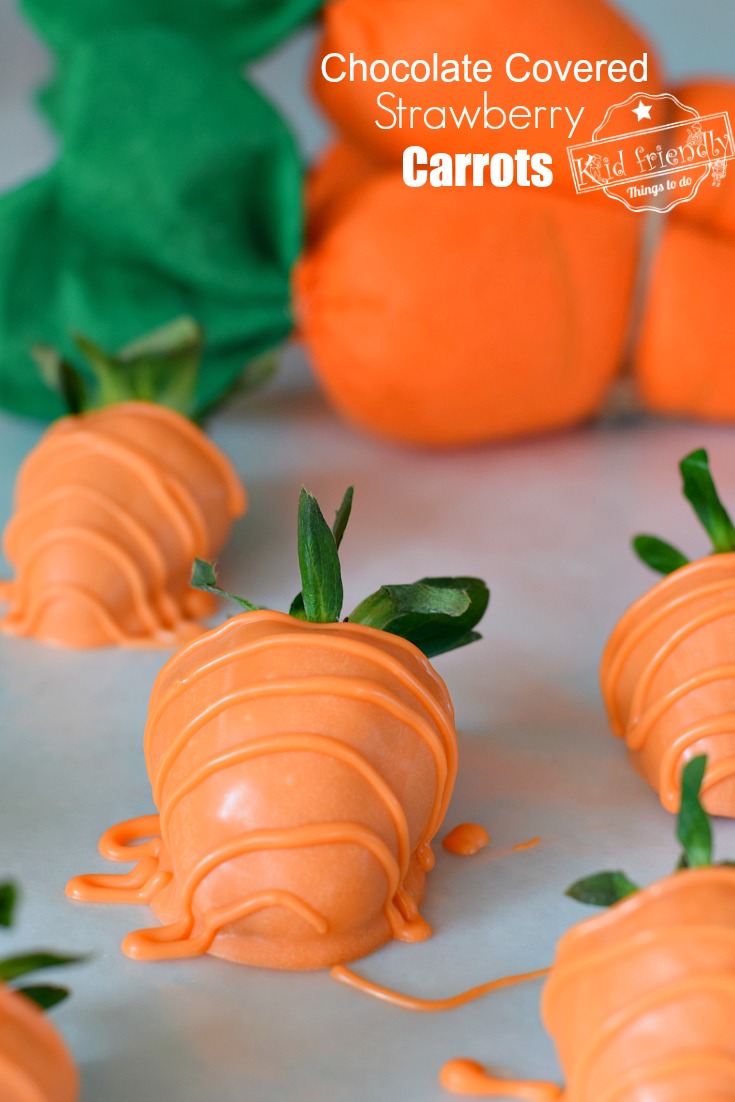 These adorable chocolate-covered strawberries are the perfect Easter Treat.
They are super easy to make, too.
You'll easily have a dozen of these cute strawberries to serve to your family or guests in no time.
Can you make Chocolate Covered Strawberries in advance?
Strawberries, once rinsed, tend to go bad quickly. These chocolate-covered strawberries are best when served the same day. You can easily make these a few hours in advance and they will be fine. It is possible to make these a day in advance. Store them in the refrigerator in an airtight container. Let strawberries set out for a while before your party (about 20 minutes) to come to room temperature.
What chocolate is best for making Chocolate Covered Strawberries?
For chocolate-covered strawberries that are dipped in brown chocolate, it is fine to use chocolate chips. When you want a colored chocolate-covered strawberry, then use an already colored chocolate melt for dipping your strawberries in.
How do you keep chocolate-covered strawberries from sticking to the plate?
The best way to keep chocolate from sticking to any surface is to use wax paper. When storing the strawberries, place them on wax paper and between the strawberries.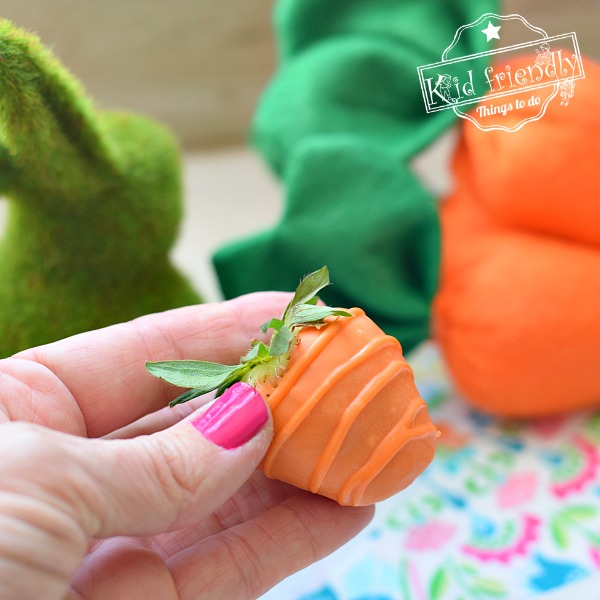 Here's What You'll need to make these Carrot Chocolate-Covered Strawberries:
2 lbs. of Strawberries rinsed and dried with a paper towel
1 (12 oz.) bag of Orange Chocolate Melts – Wilton is my preferred brand
Wax paper
Candy squeeze tube
*you can substitute a zip-tight bag with a small snip in the corner
Here are my top Amazon Picks for these Chocolate Covered Strawberries:
(affiliate links)
[box] [/box]
Instructions on making these Chocolate Easter Treats:
Melt the chocolate melts
*I like to use a glass microwave-proof bowl, fill with chocolate melts, place into the microwave for 1 minute, stir until smooth. If necessary, I pop the chocolate melts back into the microwave for 30 more seconds and stir until smooth
After you've rinsed your strawberries, make sure the strawberries are dried from using paper towel to dry them completely
Set out a piece of wax paper onto the work surface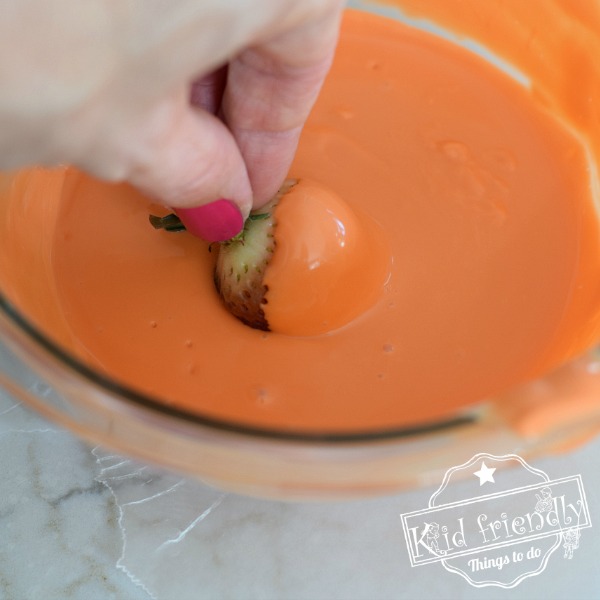 Dip your strawberries into the chocolate melts and spin them around to coat them completely
*some people prefer to dip the strawberries-only 3/4 of the way up – leaving some red at the top. Other's prefer to dip the strawberry up to the leaves. Either way is totally fine
Hold your strawberry over the bowl to allow  the excess chocolate to drip off
Place the strawberry on the wax paper so they can dry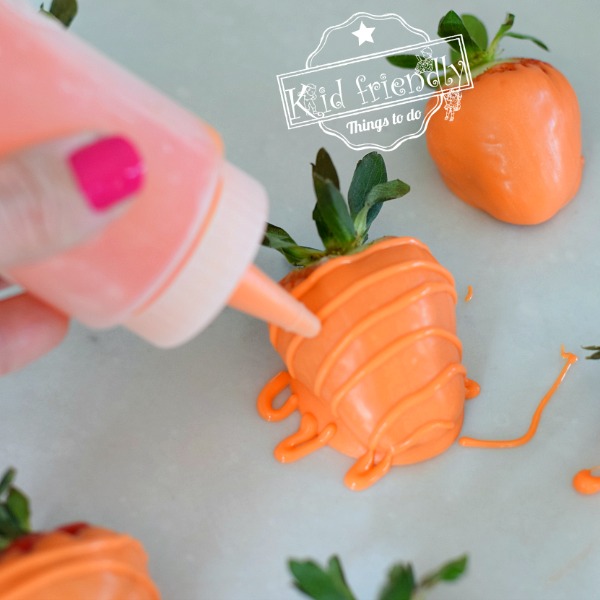 Fill your squeeze tube with melted chocolate
*you can reheat the chocolate if needed. Just pop it into the microwave for about 30 seconds to allow it to melt again and then pour it into your squeeze tube or zip-tight bag
With your melted chocolate in the squeeze bottle, start on one side of the strawberry and go back and forth over the strawberry moving from the top of the strawberry to the bottom or from the bottom to the top
Let the strawberries air dry to harden