This Penguin Valentine Oreo Cookie is so adorable and so easy to make. Make them as fun treats for the kids, or let the kids join in on the fun of creating these cute Valentine's Day Treats.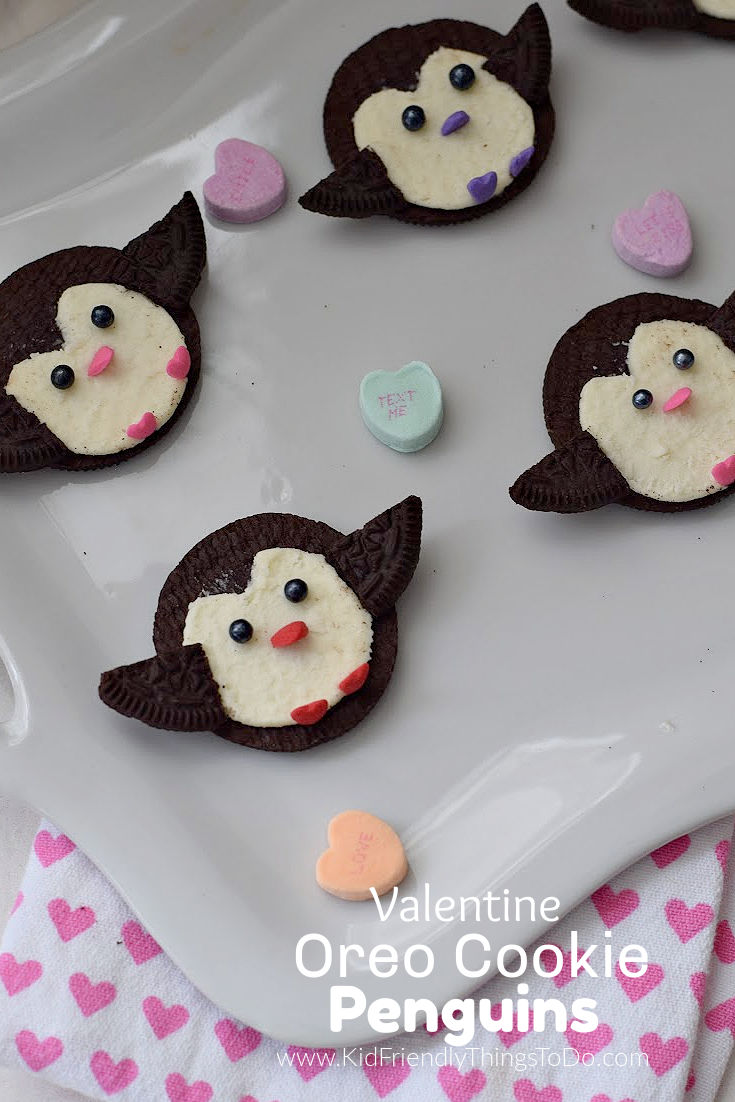 Valentine Oreo Cookie Penguins
If you're looking for easy and cute Valentine's Day Treats, these might be the ones for you. If you still want to find more fun ideas, check out my Valentine's Treat Ideas, like Nutella and Chocolate Haystack Cookie for Valentine's Day, Valentine Marshmallow Pops, or Love Potion Ice Cream Floats.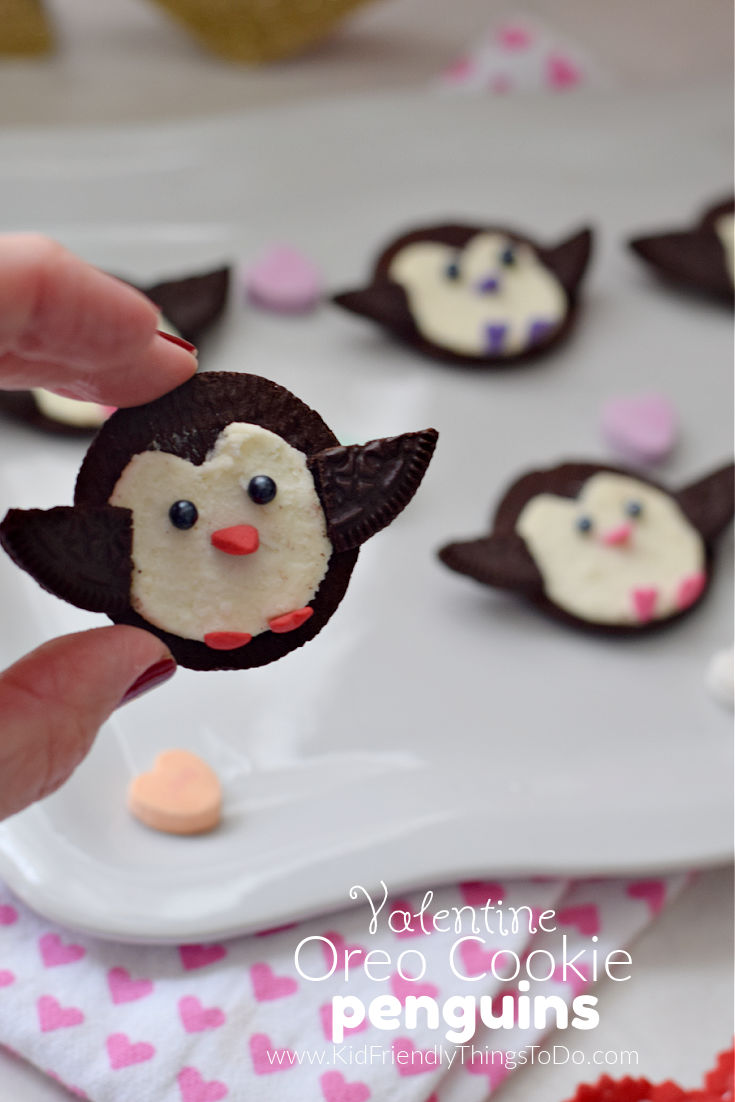 How do you store these Penguin Valentine's Day Oreo Cookies?
If they last longer than a couple of days, you can store them in an airtight container. These cookies can easily last a couple of weeks and can be made ahead of time for holiday parties.
Can I make these Valentine Oreo Cookies Ahead of Time?
Absolutely. These cookies should last as long as any Oreo Cookie would last. They are not modified enough to really create a more perishable food. Feel free to make these several days in advance. Store them in one layer so the decorations do not get moved around. They should be stored in an airtight container.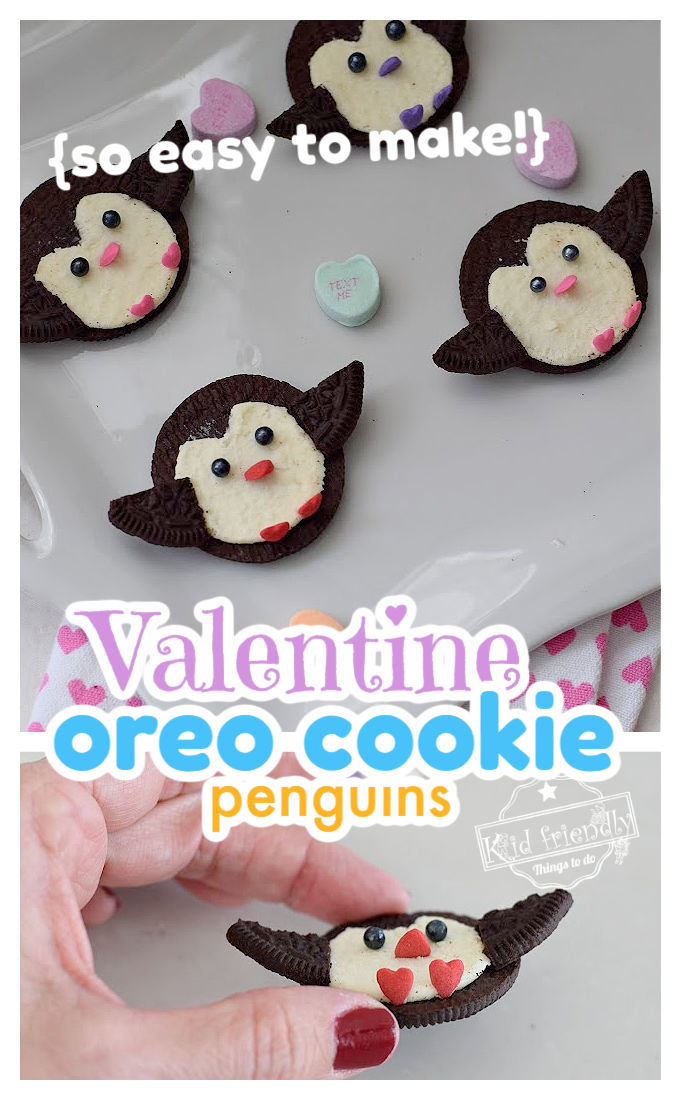 With little heart feet and beak, I'm calling this Valentine's Day treat, but penguins could really go with any winter-themed party or just for fun.
Are you ready to make these cute little Oreo Cookie Penguins? Let's make sure you have everything you'll need…
(for 1 dozen penguins)
1 dozen Oreo cookies
heart sprinkles
black non-perils
toothpick
How do you make these Valentine Oreo Cookie Treats? 
(printable is below with images to help) 
twist the Oreos apart – keep both sides
using a toothpick, make a V in the top of the cream center
place heart sprinkles on the opposite end of the V so the top of the hearts are facing outward
add another heart for the beak and the 2 black non-perils for the eyes
break off about 1/4 of the cookie that is left and then break that in 1/2
use the cookie pieces for wings
Here are my top Amazon Picks for this Oreo Cookie treat idea…
(affiliate links)
Other Valentine's Day recipes
Blonde Brownies with Valentine's Day M&Ms
Homemade Chocolate Whipped Cream – perfect for dipping strawberries into
Here's the printable for this party treat…
Print
Penguin Valentine Oreo Cookie {Easy to Make!} | Kid Friendly Things To Do
Cute and easy to make Valentine Oreo Cookie Penguins
Author:
Prep Time:

10 minutes

Cook Time:

none

Total Time:

10-15 minutes

Yield:

1

dozen

1

x
Instructions
twist the Oreos apart – keep both sides
using a toothpick, make a V in the top of the cream center
place heart sprinkles on the opposite end of the V so the top of the hearts are facing outward
add another heart for the beak and the 2 black non-perils for the eyes
break off about 1/4 of the cookie that is left and then break that in 1/2
use the cookie pieces for wings
Notes
*You can easily make more than a dozen – the whole package of Oreos wouldn't take long at all to transform into penguins
Storing:
you can keep these  on the counter uncovered for a few days, but if you are planning on making these well in advance then you might want to place them in an airtight container -still kept at room temperature