If you live in a cold climate, this might be a fun way to craft something beautiful and feed the birds at the same time. These homemade bird feeders for winter are a fun craft that the kids can help make and enjoy with their feathered friends.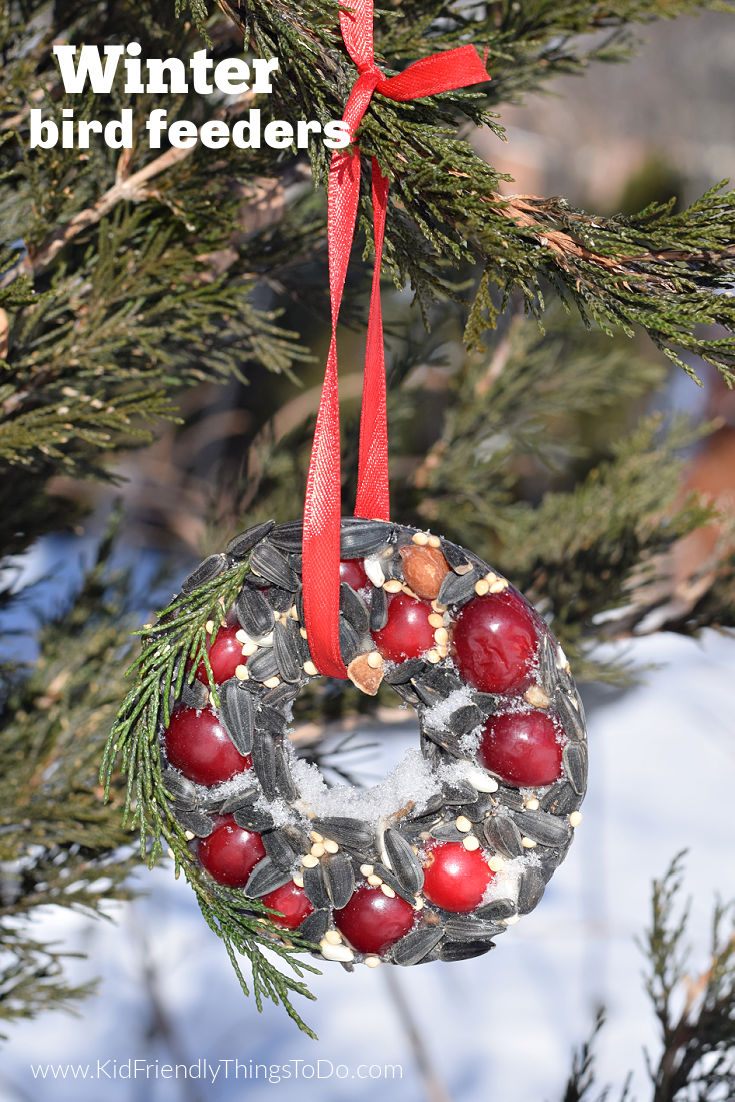 Homemade Bird Feeder for Winter
If you love birds, and bird feeder crafts then you might like my post on how to decorate birdhouses with edible birdseed glue
These bird feeders are not only practical, but they are also beautiful to see hanging outside. Winter can tend to get a little blah. These will certainly help brighten up the outside view.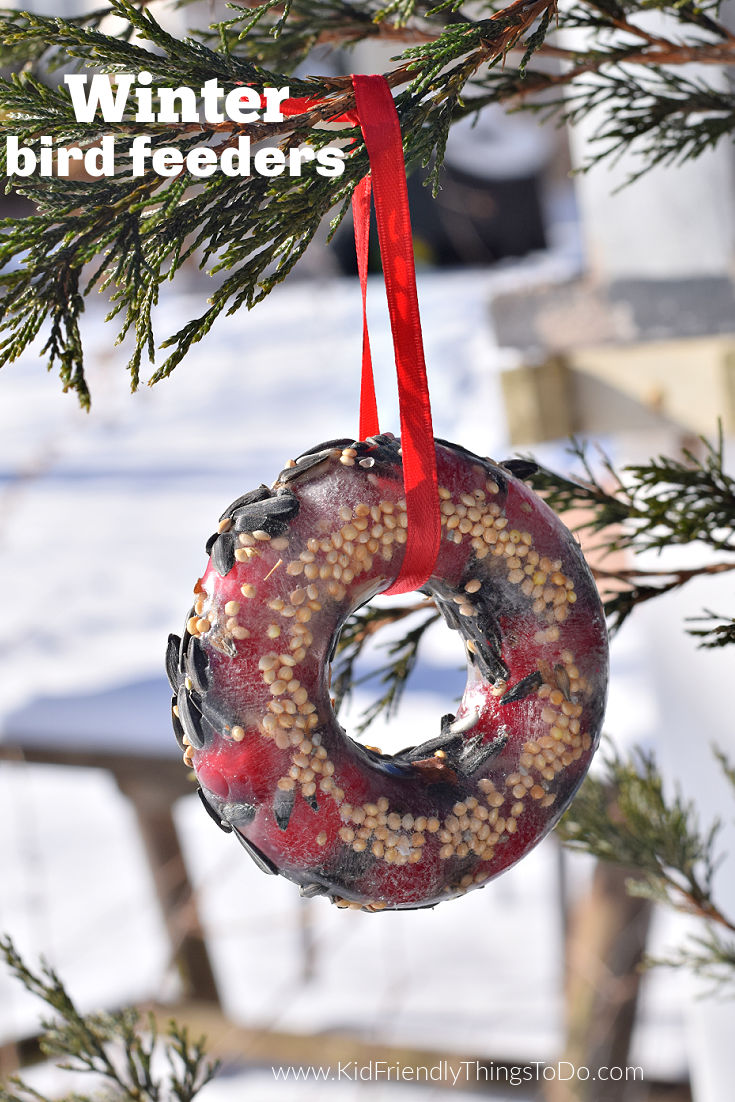 As you can see, you can add several items to your birdfeeders to make them into little works of art.
This one looks so pretty with simply cranberries and birdseed.
In this homemade bird feeder, we've added some twigs from an evergreen tree for a little extra touch of beauty.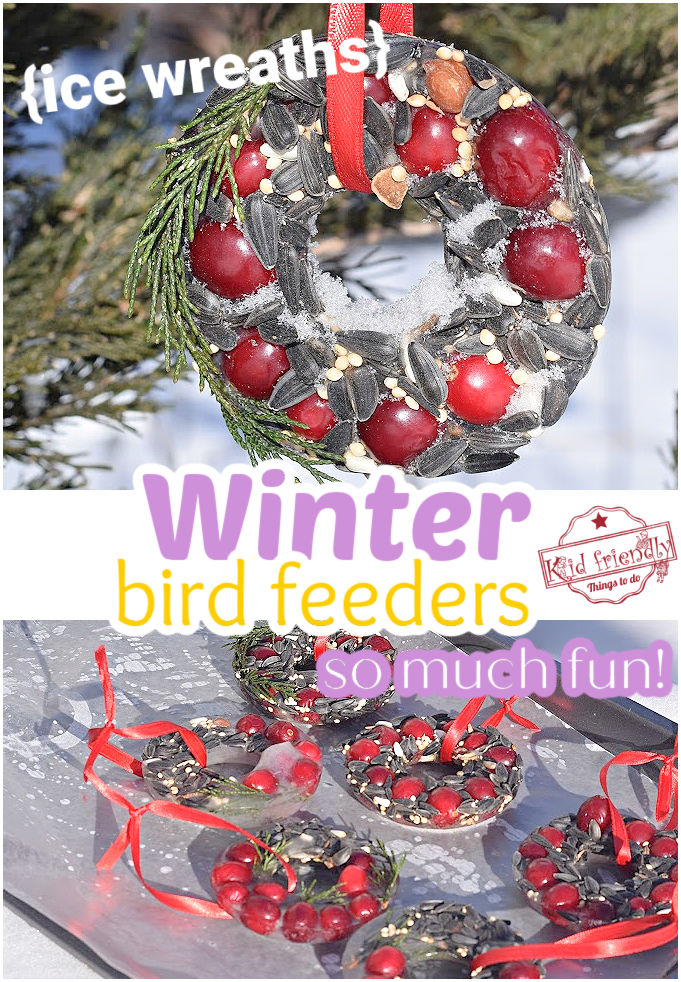 You can really have fun with design. Of course, the birds won't care about that, but they will certainly enjoy the yummy food inside these adorable wreaths made just for them.
If you are looking for a winter craft to do with the kids, you might want to check out, How to make a pine cone bird feeder, decorating bird housed with edible bird seed glue, or check out my post on Over 31 Winter Themed Fun Food Crafts and Winter Crafts for kids to make.
What Kind of Foods from My Kitchen Can I Feed to the Birds?
nuts
berries
bread
cereal
fruit – like bananas, apple slices, pears, orange slices, and honeydew are all great options
meat – cooked meat that has not gone bad offers protein in a winter month when bugs are harder to find
frozen peas or corn – thawed
dry pet food – soaked in water
cooked pasta
What Kind of Bird Food Can I add to this Winter Homemade Bird Feeder Idea?
Keeping in mind that this bird feeder contains water and when soaked, some foods will puff up and even get soggy, you can really add any bird food like seeds, berries nuts, frozen vegetables (thawed), cooked pasta, and fruit would all be great options.
Are you ready to make these adorable homemade bird feeders for winter? Let's make sure you have everything you'll need…
Supplies Needed:
Mini Cake Bundt pan or doughnut baking pan
Birdseed
Fresh Cranberries and other berries for the birds
(Optional) sprigs of evergreen trees as a decorative touch
ribbon to hang the wreaths with
*other optional bird food items are listed above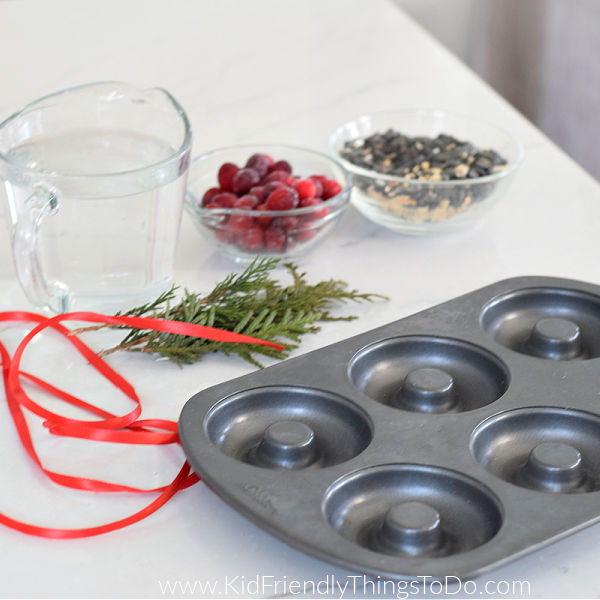 How Do I make these homemade bird feeders for the winter?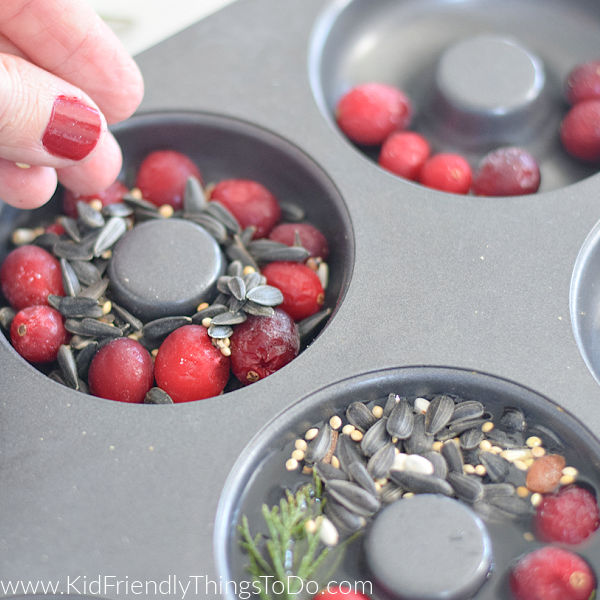 Fill the bundt cake pan or similar pan cavities with berries, and evergreen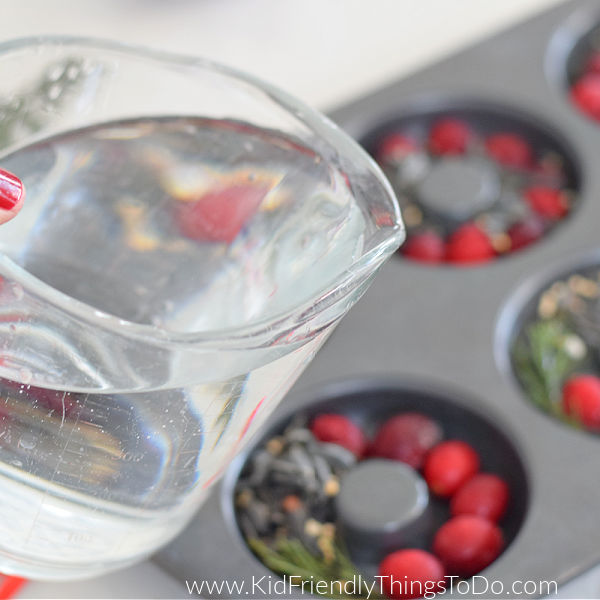 once you've got your bird food placed inside, start pouring your water in
*tip – pour water directly onto a heavier food, like berries or fruit to avoid dispensing the birdseed all over the wreath. This will help ensure that everything mostly stays where you placed it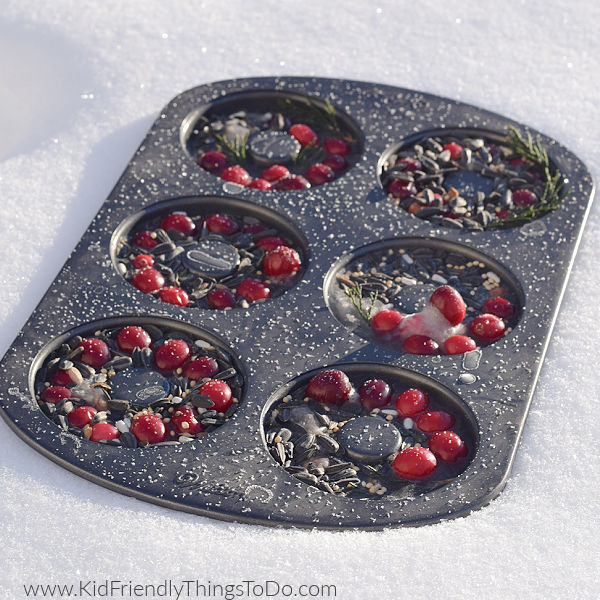 Pop the cake pan into the freezer, or if it's cold enough outside – you can place it outdoors to freeze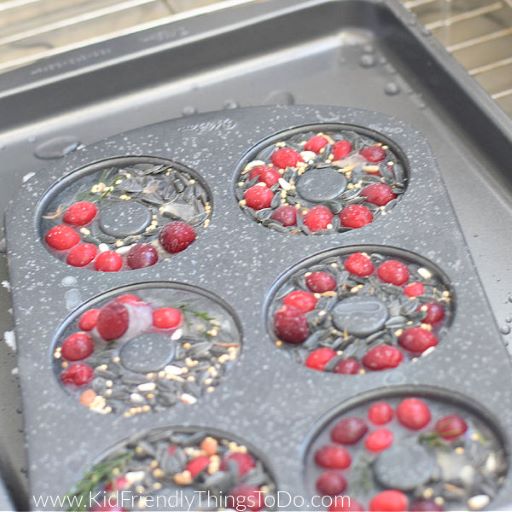 When frozen – place a baking sheet in the sink to catch any runaway wreaths, turn the bundt pan upside down or on its side to expose the bottom of the pan, and run the bottom of the pan under hot water for just a second or two to loosen the ice wreaths and remove the wreaths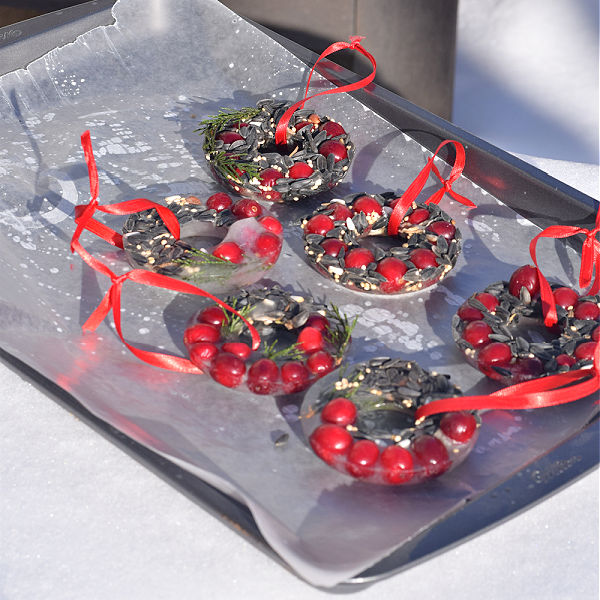 quickly add the ribbon to each wreath and tie knots
place them outside in cold weather immediately by hanging them up in trees or from something else
tip- if you aren't ready to hang them up quite yet…*you can place them on a waxed paper-lined baking sheet and put them into the freezer to hang outside later
The images below are an older version of these bird feeders we made years ago. The kids really enjoyed creating them.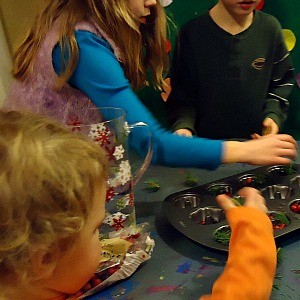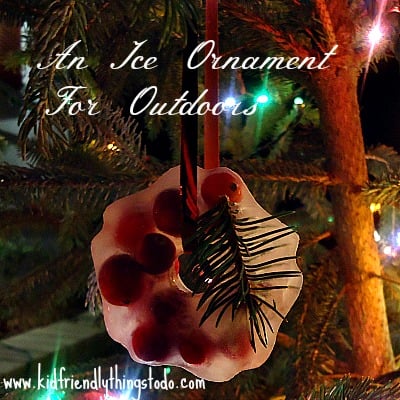 ~Melissa – KidFriendlyThingsToDo.Com