This is one of my favorite Non-Candy Valentine Gift ideas & Printable for kids. Pair a glow stick or an inexpensive finger flashlight with this Valentine's Day card for a great non-candy gift.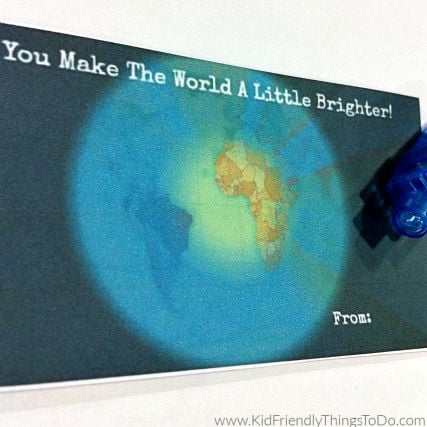 Non-Candy Valentine Gift Idea and Printable
Alright, you guys…with Valentine's Day quickly approaching, I grabbed my stash of inexpensive toys this morning to try and get some Valentine's inspiration. The finger flashlights were my biggest inspiration. They are so much fun. My kids use them at night to read their bedtime books.  I'm glad, I finally got around to the printables so they can each have their flashlights, and I don't have to hear about how much they want them, anymore.
I looooove this Valentine Printable, It's definitely one of my favorites. It's cool enough for the kids to hand to anyone and sweet enough to make their friends feel really good. The toy that I am adding to this is a finger flashlight, but a glow stick would also work. I think the kids will love this unique Valentine.
If you are looking for inexpensive non-candy gift ideas for Valentine's day, you might like this Valentine printable for matchbox cars, Sticker Valentine Printable idea, or a Mustache printable for Valentine's Day
Here's the printable for this non-candy Valentine gift idea