Decorating Birdhouses with Edible Birdseed Glue is such a fun craft. I also think this would be a great craft for fairy parties. Not to mention a great gift for Mother's Day, Father's Day, and Christmas. Perfect for bird lovers.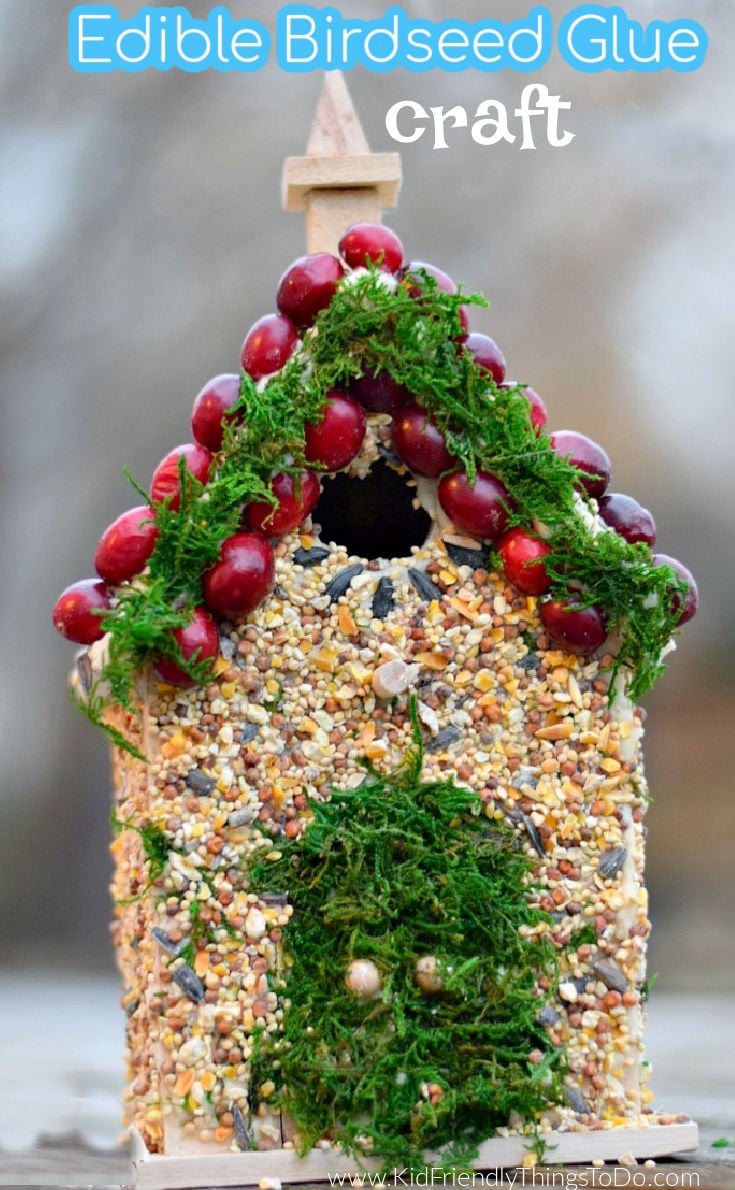 Decorate a Birdhouse with Edible Birdseed Glue
This is a great craft for kids, teens, and adults. It's also the perfect gift for bird lovers
If you love nature like I do, and crafting with the birds in mind, then check out my post on making a pinecone birdfeeder
If you are making birdfeeders for winter, then you'll love these Birdfeeder Ice Wreaths
Tips and Tricks:
You can make homemade birdhouses or buy wooden birdhouses at a local craft store
If you are making this with kids, it's a great idea to have a divider tray with some edible birdseed glue, seeds, paintbrushes, and other edible decorations for the birds ready to go for each child
Black sunflower seed is a great seed for songbirds like cardinals and tufted titmouses
Birds also love certain berries and fruits (see list above). These also add a pop of color to your birdhouses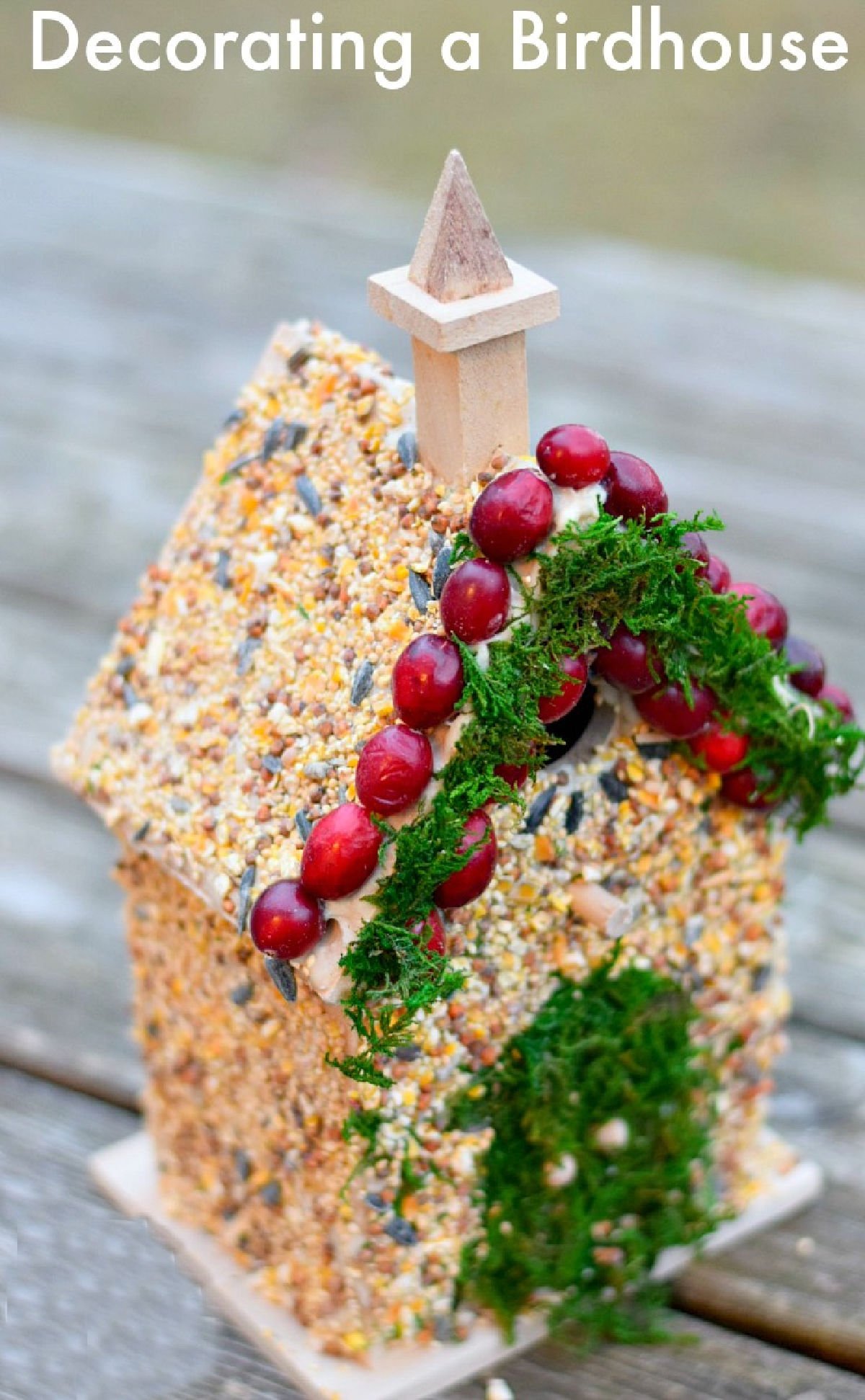 Expert Tips for Birdhouses and Decorating Ideas:
I found my birdhouses and moss at Michael's Craft Store
Don't forget birdseed – I like to get black sunflower seeds and wild bird food mix
Berries are always great for adding color and the birds can eat those as well
What Fruits Can I Feed Birds?
Small berries are great fruit for birds like raspberries, cranberries, blackberries, strawberries, and mulberries. Other fruits are apples and orange slices.
How long will Birdseed Glue last outside?
The birdseed glue will even last through normal rain. I'm not sure about the really rough weather. Ours have been sitting outside on a rainy day, and they are still intact.
Bird Seed Glue Ingredients:
3/4 cup of all-purpose flour
1/2 cup of water
3 Tbsp. corn syrup
1 package of Knox Unflavored Gelatine
Instructions for making birdseed glue:
In a large bowl pour in your flour
Add the water and mix in
Add corn syrup and mix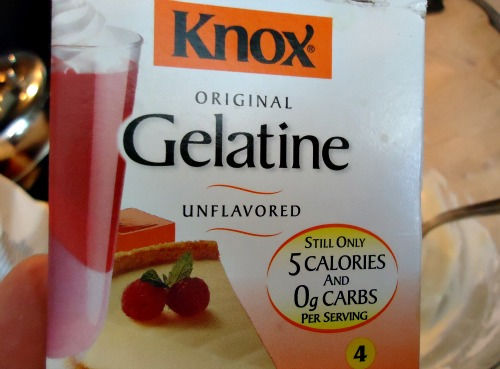 Finally, stir in your gelatine – whisk together until the lumps have smoothed out
Decorating Birdhouses: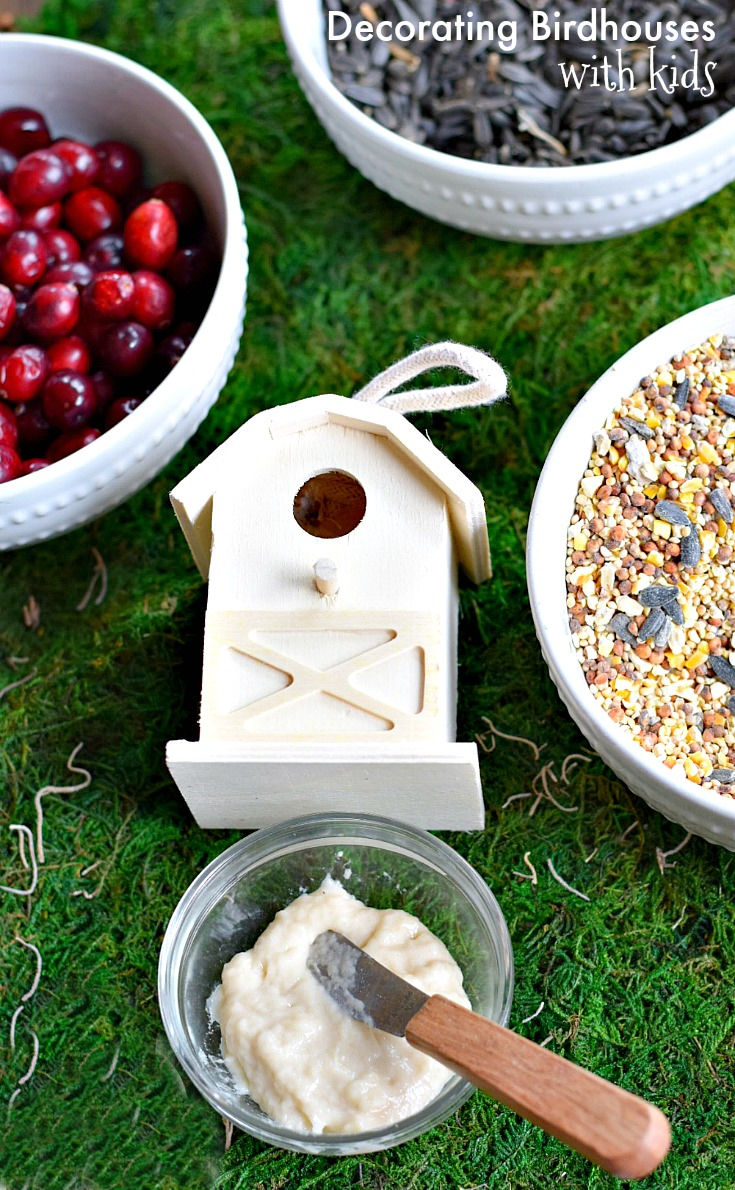 Here are my top Amazon Picks for this fun Decorating Beautiful Birdhouses With Edible Bird Seed Glue Craft:
(affiliate links)
[box] [box] [/box]
Preparation Idea for making a homemade birdhouse with the kids: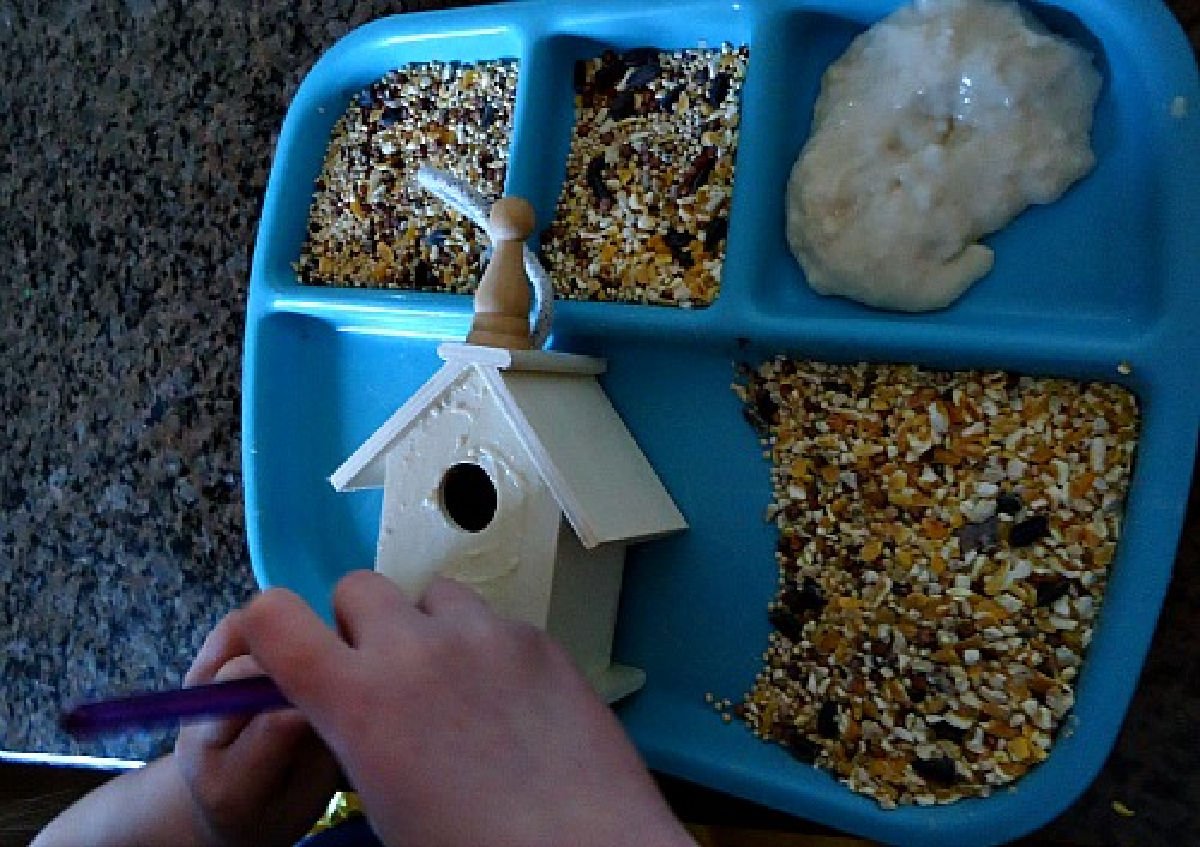 Before you hand out the supplies, you might even want to spread a plastic tablecloth on your surface. That would make clean-up a snap! 🙂
Give each child a birdhouse and a tray of various bird seeds and berries
Scoop out some glue for each child – if you don't have the handy dandy divider trays (found at Walmart) then bowls and cups will do the trick
Let the kids use plastic, or butter knives to spread a good amount of glue onto their birdhouses (we started out with paint brushes, but quickly moved on to spreading utensils)
Decorating with Edible Glue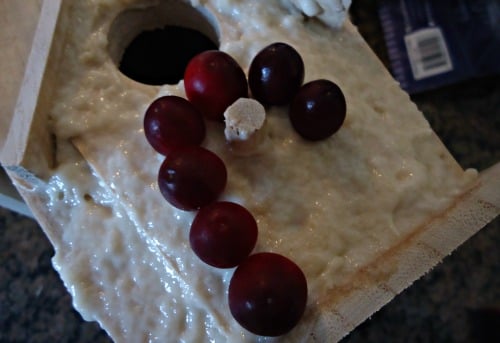 Spread glue onto the birdhouse – Use a liberal amount so it is thick
Decorate with seeds, moss, evergreens, and fruits that birds can eat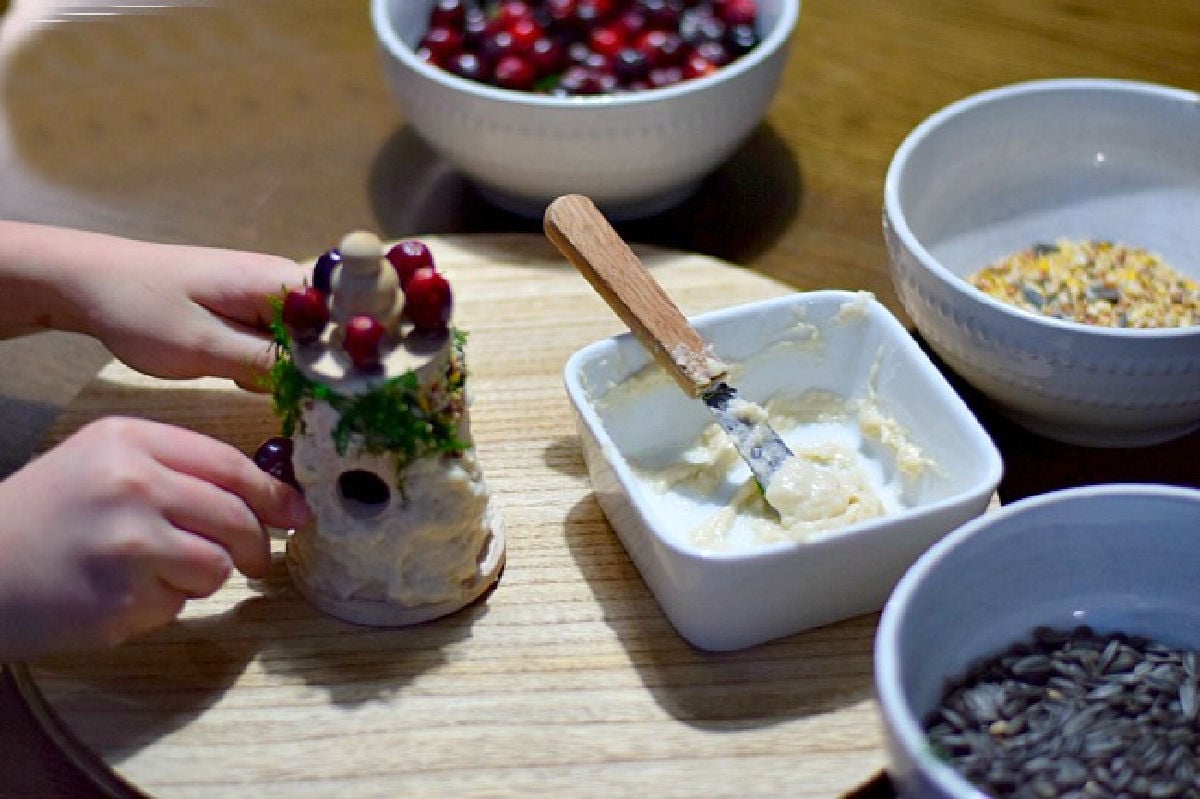 You can probably tell by the pictures, but we spread the glue on pretty thick.
Examples of decorated birdhouses are below: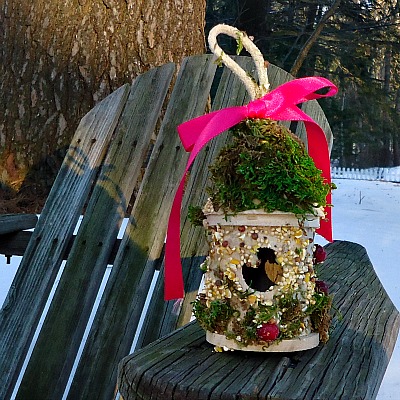 This is my 5-year-old's creation from 2012. Adding a ribbon is another cute touch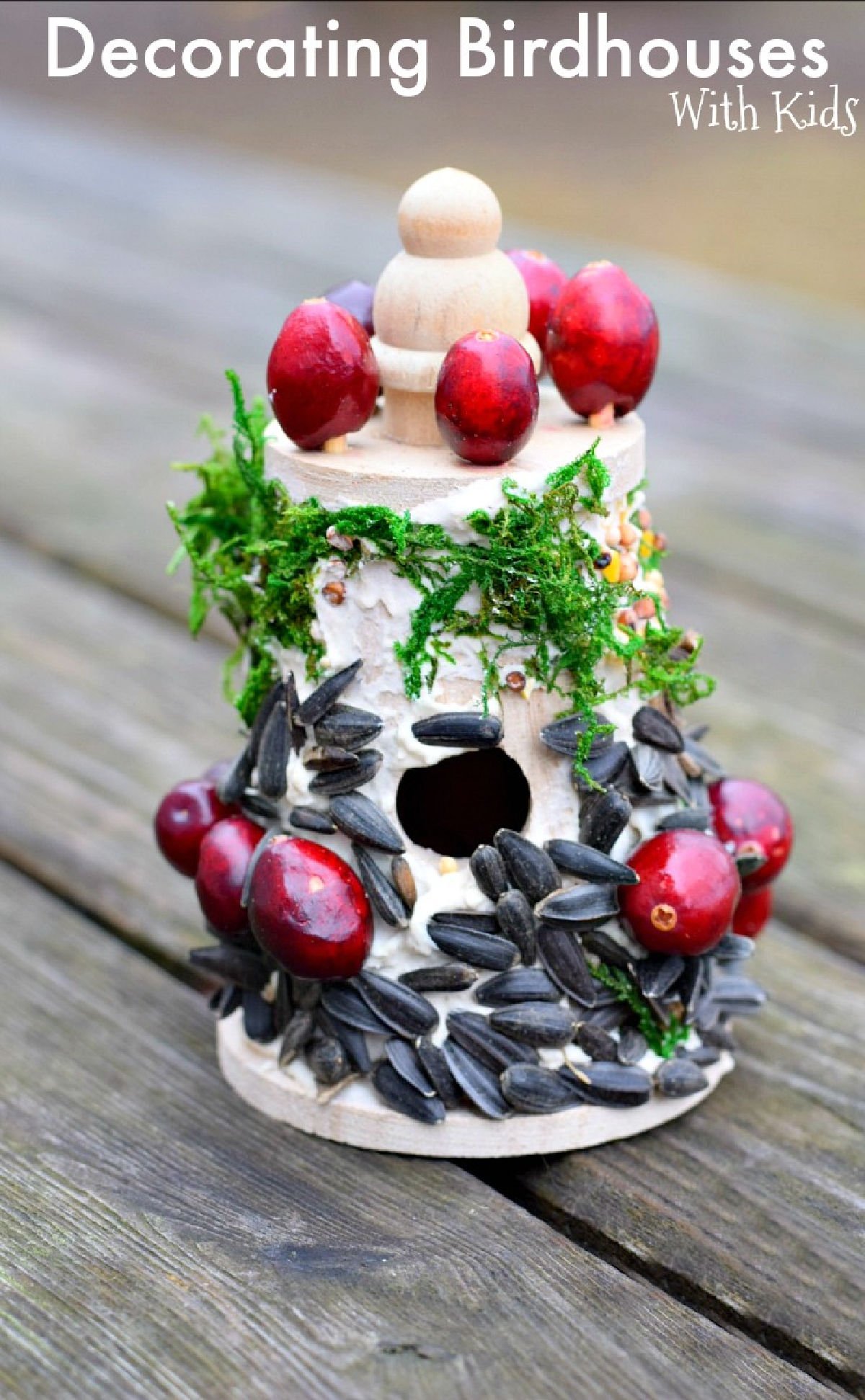 Lighthouse Birdhouse
Here's another kid creation. Don't you think that these would make cute fairy house party crafts?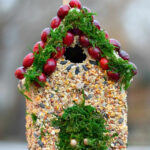 Print
Decorating Birdhouses
Use edible birdseed glue to decorate birdhouses
Equipment
1 paint brush or spreading utensil

1 divider tray
Materials
¾

cup

all-purpose flour

½

cup

water

3

Tbsp.

corn syrup

1

package

Knox Unflavored Gelatine
Instructions
In a large bowl, pour in flour

Finally, add the Gelatine and mix
Notes
Tips and Tricks
you can make homemade birdhouses or buy wooden birdhouses at a local craft store

If you are making this with kids, it's a great idea to have a divider tray with some edible birdseed glue, seeds, paintbrushes, and other edible decorations for the birds ready to go for each child

Black sunflower seed is a great seed for songbirds like cardinals and tufted titmouses

Birds also love certain berries and fruits (see list in the post). These also add a pop of color to your birdhouses
[/box]
Don't miss a thing! Follow me for the latest crafts, recipes, DIY home & garden, and party ideas
Melissa – KidFriendlyThingsToDo.Com