It's a last-minute craft for the kids on Thanksgiving Day! I love this simple and fun craft! It might just look like a turkey, but when you pull the string the turkey makes a popping noise that sounds like a turkey call! Just cut and paste the turkey printable of your choice – I've provided links to a pre-school and more advanced – for the older kids – turkey cut and paste. And…Follow these easy steps and pictures!… Happy Thanksgiving! 🙂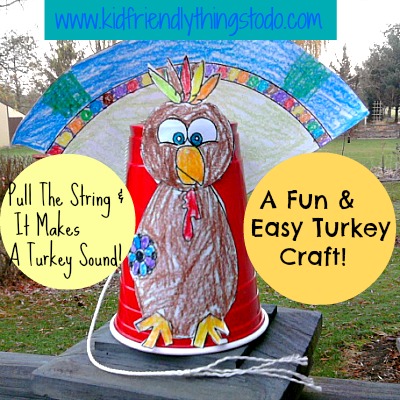 Turkey Gobbling Craft:
Are you looking for fun Thanksgiving crafts for the kids? Try,
Instructions:
Print out the printable from the links provided below
Let kids color, and cut out their turkeys
Poke a hole in the bottom of the cup.
Set the cup upside down on the table – so the bottom of the cup is now the top!
Use about 16″ of a nice sturdy yarn or string to slip into the top of the whole
Wrap Masking tape around the end of the string that is inside the cup – making a masking tape ball that is bigger than the small hole so it won't pull out of the cup
Finally, glue the front of your colored turkey to the front of the cup, and the colored back (the feathers) to the back of the cup, facing you
Pull the string up a few times – to hear the turkey "Gobble"
Happy Thanksgiving!!!!! Gobble, Gobble!
Here are the links I promised:
A Pre-School "Easy" Cut and Paste – go to  http://www.makinglearningfun.com/themepages/TurkeyShape.htm
~Melissa – KidFriendlyThingsToDo.Com – A site providing kid-friendly crafts, recipes, and fun ideas for the whole family!