Here's the Basic Pie Crust Recipe I use for my pies. It's easy and rolls nicely. Plus, it's nice and fluffy when baked. It's a good – "go-to" recipe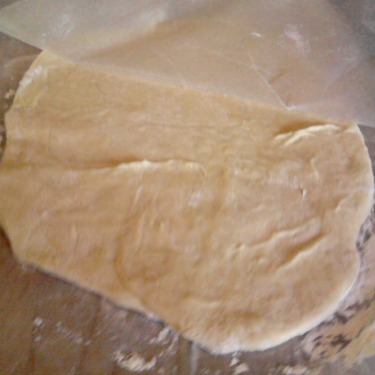 Basic Pie Crust Recipe
You'll Need:
makes (2) 9-inch crust
2&1/2 cups of flour
1 t of salt
1 t of sugar
1 cup of unsalted butter – cold – right out of the fridge, and cut into 1/2 inch pieces (or something like that!)
1/4 – 1/2 cup of COLD water
Now, on to the crust!:
Use a food processor (recommended) but not pictured – I used the kitchen-aid mixer this time, but I prefer the processor
Start with flour
Add salt
Add sugar & Mix dry ingredients
Add the cut up pieces of butter – (food processor method) pulse until the mixture forms small balls – or if you are using a blender Mix until it forms small balls
Add Water using the smaller amount, to begin with, mix (pulse again with a food processor) until the dough is chunky and looks like balls of dough – some of your butter might be still in pieces – that's ok
Pop in the fridge to cool for about 4 hours
When you are ready to use it – let it thaw, then  cut in half and roll each half between 2 sheets of wax paper
That's it!
Now,  here's a version without pictures to print and save on ink! 🙂
You'll Need:
makes (2) 9-inch crust
2&1/2 cups of flour
1 t of salt
1 t of sugar
1 cup of unsalted butter – cold – right out of the fridge, and cut into 1/2 inch pieces (or something like that!)
1/4 – 1/2 cup of COLD water
Now, on to the crust!:
Use a food processor or mixer
Start with flour
Add salt
Add sugar Mix
Add the cut-up pieces of butter Pulse, or Mix until dough is forming small balls
Add Water using the smaller amount to begin with, mix until the dough is chunky and looks like balls of dough – some of your butter might be   still in pieces – that's ok
Pop in the fridge to cool for about 4 hours
When you are ready to use it – let it thaw, then  cut in half and roll each half between 2 sheets of wax paper
~ Melissa – KidFriendlyThingsToDo.Com