This Turkey Crayon Holder is a fun idea for the Thanksgiving kids table. Perfect to hold chalk or crayons and provide lots of entertainment for the kids at the table.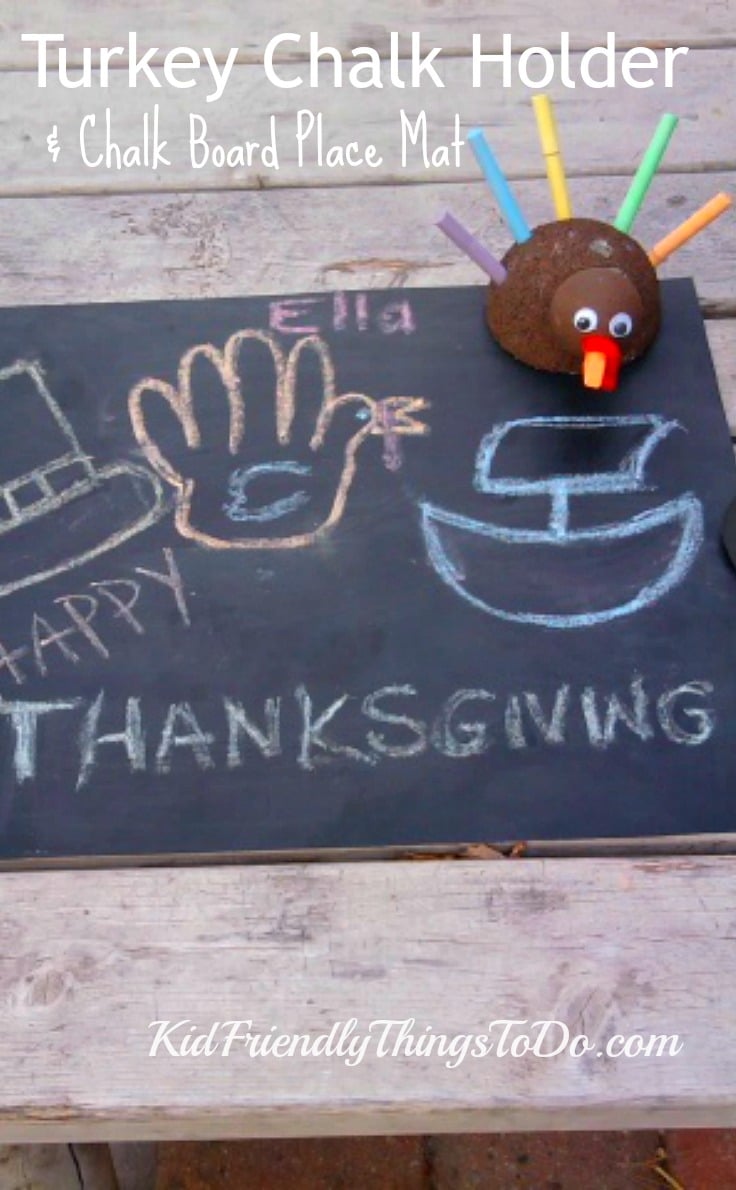 Turkey Crayon Holder Craft
Are you looking for fun Thanksgiving ideas for the kids? Check out some of my other ideas, like:
You'll Need:
For the chalk turkey
A painted brown styrofoam ball for the body – around 4 inches – cut in half
A painted brown styrofoam ball for the head – around 2 inches
A toothpick
Googly eyes
An orange eraser top for the beak
A 1-inch red piece of chenille strip
Hot glue
Chalk Sticks
Alright – On To The Craft!:
Lay your large brown – cut in half – piece of styrofoam down
Place a toothpick into the ball toward the top/center for your neck
Place the smaller brown ball onto the neck/toothpick
Decorate the smaller ball with googly eyes, eraser beak, and chenille stem for the waddle
Decide where you would like your feathers/chalk to go – make 5 holes with a pencil into the spots you've chosen – you can make the holes a little larger by just circling the pencil around
Place 5 pieces of chalk into the holes for feathers
That's it, you're done!
Chalk Board Mat:
You'll Need:
Instructions
Cut chalkboard material into placemat sizes
Instructions should come with the material, but you have to basically rub chalk all over it and wipe it (twice). Then it's ready to go
I purchased mine at JoAnn Fabrics
~Melissa – KidFriendlyThingsToDo.Com