This post is about How to Make Flowers out of Tissue Paper, is a simple craft that is a keepsake, and fun to do with kids. Tissue Paper Flowers are so much better as a flower centerpiece than the ones you buy in the store. This is also a great room parent activity for a classroom party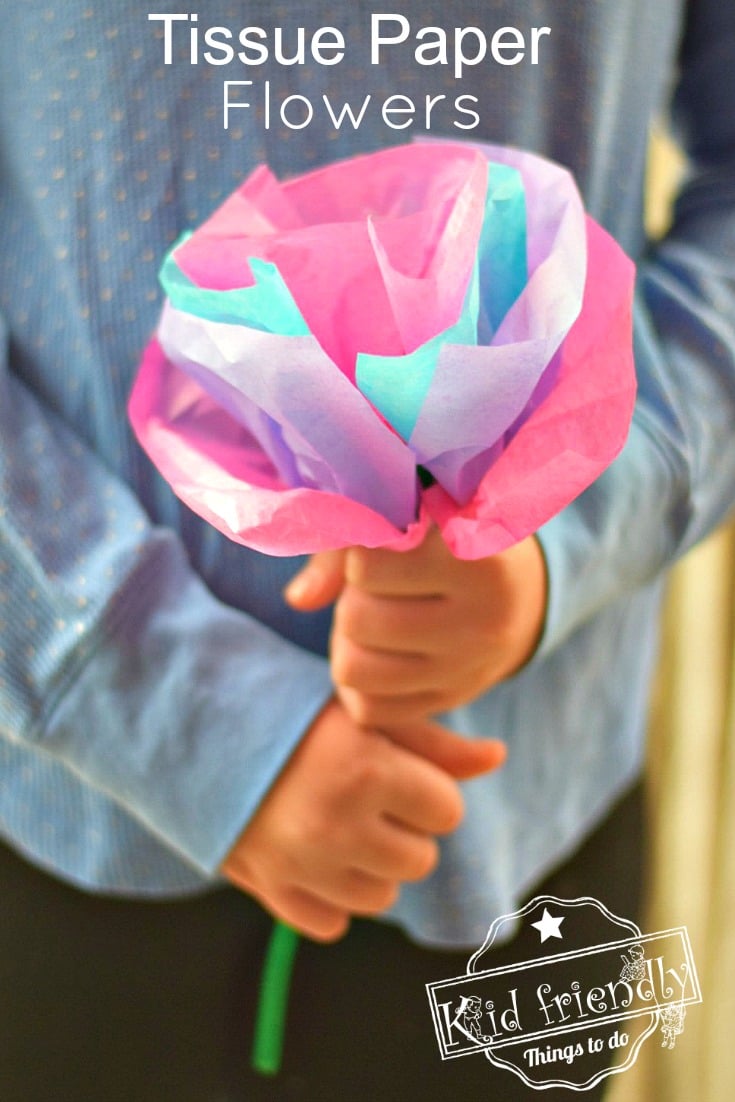 How to Make Flowers out of Tissue Paper
Parents will treasure these simple homemade flowers.
If you are looking for flower crafts, boy do I have some cute ideas for you. I think you'll love these plastic spoon flowers, water bottle flowers, or how about a colorful popsicle stick flower pot?
What I love about these easy tissue paper flowers:
homemade with love – a flower craft tissue paper flower is the ultimate I love you gift
these tissue paper flowers are easy enough for kids to make
they are customizable. Make them in different shapes and sizes
a great Mother's Day gift to make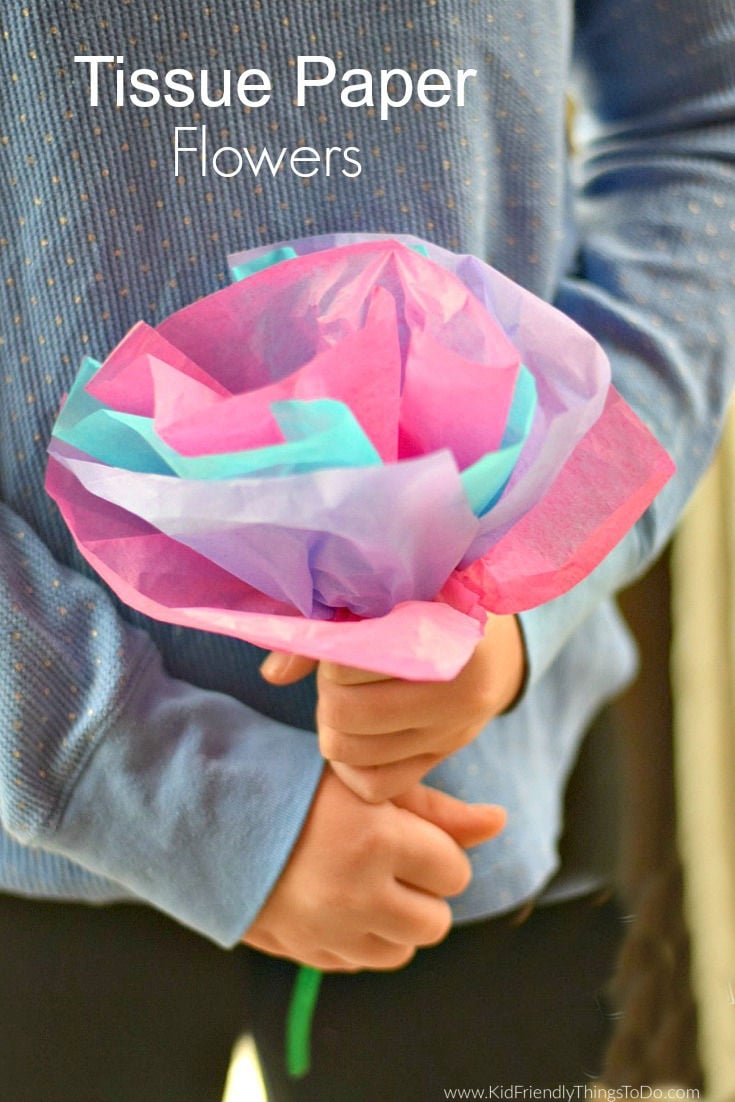 These tissue paper flowers are massive.  You can easily customize your flower craft with tissue paper size to whatever you need it to be. If you want small flowers you can cut the tissue paper into smaller rectangles and follow the directions below.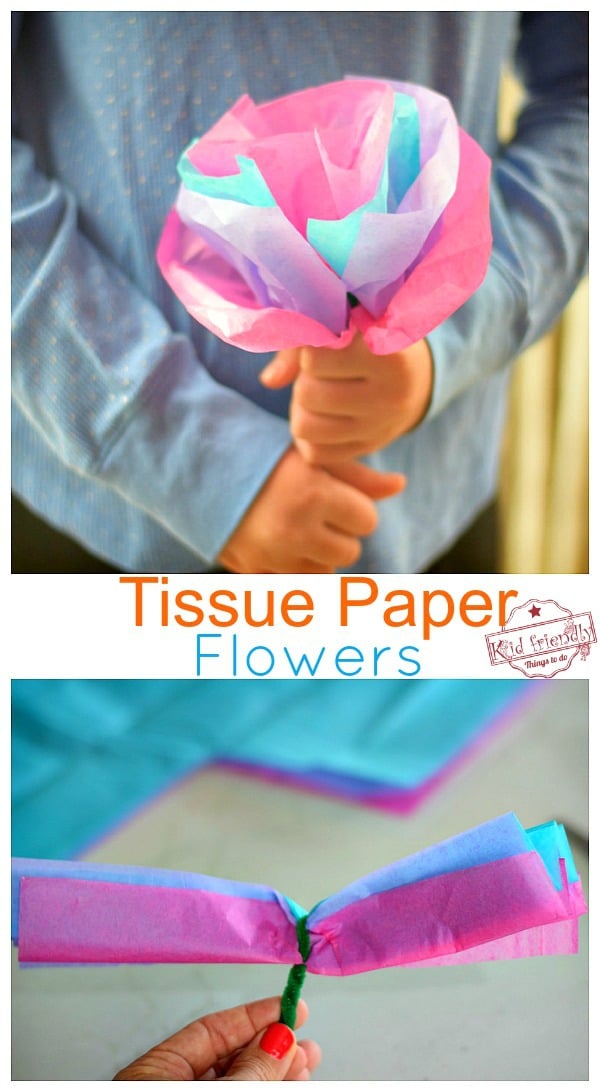 Are Tissue Paper Flowers the Same as Pipe Cleaner Flowers?
No. Pipe cleaner flowers are usually made entirely from pipe cleaners. Tissue paper flowers do sometimes use pipe cleaner as a stem, but the flower petals are made from tissue paper
How many pieces of Tissue Paper do you need in a Flower?
It really depends. I usually use between 4 and 8 pieces of tissue paper to make a flower. The more sheets of paper that you use the fuller the flower will be
How do I make a Small Tissue Paper Flower?
Easy! Shorten the pieces of tissue paper. The flower will be as wide or narrow as you want it to be depending on the length of the tissue paper you use
What Supplies do I need to make a Tissue Paper flower?
You only need tissue paper and a pipe cleaner. Other equipment you might need is a pair of scissors for trimming and cutting
Tips and Tricks for this tissue paper flower DIY
For younger children that are preschool age and younger, you will want to do some of the first steps for them
to adjust the size of your flowers by changing the size of the tissue paper. A smaller flower would be around 3×5 inches, while a larger flower like the one shown above is more like 6×10 inches wide on tissue paper
For Christmas use shades of red and green
Make giant flowers by using larger pieces of tissue paper. Play around with different size rectangles of tissue paper to customize the perfect size for you.
Here's What You Will Need to Make a Tissue Paper Flower:
Supplies Needed:
4 pieces of tissue paper – At least 2 different colors
Green chenille stems (pipe cleaner)
Scissors
Here are my top Amazon Picks for this Tissue Paper Flower Craft
[box] [/box]
How to Make Flowers from Tissue Paper
Directions for Tissue Paper Flower Craft:
Step one: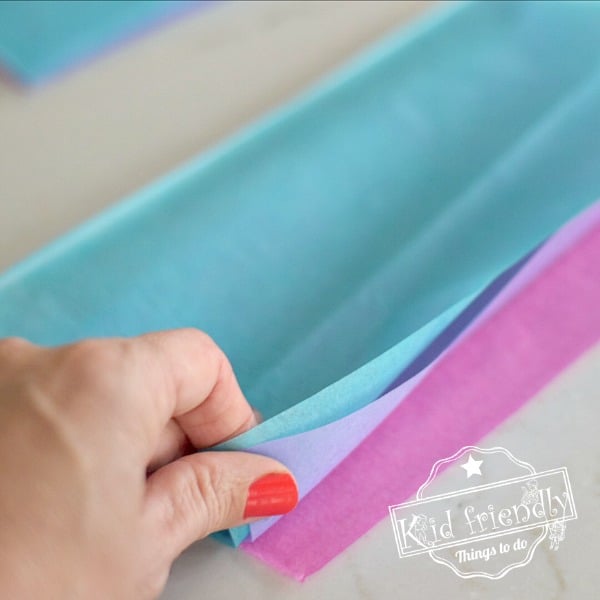 For small flowers – Cut out 3 x 5-inch rectangles or smaller
For Large flowers, like the ones above – cut the rectangle larger – about 6″ x 10″
Layer 4 pieces of tissue paper – alternate the beautiful colors on top of each other
Step Two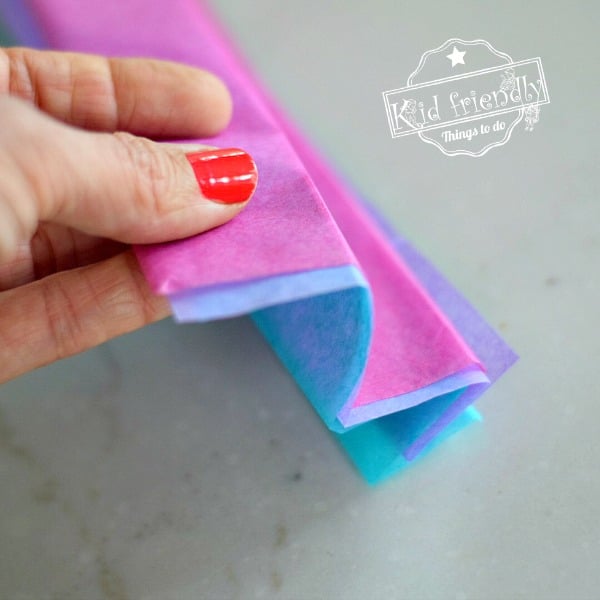 Accordion Fold the tissue paper – with the papers stacked together start at one end and make a 1/2 inch fold, then flip the paper over and fold it the other way. Flip it again, and make another fold. Do this until you get it all folded
*For a rounded edge – After the staked paper is folded, you can now take your scissors and curve the ends of the tissue paper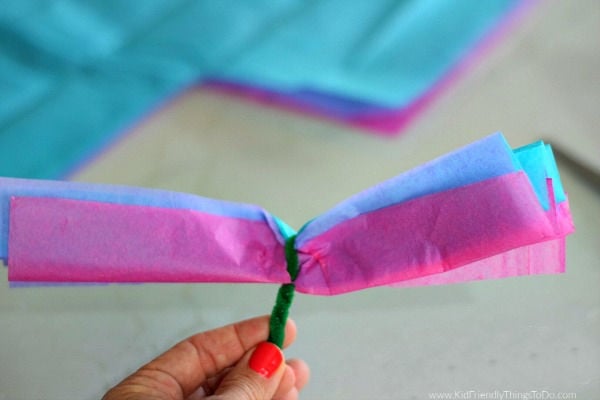 Lay your pipe cleaner down. Place the center of the accordion rectangle about 2 inches down from the top of the pipe cleaner
Fold the pipe cleaner over the folded tissue paper, making a tight fit around the tissue paper
Twist the pipe cleaner several times, so that the middle of the accordion fold is pulled together and bunched up
Now, carefully start pulling up the tissue paper sections from the center to the outside, one at a time
You can cup the finished flower in your hands and squeeze down a bit, to mold it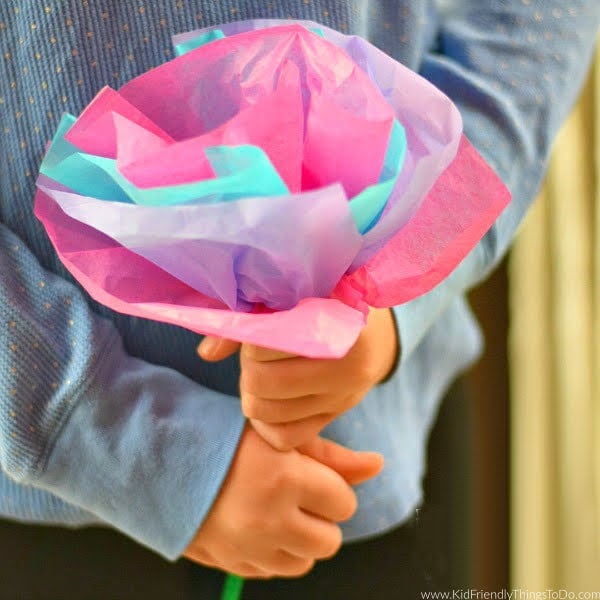 *Tip – for younger children (preschool to maybe first grade) do the first few steps for them. Younger children are still learning their fine motor skills and might get frustrated with cutting and folding. You know your kids and their capabilities though. I'm really just saying to be flexible in that it's OK if the kids don't do every step from start to finish. They will be so proud of any part they participated in and completely claim this as their craft – either way.
*Customize these DIY Tissue Paper Flowers for Christmas gifts by using Red and Green tissue paper.
Here's a quick video to show you how we make our tissue paper flowers…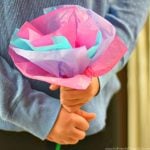 Print
How to Make Flowers out of Tissue Paper
Adorable tissue paper flowers that are perfect for kids to make
Materials
4

pieces

tissue paper

try to use at least 3 different colors for contrast

1

green pipe cleaner
Instructions
For a smaller flower cut tissue paper into 3×5 inches. For a larger flower cut tissue paper into 6×10 inches

Alternating colors – Set the cut tissue paper on top of each other so they line up evenly

Accordian fold the tissue paper

Center the tissue paper over the pipe cleaner and set it down about 2 inches from the top of the pipe cleaner

Fold the pipe cleaner around the center of the tissue paper and twist it to make it secure and hold the paper tightly

Gently pull the edges of the tissue paper up one-by-one

Use your hands to form the flower into a more rounded shape
~Melissa
KidFriendlyThingsToDo.Com