Just in time for Mother's Day, but perfect for spring and summer too. A Simple to make Flower craft for kids.
I love simple! You probably even have most of the supplies at home for this fun craft.
I love taking shortcuts in crafting to make life a little easier, so I used some petals from some old silk flowers as the petals. It's so much easier than having the kids cut out individual petals. They look so cute, too.
If you are looking for flower crafts then you might like my Easy Pipe Cleaner Flower Craft, or my Water Bottle Flower Craft
Ready?
Here's What You'll Need For This Egg Carton Flower Craft: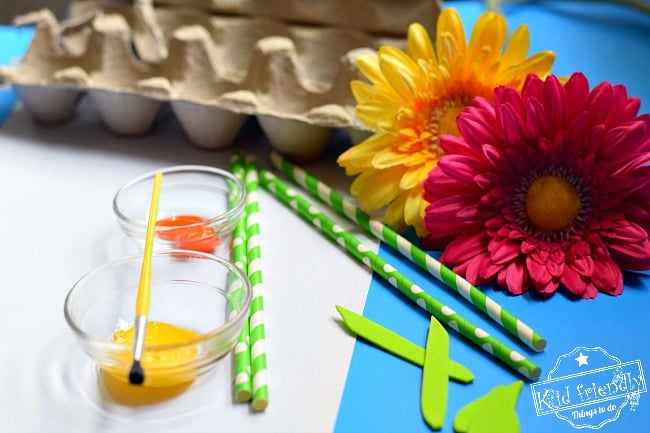 An old paper egg carton cut into individual pieces
Paint – Yellow, Orange or both
Silk flower petals – I used petals from some silk daisies I had purchased at Michael's Craft store, but you can find silk flowers at Dollar Tree, too! You can get about 4-5 Egg Carton flowers completed with one store-bought daisy.
Paper straws – I like to use fun green paper straws with stripes and polka dots
Green foam sheet
Glue – I would use…Either a warm glue gun and glue sticks or Fabri-Tac which is a wonderful alternative. It sets super quickly and holds just about anything together
A skewer, or Something similar to poke a hole in the paper egg carton (scissors would work)
Extra Supplies Needed:
Tips and Tricks
If I were prepping this craft for a class project with young kids, I would probably spray paint the egg carton pieces ahead of time and poke the holes in the bottom of them. I would also go ahead and cut the petals off of the silk flowers. Depending on the age of the kids, I might even cut out the leaves for the kids from the foam sheets. Just adjust all of the prep work according to the kid's ages. Older kids can pretty much do all of the steps on their own. You get the gist!
you could go one of 2 ways with the paint…let the kids paint the carton pieces or do some prep work ahead and spray paint the egg carton pieces in one big easy swoop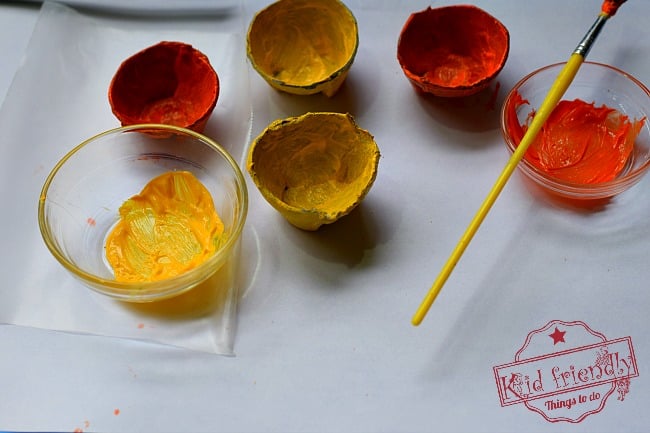 Instructions
You'll want to first paint the egg carton pieces for the center of the flower, and let those dry
If you're using the old paintbrush technique, then you can use wax paper to set the wet egg cartons on. It helps to protect the egg carton center from stuff that might stick to it, and from the paint sticking to other surfaces. It's a win-win!
When your carton pieces have dried and are ready to become a flower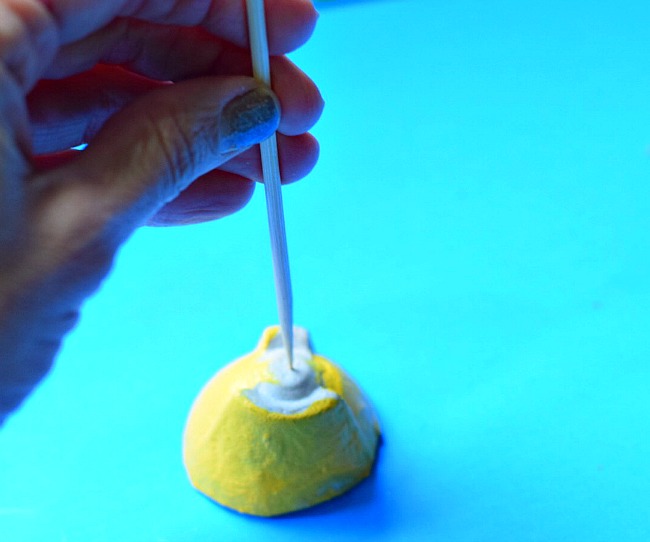 If you haven't already, poke a hole in the bottom of the egg carton piece
Glue silk petals all around the outside of the egg carton piece
Push a straw up into the hole you poked. You might have to wiggle it in there with a little force. You can add a dab of glue to secure it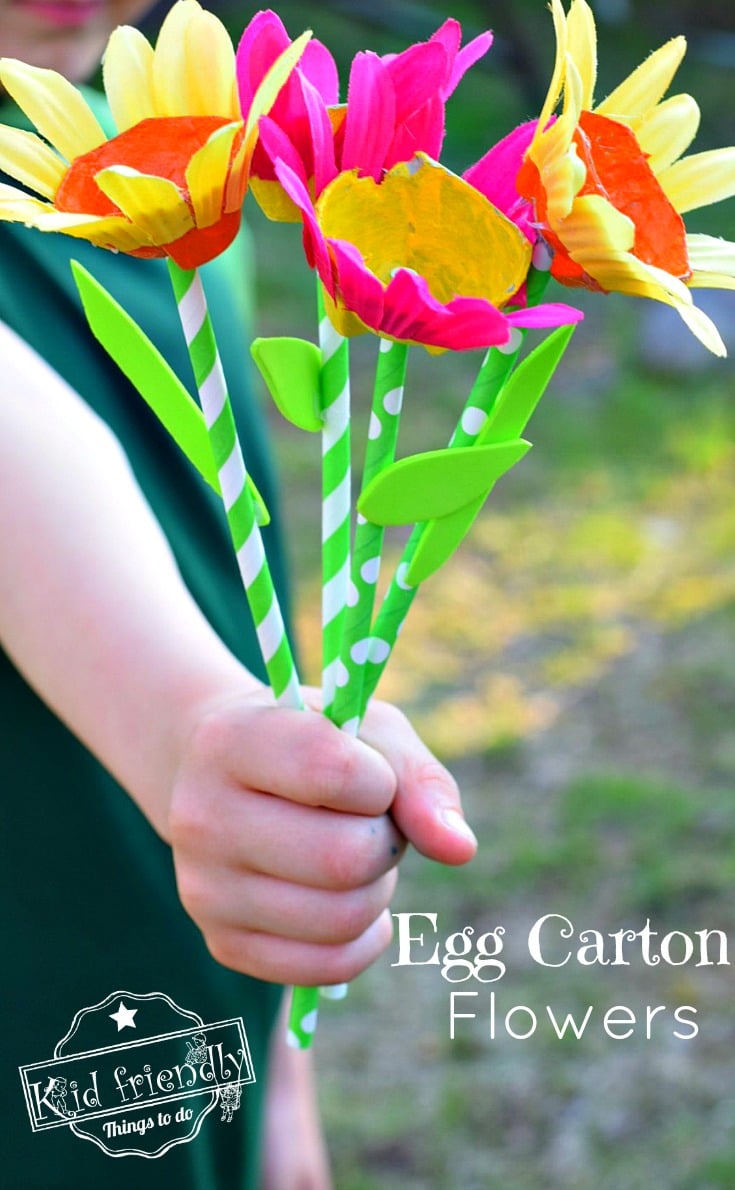 Glue the foam leaves onto the paper straw
And that's it! Voila' You have beautiful, sweet flowers from egg cartons and paper straws to enjoy all summer long!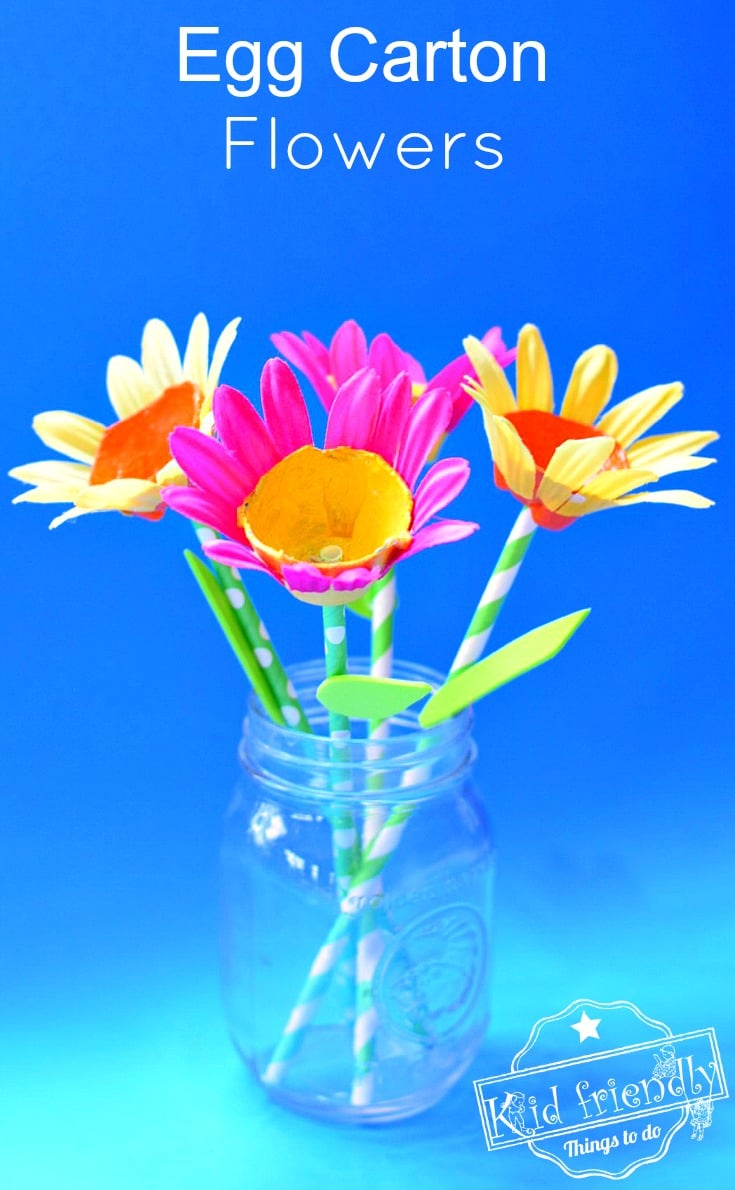 Happy Mother's Day, spring, summer, and every day!
Here are my top Amazon Picks for this Flower Craft:
(affiliate links)
[box] [/box]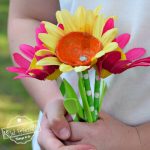 Print
Egg Carton & Paper Straw Flower Craft For Kids To Make
easy to make flowers made from egg cartons and paper straws
Materials
1

paper egg carton

cut into individual pieces

paints

several

silk flower petals

paper straws

fun green paper straws like polka-dot are cute

1

8×11 green

foam sheet

cut into small leaf shapes

glue

low temp glue gun and sticks or Fabri-Tac which is a tacky glue that holds quickly

1

wooden

skewer

or similar tool
Instructions
Use your wooden skewer to poke a hole into the bottom of the egg carton piece

You'll want to first paint the egg carton pieces for the center of the flower, and let those dry

Use wax paper to set wet pieces onto dry

Glue silk petals all around the outside of the egg carton piece

Push a straw up into the hole you poked. You might have to wiggle it in there with a little force

 You can add a dab of glue to secure it

Glue the foam leaves onto the paper straw