This is so fun to see as you pull up to your house! It's kid friendly, yet elegant – in a fun kind of way! I found a really fun fuzzy yarn in the material section of a department store and was inspired to come up with a fun Halloween Decoration. Here's what I came up with and the how to on making this DIY Monster Wreath For Halloween :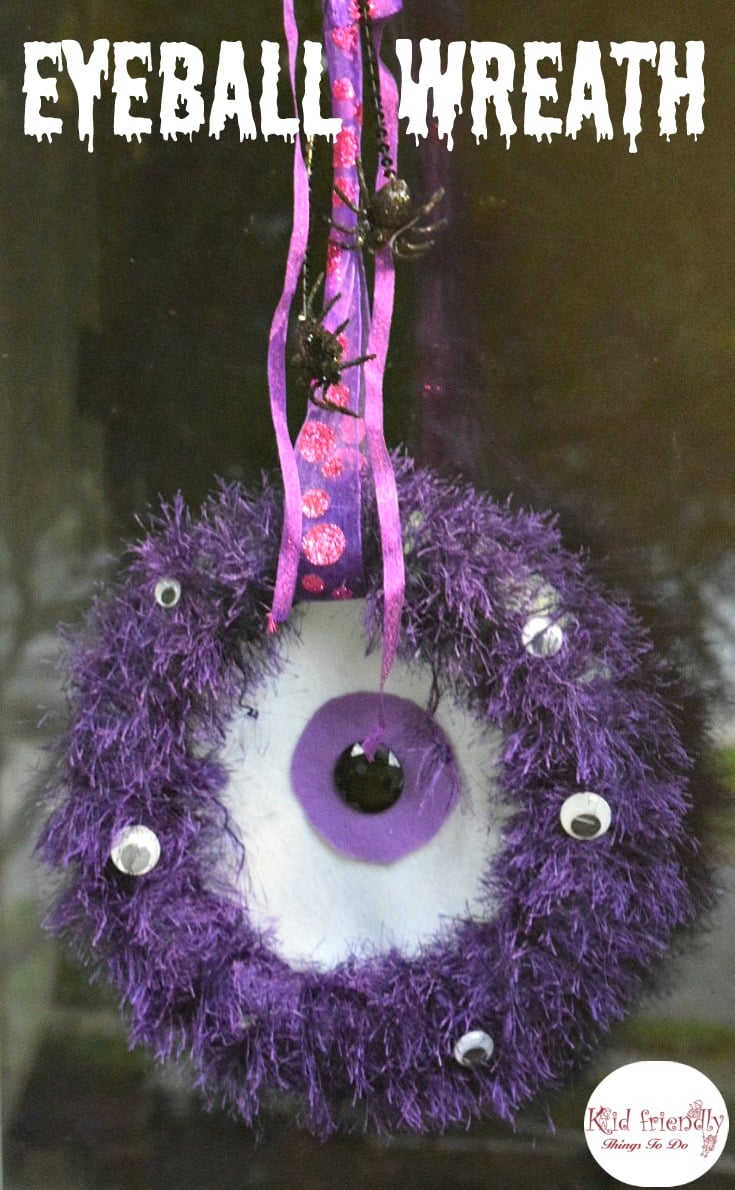 Supplies, you'll need:
A Styrofoam Wreath – find them in most craft stores.
Monster Fur Yarn – Yarn comes in all textures and colors, now! We used dark purple for a Halloween color
Felt – White & lavender
A large black button – we used a shiny, gem looking button
Several google eyes
Ribbon to hang the wreath
Any other accessories you want to add to the scare factor. We used some sparkly spiders to crawl down the ribbon!
Glue gun with glue sticks
My Recommended Amazon Picks:
(affiliated links)
[box] [/box]
Now, to get going:

Wrap the wreath in the fur yarn. Tie the yarn in a knot to secure. You won't see the knot, the fur will cover it up
Cut a long section of your ribbon to hang the wreath from. Place the ribbon around the wreath, and even out the ends. Glue the ribbon to the wreath to secure it.
Now, Add the white felt to the back of your wreath, glue to secure, and trim any edges that might show in the front. Flip the wreath back to the front.
Cut a circle from the lavender felt, about 3 inches in diameter. Glue that to the center of the white
Add your black button to the center of the lavender circle for the finishing touches of the big eyeball!
Glue random google eyes to the fur
Hang and Enjoy!
[box]




[/box] [box] [/box] Melissa – KidFriendlyThingsToDo.Com