Oh my goodness…I am finding it really hard to stop making minions.  They are just so cute. I can't resist making cute Minion Crafts. This Minion Gift Bag Craft will be perfect for your birthday party.
Minion Gift Bag Craft
The purple minion is in a different tutorial.  Click this link to get to the purple minion: Evil Minion With Crazy Hair Tutorial Link
For the Yellow Minions –
You'll Need:
Yellow gift bags – I finally found some at the Family Dollar Store – I'm sure a party store would have plenty to choose from
White Felt
Black Felt
Giant Google Eyes about 40 mm
Yellow Foam Sheet
Brown (chocolate brown) Foam Sheet
Silver Mason Jar Lid – I used some pretty large lids,  they were about 4 inches in diameter. If you get smaller lids, you can fit 2 eyes on a bag.
Black Sharpie
Warm Glue Gun and glue sticks – you can use a hot glue gun. With kids, I like to use a warm gun to avoid severe burns
So you don't have to go all over God's earth looking for supplies – Here are some Suggested Materials, all in one place: 🙂
[box] [/box]
Now, on to the Minions!:
Assembling the eye:
Using the Mason Lid, trace a circle out of the white felt
Now, take your giant eyeball and trace around that onto the brown foam sheet, making a brown foam circle about the same size as the googly eye
Cut that piece of brown foam out
Flip the eyeball around and cut the back off – or mostly off
Insert the brown foam – where the white backing used to be – Now, you have a brown eye!
Glue that onto the center of the white felt circle and place the mason lid around all of it! Glue to secure!
Cut a couple of  1/2 inch wide  strips out of your black felt to make the straps for the eye goggle, and glue those on the bag wrapping them around to the sides of the bag
You're done with the eye and goggle
* Changing the position of the eyeball really changes the look of the minions. If you are hosting a birthday party, it would be more fun to have all of your minions posing with different expressions. Have fun with it!
*If you are making an eyelid for your minion – cut out a yellow foam circle the same size as your white felt circle – Cut it in half to make half circles and use one of those as an eyelid
The Minion Hair:
Cut little strips of black felt and position them on the top of the bag, above the eye – Yellow minions are balding, and look like they've had hair plugs! So use the hair sparingly
The Minion Mouth: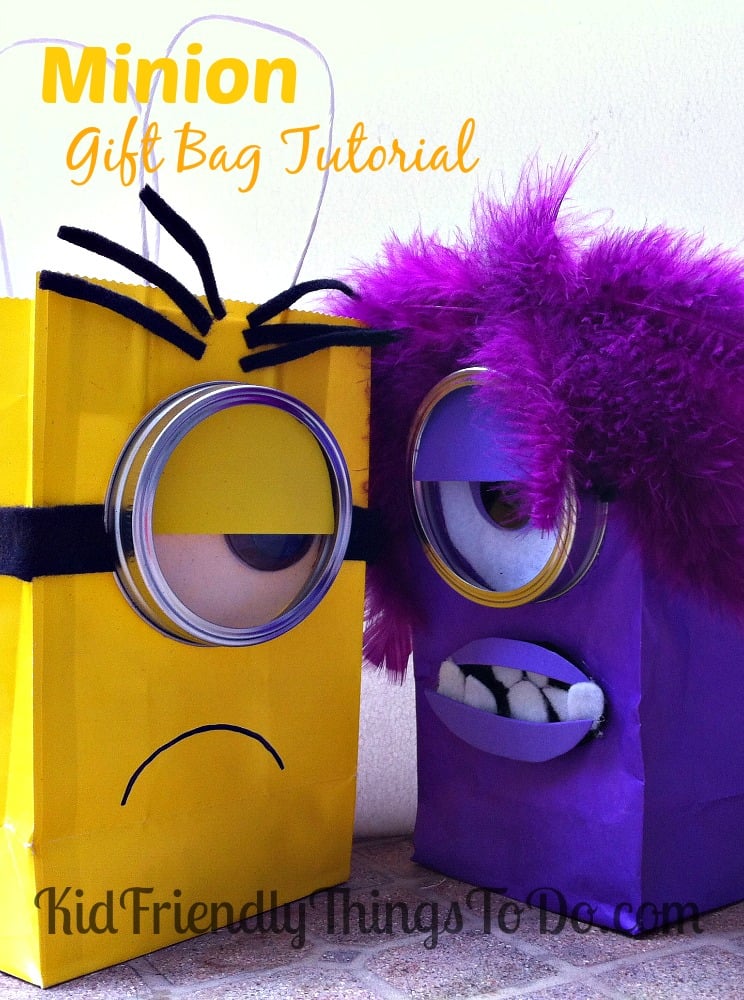 Use a black sharpie to make a frown or smile for your minion
Don't miss a thing! Follow me for all of the latest fun:
Don't leave yet! Get your daily dose of my crazy ideas when you sign up for my FREE newsletter!
[box] [/box]
Thanks for stopping by. See you real soon!
~Melissa – KidFriendlyThingsToDo.com