This is a fun way for kids to use wordplay on Kit-Kats. Use Kit-Kat Bars to show your friends how much you like them. Kids that like to craft will love this Homemade Valentine's Day card and treat idea.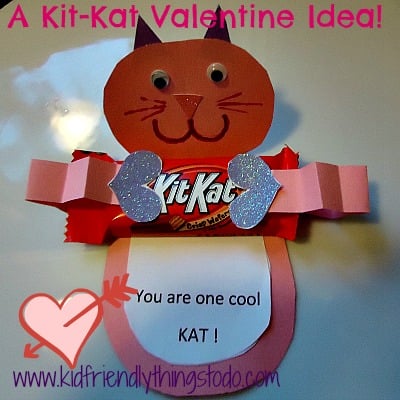 Kit-Kat Valentine's Day Card Idea
Are you looking for Valentine's Day Ideas? Try some of my other fun posts, like:
Here are the supplies I used for this cat:
I used pink construction paper for the body, arms, and face
White paper with "You Are One Kool Kat!" printed onto it, cut in the shape of the body
Google eyes
Purple Paper for the ears – cut into little triangles
I found some card stock with glitter hearts for the paws
Glitter paper for the nose
Red Marker for whiskers and mouth- you could also use glitter glue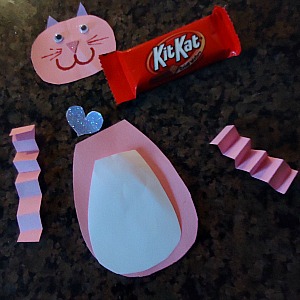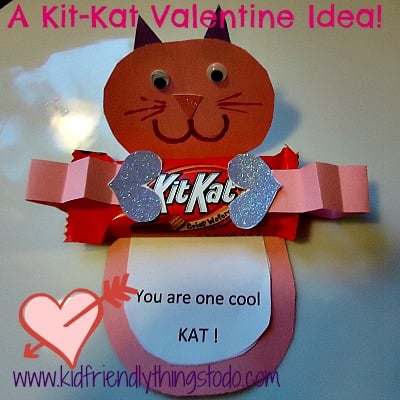 I cut a pear shaped body out of the pink paper – about 4 inches in length and 3 inches in width (at the widest part)
I used the pink paper to cut strips – about 4 inches by 3/4 inches then I used an accordion fold to make them a little more fun for the arms!
I used the same pink paper to cut a face – it's about 2&1/2″ wide by 2″ tall
Since I was in cutting mode, I cut out two little purple triangles for ears, and a little pink glittery triangle for the nose
Then I used Microsoft Word to type – You Are One Cool Kat and printed that out on white copy paper. I cut that into a pear shape like the pink one, but smaller. The white belly is about 3 inches by 2 inches – I glued that to the center of the pink belly
I cut the hearts out of card stock with glitter hearts for the paws
I assembled the face and used a red Sharpie for details on the cat's face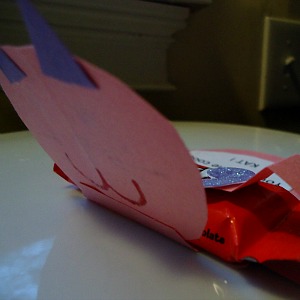 I used this really great Fabric Glue that sticks super fast – It's called Fabri-Tac, and you can find it at Michaels Craft Store, Wal-Mart and Jo-Ann Fabrics to name a few places
I bent the top of the pink body and used that as my spot to glue the face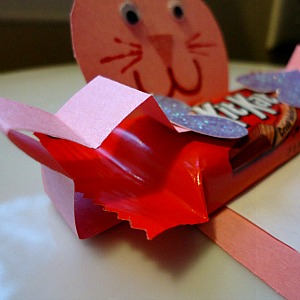 Then, I added my accordion arms and heart paws
I set my Kit-Kat down in between the two arms and pulled the arms up to glue the hearts onto the Kit-Kat – framing the name Kit-Kat with the paws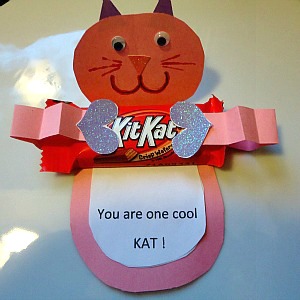 Done! Happy Valentines Day!
~Melissa – KidFriendlyThingsToDo.com – a site providing kid friendly crafts, fun foods, party ideas, recipes, and fun things to do with your whole family!