I have to say…I'm a red velvet fan, and I'm a pretty tough critic, as well. These Red Velvet Whoopie Pies are pretty tasty as Red Velvet goes. These are perfect for a fun Valentine's Day Dessert.
Red Velvet Whoopie Pies
I lived in the south for at least a decade, but I can't say that I've ever tasted a Whoopie pie. They seem to be a staple in the South, and I apologize to all of my southern friends and family for not indulging me, sooner. So… to make up for my horrific oversight, I found a couple of red velvet Whoopie pie recipes, took notes on responses from readers, made a few adjustments, and Voila'. I finally sunk my teeth into a Whoopie Pie.
Are you looking for fun Valentine's Day Desserts? Check out some of my other fun ideas, like:
You'll Need:
3 cups of all-purpose flour
1 t of baking soda
2 t unsweetened cocoa powder
1 t baking powder
1/2 t salt
1 & 1/2 cups of sugar
2 eggs
1/2 cup of canola oil
1 t white vinegar
1 oz. bottle of liquid red food coloring
1 t of vanilla extract
1 cup of buttermilk
For The Filling:
1 package of 8 oz. of cream cheese
1//2 cup of butter
2&1/2 cups of powdered sugar
2 t of vanilla extract
Now, on to the cake:
Set your oven to 350 degrees
Mix these ingredients in a large mixing bowl – the flour, baking soda, cocoa powder, salt, & baking powder
In a separate bowl, combine the oil, red food coloring, vinegar, vanilla extract, and buttermilk
Using a mixer, and yet another bowl – Mix the eggs and sugar together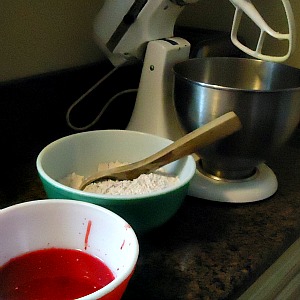 Now, add both the wet and dry ingredients to the egg mixture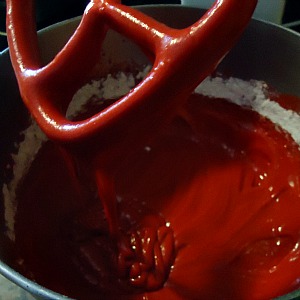 Drop a Tablespoon full of this stuff onto parchment-lined baking sheet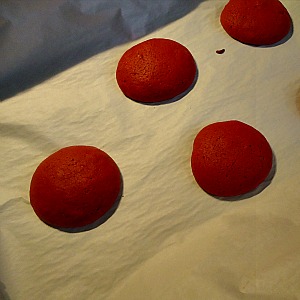 Bake for about 12 minutes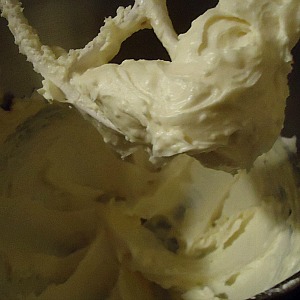 While those are baking, mix the filling ingredients together
Drop a big spoon full of cream cheese filling onto a cooled Whoopie Cookie and add another Whoopie Cookie to the top, press together to make your Whoopie Pie!
I hope I did my Southern Family proud on this one! Please feel free to correct me, if I didn't!
~Melissa – KidFriendlyThingsToDo.Com – 
Adapted from Paula Deen's Cousin Johnnie's Red Velvet Whoopie Pie Recipe, and Taste of Home.Com Red Velvet Whoopie Pies