OR gift! This would be so fun for the kids to give to the special "MAN" in their life – Dad, Uncle, Grandpa, whoever deserves a bouquet of Football Brownies! I was thinking these Chocolate Covered Football Brownies would be a great Father's Day gift, but to tell you the truth my mom would absolutely love these with a Chicago Bears Logo:) Having 2 boys and 2 girls, I would never want to discriminate!
Here's What You'll Need To Make These:
1 box of milk chocolate brownie mix
1/2 cup canola oil
3 T water
2 Large Eggs
Parchment Paper – I recommend the paper with non stick foil on one side. It will save a step. WAX PAPER DOES NOT WORK, HERE.
Spray Oil – Unless you have the paper I recommended above.
Football Cookie Cutter
Candy Chocolate Melts – Milk Chocolate Brown & White
Squeeze bottle – found in the candy aisles. (You'll put some melted chocolate in this, and create designs! This give your kids the chance to color their treat!)
Wax Paper to lay the chocolate covered footballs on to dry
Lollipop Sticks
Treat Bags
Twisty Ties
Ribbon
Instructions:
Preheat the oven to 350 degrees. If you are using regular parchment paper, spray the bottom of your 9×13 baking dish with oil. Line your dish with parchment paper.
In large bowl combine your brownie mix, oil, water, and eggs. Stir until well blended. Spread into your prepared pan. Bake for about 22 – 25 minutes. Insert a wooden pick into center of brownies. If it comes out almost clean, they're ready!
Now, lift the brownies out of the pan with parchment paper still under them. Just grab the edges of the paper, and transfer brownies to a wire rack to cool. Let them cool completely. At least one hour. If you don't they may be too soft, and fall apart.
When brownies have cooled: Place your brownies on a work surface. I used parchment paper, again. I was worried about the delicate nature of the brownie sticking to a different surface, and ruining everything!
Use the cookie cutter to cut about 12 brownies. The scraps are for you, and the rest of the crew!
Place lollipop sticks into the center of each football. Transfer the football lollipops onto your wax paper that is already on a cookie sheet.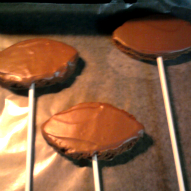 Using package directions. Melt the chocolate melts. ( I pour my bag into a microwave proof bowl, and hit 1 minute. Stir. & pop it back in for 30 seconds.) Pour the melted white chocolate into a squeeze bottle to make the laces!
Now, you have to work fast. The chocolate candy hardens very quickly. Hold the football up by the lollipop stick. Spread the brown chocolate over your football – front and back. Lay it down on wax paper.
The laces are drawn on with the melted white chocolate in the squeeze bottle. Make a line in the center and draw 5 laces across the line. Don't forget the two white curves – one on either side of the football.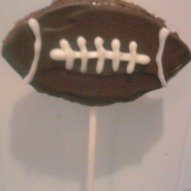 When they are set, place brownies into a treat bag, and secure with a ribbon.

You can present these footballs in a vase as a gift to a special someone! Enjoy!
~Melissa – KidFriendlyThingsToDo.Com –