Made a Brownie Chalkboard Cupcake as a fun Back to School treat or teacher appreciation gift from the kids. So cute and easy to make.

I thought it would be fun for the end of year teacher thanks, or teacher appreciation week, to create a cupcake with a chalkboard on top. So, I made a make-shift little chalkboard out of Milk Chocolate Brownies. I covered it in chocolate, added a piece of chalk (Good & Plenty), and wrote A+ on the chalkboard. And, VOILA' it's a fun teacher cupcake
Milk Chocolate Brownies mix – made according to package directions – Only use parchment paper under your batter, so you can lift your chalkboard shapes easily.
Green chocolate melts
White chocolate melts –
Wax paper on a cookie sheet
Cupcakes with white frosting
Good & Plenty – White pieces for chalk
Small Watercolor Paintbrush –  for painting the A+ on the chalkboard
Now, here's what you'll need to do: for each chalkboard topper
Cut a 2×3 rectangle out of the prepared  brownies, place it on your wax paper
Take a small piece of the prepared brownie mixture, and roll it into a ball, then roll that into an oblong shape for the chalkboard tray. Place it on the was paper, and flatten a bit.
Place the brownie pieces into the freezer
While those are cooling, prepare your green chocolate. Melt it in a bowl, using the instructions on the bag.
When your chocolate is melted, pull the cooled brownie pieces out of the freezer.
Use a spreading knife to smooth the chocolate onto the front of your rectangle piece.
Add your oblong brownie piece to the bottom of the chalkboard while the chocolate is still warm.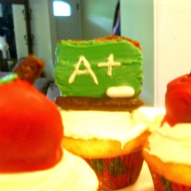 Add your white piece of Good & Plenty above the brownie tray while chocolate is still warm.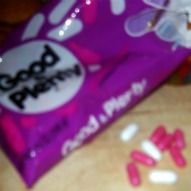 Pop your chalkboard in the freezer to let the chocolate set.
Now, melt your white chocolate in a bowl.
Take your chalkboards out & use your paintbrush to paint an A+ on the board!
You can put the finished chalkboards into the freezer until you are ready to present them.
When you are ready, kids can place a chalkboard into the center of a white frosted cupcake. Yummy!