These apple cupcakes would be a cute gift to give a teacher. I could also see these with green apples along with the red at a Summer party! The apples are milk chocolate brownies dipped in red chocolate with brownie stems.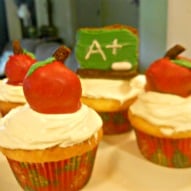 Brownie Shaped Apple (Back to School Treats)
Prepared Cupcakes with white frosting
Milk Chocolate Brownie Mix – Bake on Parchment Paper
Red Chocolate Melts
Green Chocolate Melts – OR – Green Frosting (for the leaf)
Cookie Sheet with wax paper
Now, Here's What You'll Need To Do:
Roll Some little balls out of the prepared brownie. Place the brownie balls onto the wax paper you have ready.
Roll out little oblong shapes from the prepared brownie – your stems. Place those on the wax paper.
Pop the shapes in the freezer.
Prepare your Red Chocolate Melts. I usually microwave mine in a microwave-proof bowl for 1 minute, stir, then microwave for 30 more seconds.
Take your brownie shapes out of the freezer, and roll the round brownie shapes into the melted red chocolate. Place these back on the wax paper.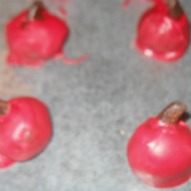 Quickly, While the red chocolate is still warm on the round brownie shape (the apples), place the brownie stems into the top of your round brownie shapes. **Not a big deal, if the red chocolate dries before you get to this. Just, add some melted red onto the bottom of the stem, and set it into the apple.
Place into the freezer so the chocolate can set.
Use green frosting to pipe the leaf onto the apple, or use a paintbrush, and some melted green chocolate to paint a leaf onto the apple.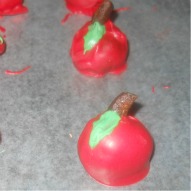 To present the cupcakes set an apple in the middle of the frosted cupcake.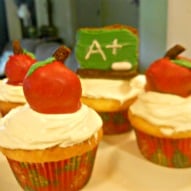 Do you need more back to school treats?
Try some of my other fun back to school desserts, like: