This Puffy Paint Recipe will soon be one of your favorite ways to paint with the kids. Easy cleanup and so much fun to do. Perfect for an indoor crafting day with the kids.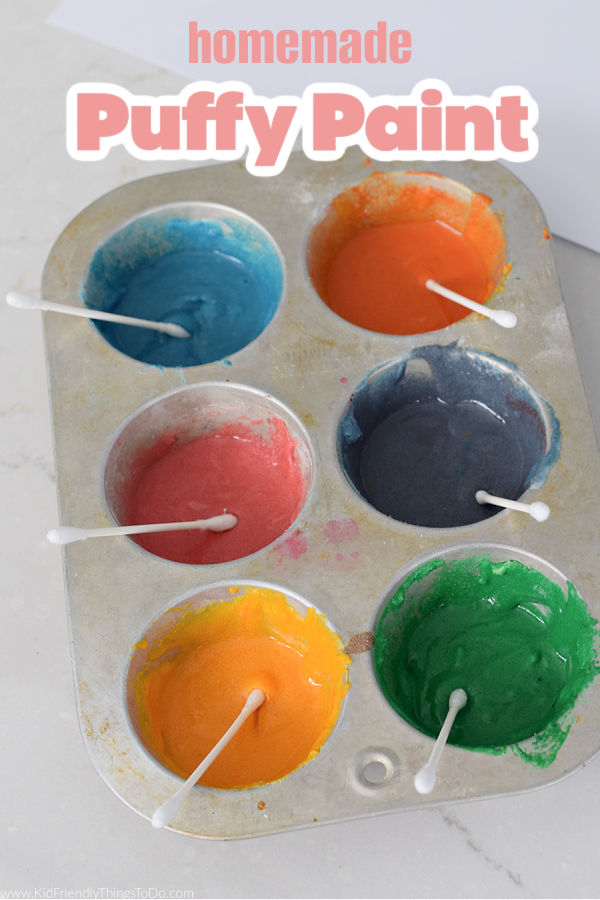 How to Make Puffy Paint
Are you ready for a cool painting experience, with the kids?! This might become your favorite paint. It's made with only four simple ingredients. You don't have to find an extra-large, clean space to lay the paintings to dry. Masterpieces, your kids create will be dry in seconds. You can just hang them, or stack them up. Clean-up is as simple as cleaning up, after baking with the kids. You might get so involved in painting with the kids, that you are creating your own masterpieces long after they have lost interest.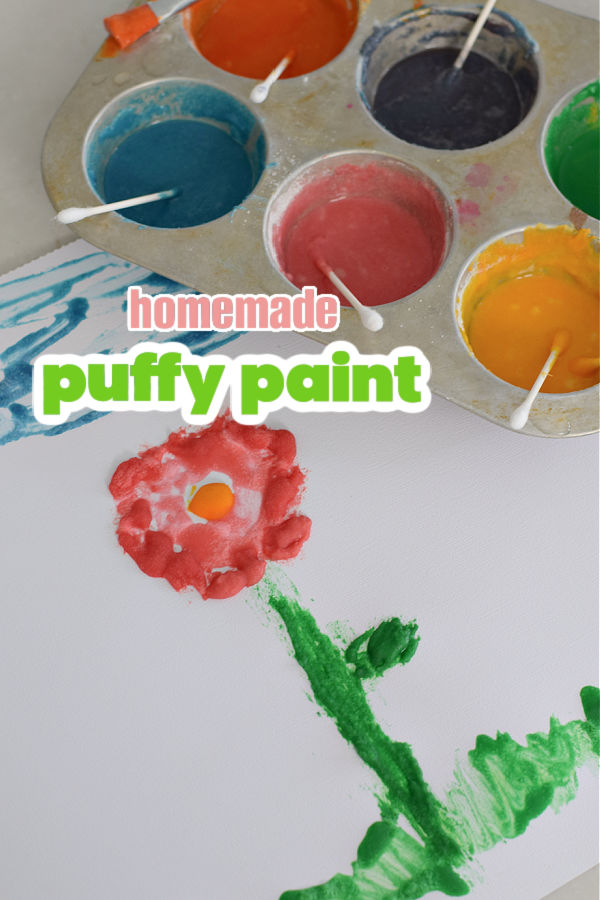 You might be in search of puffy paint with shaving cream. I must admit, I have not experimented with that type of puffy paint.
Puffy Paint with shaving cream is a mixture of equal amounts of shaving cream and glue. It puffs up and goes on thick and the painting dries to a rubbery mixture on the paper.
This type of puffy paint is quite different. It goes on like normal paint and then puffs up and dries in seconds, leaving a 3-D painting that is dry and ready to hang!
What is the difference between shaving cream puffy paint and microwavable puffy paint?
Shaving cream puffy paint goes on thick and puffed up. It dries to a rubbery finish. Microwavable puffy paint goes on like thick paint and puffs up in the microwave as it completely dries.
How long does Puffy Paint last?
You can leave puffy paint out at room temperature for several days. Just add water to turn the solid mixture back into a paste before painting with it again
Will Puffy Paint stain clothing?
This recipe for Puffy Paint does contain food coloring which could possibly stain clothes
Is Puffy Paint Safe for kids?
This recipe uses self-rising flour, salt, water, and food coloring – all of which should be safe for kids to handle. Even though these ingredients are most likely non-toxic, they could still irritate skin or cause stomach upset
How long will Puffy Paint take to dry?
In the microwave, puffy paint takes 15-20 seconds to dry
Should I use a certain type of paper to paint with puffy paint?
I would use a thick paper – like card-stock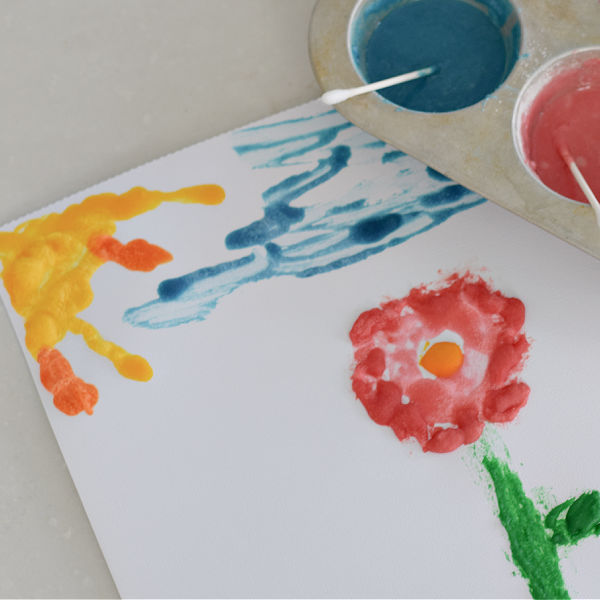 Are you ready to make Puffy Paint? Here's What You'll Need:
Supplies
Self-Rising Flour – Don't worry if you don't have "Self Rising" – The recipe to turn All-Purpose into Self Rising Flour is below
Salt
Food Coloring
Water
Cupcake Pan works great for a paint tray
Q-tips (or paintbrushes)
How do you make Puffy Paint?
Mix equal amounts of salt and flour together
Stir in enough water to form a paste
Add food coloring for color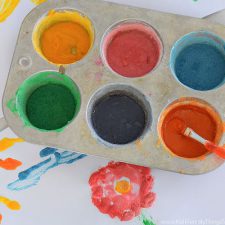 Print
Homemade Puffy Paint
A fun and easy way to paint with the kids. Make homemade puffy paint and microwave their masterpieces dry.
Equipment
small bowls for paint colors or muffin tin for a paint tray

q-tips or paint brushes
Materials
½

cup

Self Rising Flour

If you don't have self rising flour – see notes below

½

cup

Salt

5

drops

Food Coloring

amount will vary

Water

amount will vary
Instructions
Instructions: – Per color
For each color: Mix 1 Tablespoon of Self Rising Flour with 1 Tablespoon of salt

Add a little food coloring and a few drops of water

Only add enough water to make a paste.

Use a Q-tip or paintbrush to paint on a sheet of paper. Use the paint liberally! The more you paste on, the more three dimensional your painting will look.

Microwave the painting for up to 12 seconds. The painting should be puffy and dry
Notes
Recipe for Self-Rising Flour 
For each cup of All-Purpose Flour – Add 1 and 1/4 teaspoons of baking powder, & 1/4 teaspoon of salt, and mix to combine
~Melissa
KidFriendlyThingsToDo.Com –