This is a fun activity that will pack those warm cozy scents of the holidays into a can – literally. Homemade Scented Playdough is such a great way to spend quality time around the table.  I think you'll find it's easy, fun, and might do a better job than the play dough from the store.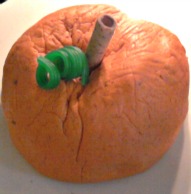 Homemade Scented Playdough Recipes
These are some Homemade Play-dough Recipes "that smell – Oh so good" to try out.
Are you looking for fun activities to do with the kids? Try out some of my other posts, like:
Use This Basic Play Dough Recipe – As a base. It's my favorite one. The kids can participate in ALL of the makings, 'cause there is NO COOKING required
3-4 cups of flour
1 Cup of salt
1Tb. of Cream of Tartar
2 Tb. of oil (baby oil can be substituted to make the playdough softer & will prevent mold, the color will hold better)
1 and 1/2 Cups of Warm Tap Water
Instructions:
Mix the first three, dry ingredients.  Only use 3 cups of flour to start.
Mix warm water, & oil
Let mixture cool and knead, add to the dry stuff, and start kneading it together
If the playdough is sticky, add the 4th cup of flour little by little –   It should have the consistency of bread dough
Cinnamon Scented Play Dough:
To make the above Basic play dough version smell like Cinnamon
You could…Use cinnamon tea as a substitute for the warm water
Just add 2 teaspoons of cinnamon to the dry ingredients – More if you want
 Add 1 teaspoon of cinnamon extract – if you have it – NOT required at all – this will just make the cinnamon smell more intense for those cinnamon lovers out there
PUMPKIN SPICE:
Again, make the basic playdough recipe at the very top & gather your pumpkin pie spices
First, Color your playdough with some orange food coloring to resemble a pumpkin
Supplies needed:
cinnamon
ginger
allspice
nutmeg
pumpkin pie spice
Now, start shaking the spices in – 1 teaspoon of each
For me, I added an extra teaspoon of nutmeg and ginger to get a wonderful pumpkin pie aroma
Adjust these spices to your nose's personal preference. The true aroma won't come through until the dough has been sealed for a bit. It gets strong in a container.
Orange Spice Playdough:
Make the above Basic Play Dough Recipe – the one at the tippy top
Color your playdough orange with food coloring, unless you want another color. I just thought orange would fit the orange smell.
Gather some spices and extracts: I used –
1&1/4 tsp. Orange Extract
1/4 tsp. Cinnamon Extract
1/4 tsp. Ground clove spice
Chocolate Scented Play Dough:
You'll Need:
Make the Basic Play Dough Recipe, and Add:
1/2 Cup of Cocoa or the powdered chocolate for chocolate milk (Nesquick works great)
Do they make the chocolate extract? Probably, there's an extract for just about everything. If you have some, you could add a teaspoon for even more chocolate deliciousness
Note: The cocoa will color the playdough for you. This will be a chocolate brown color.
Some other fun tips and ideas to put a twist in your playdough activity
Add glitter for some sparkling fun
Don't add the color until the dough is in a zip-lock bag.  Let the air out of the bag, and let the kids knead the color into the dough.  Either by putting their hand inside the bag to do it, or pressing on the bag from the outside. It has a fun marble look to it, at first.
Use any extract scent to make your own original holiday scent.  Almond would be so nice for an almond sugar cookie smell
~Melissa
KidFriendlyThingsToDo.Com – Providing kid-friendly recipes, ideas, and crafts for you and your kids