Make these fun Napkin Holders for your next Dr. Seuss Party. Toilet Paper Tube Cat in the Hat Napkin Rings are the perfect touch to your Dr. Seuss celebration.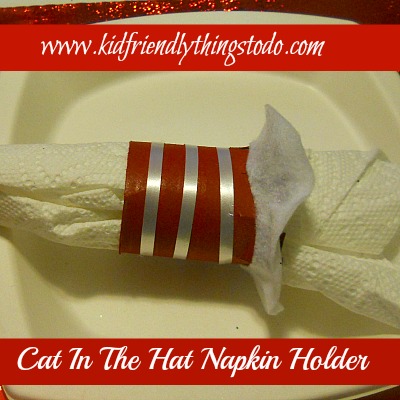 Cat in the Hat Paper Tube Napkin Holder
Here's What You'll Need: For Each One –
Toilet Paper Tube
Red Spray Paint
White Ribbon
White Felt or Foam
Scissors
Low Temp Glue Gun
 Now, Here's What You'll Need To Do:
 You can either leave the roll the same height – this will make it really look like A Cat In The Hat, or – trim it by cutting a couple of inches off to look more like a napkin ring. Both would work – your preference.
Cut 1/2 inch slits all around the bottom of your toilet paper roll.
Bend these outward. These help the roll stand and also provide something for the brim to secure to.
Spray paint with red paint
After they are dry, flip the roll over onto your white fabric, so you can trace a circle from the inside of your roll.
Cut this circle out, and cut a larger circle around it. You are making the brim. It should look like the letter O.
Pull this over your roll of toilet paper, and secure it with glue to your bent slits.
Cut strips of white ribbon to the circumference of your tube.
Place 2 or 3 dots of hot glue on your tube of toilet paper.
Adhere your white ribbon around the tube, like stripes.
~Melissa – KidFriendlyThingsToDo.Com