This Cat in the Hat cupcake would be a great addition to any Dr. Seuss party. Easy to make and so festive. The perfect Dr. Seuss Cupcake Idea for your next celebration.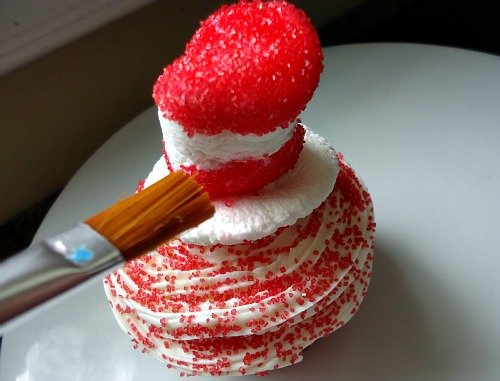 Dr. Seuss Cupcake Idea
Are you looking for Dr. Seuss Party Ideas? Try some of my other posts, like:
You'll Need: For Each Cupcake
A cupcake frosted with white frosting and red sprinkles
2 marshmallows
A bowl of water
Paintbrush
A bowl of red sugar
White Frosting
Rolling pin
Wax paper
Now, On To The Cupcake:
Grab your 2 sheets of wax paper and place the marshmallow standing up in between the two pieces of wax paper
Roll it out with the rolling pin, until it's flat and round
Place your flattened marshmallow in the center of the cupcake
Now place your second marshmallow down on the wax paper on its side
Roll that back and forth with the palm of your hand until it gets long like a cylinder
Now, using your paintbrush, paint on the water where you would like to see your red stripes
Dip the wet parts of marshmallows in the red sugar. You might want to sprinkle the sugar onto the middle stripe
Dab some frosting onto the bottom of the marshmallow and place it onto the center of your circular marshmallow
Take off any stray red sugar with your wet paintbrush
That's it! Happy Birthday, Dr. Seuss
~Melissa – KidFriendlyThingsToDo.Com – fun foods, party ideas, kid-friendly crafts, recipes, and fun things to do with your family!
email – Melissa@kidfriendlythingstodo.com