This Cat in the Hat cupcake would be a great addition to any Dr. Seuss party. These Dr. Seuss Cupcakes are easy to make and perfect for a Dr. Seuss birthday celebration.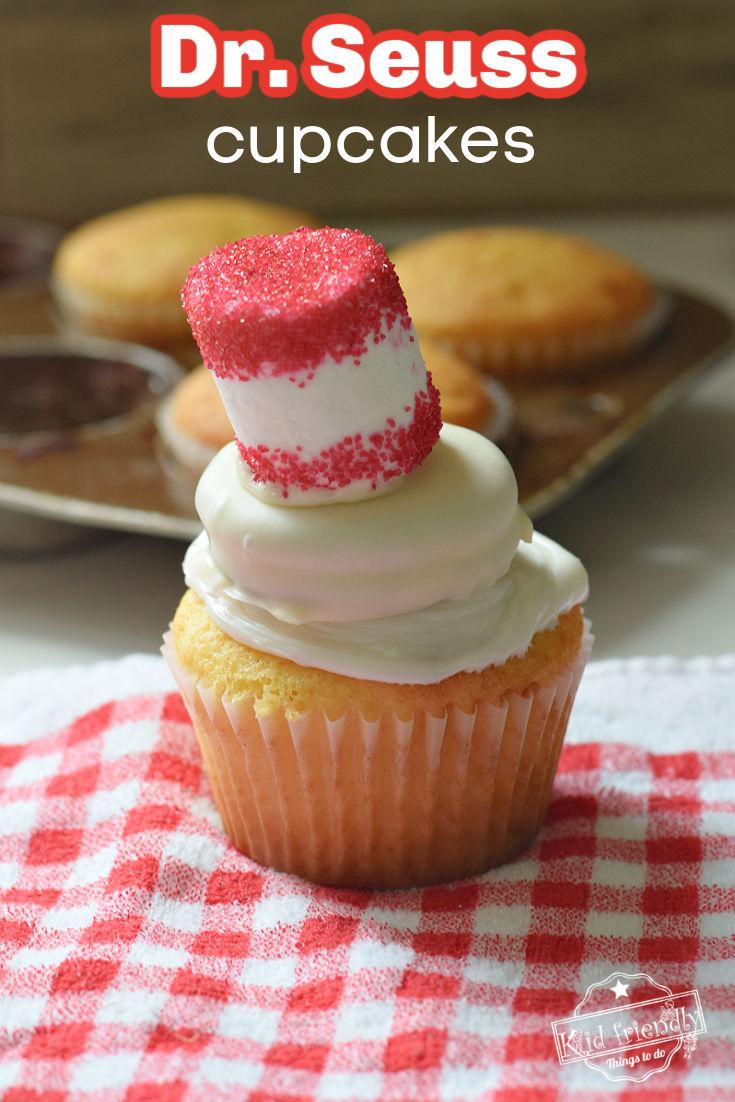 Dr. Seuss Cupcakes – Cat in the Hat
Are you looking for Dr. Seuss Party Ideas? Try some of my other posts, like:
Make-Ahead and Storage:
How far in advance can I make a cupcake?
Cupcakes will stay fresh for 3-4 days after baking.
How do I store cupcakes?
Store cupcakes, covered, at room temperature. If you do not have a cupcake container with a lid, you can use toothpicks inserted into the top of the cupcakes to keep plastic wraps off of the cupcakes and still cover them for storage.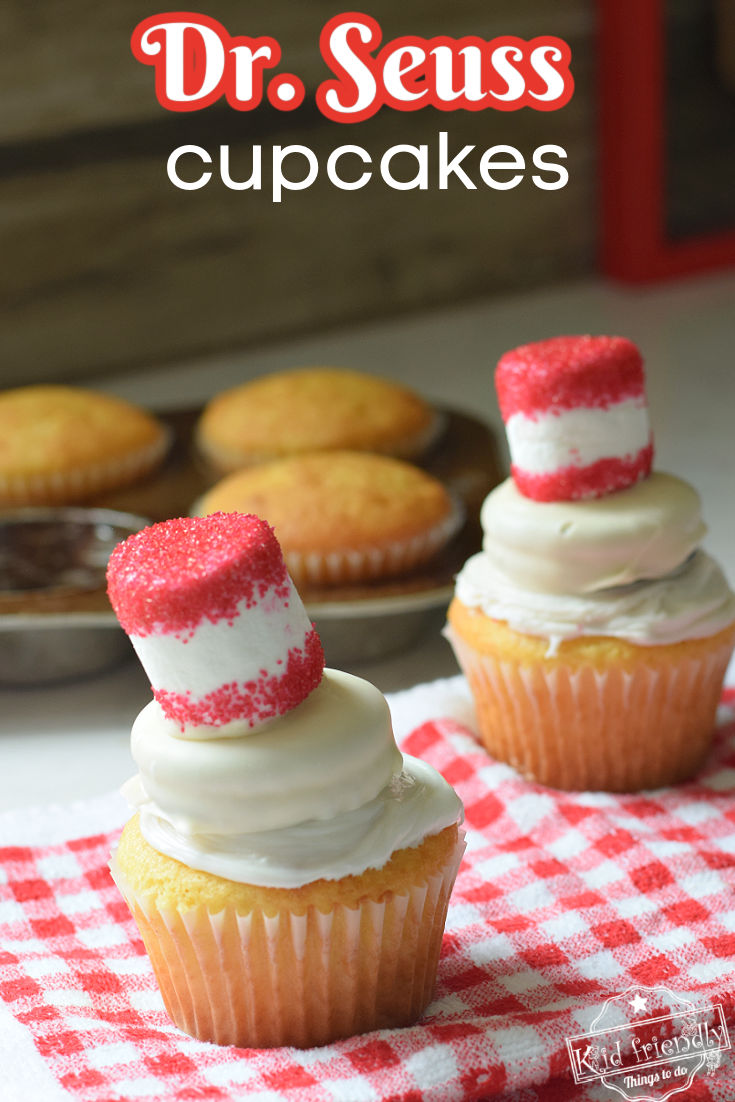 What is the Difference Between a Cupcake Pan and a Muffin Tin?
Nothing at all. Both cupcake pans and muffin tins are the same size and serve the same purpose to bake cupcakes and muffins. For muffins, one will usually spray the cavities before pouring the batter and baking. For cupcakes, a cupcake liner is usually placed in each cavity before pouring the batter.
Can I frost cupcakes in advance?
Yes. Frosted cupcakes, when covered and stored at room temperature should stay fresh for 3-4 days
How Far in Advance can I make these Dr. Seuss Cupcakes?
These Cat in the Hat cupcakes will stay fresh for at least 2 days. Most parts of the Dr. Seuss cupcakes should have a shelf life of up to five days. The marshmallows are the only part of the cupcake that would go stale after being exposed to air for too many days. Cover and store cupcakes at room temperature to prolong the freshness of this party treat
Tips and Tricks for this Dr. Seuss Cupcake: 
Any cupcake flavor will do for this cupcake idea – I used a boxed vanilla cake mix
Use white, vanilla, or cream cheese frosting – I've also seen blue frosting for a similar cupcake. A red frosting would also be a great color for the base
Don't worry about making the frosting perfect – the hat will cover most of it anyway
If you want to get fancy, you can pipe your frosting with a star tip attached to a piping bag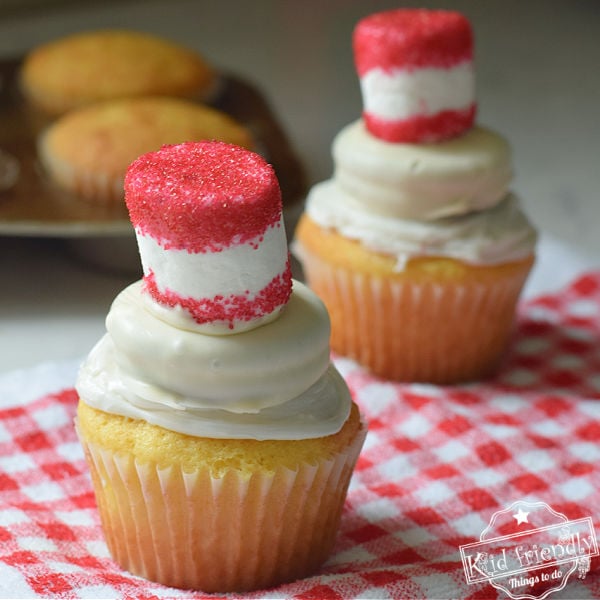 Are you ready to make these fun Dr. Seuss Cupcakes? Let's make sure you have everything you'll need: 
Ingredients
A cupcake in a cupcake liner that is frosted with white frosting
Oreo cookies – you can use any type of Cookie that is about the same size or shape as an Oreo
White chocolate melts
a small glass microwave-proof bowl
wax paper
1 regular sized marshmallow (large but not giant)
a small bowl of water
a bowl of red sugar crystal sprinkles
Other equipment:
fork
toothpick
optional- small paintbrush
silicone spatula for stirring chocolate
How do you make a Cat in the Hat Cupcake – Easily
Dip a cookie into white melted chocolate and set it on wax paper to dry
Place the ends of the marshmallow into a small bowl of water – leaving the middle part dry
Dip one end of the wet marshmallow into a bowl of red sugar crystals so that it covers 1/3 of the marshmallow
Sprinkle red sugar on the bottom part of the marshmallow making one more red stripe around the bottom
*There is no need to cover the bottom side of the marshmallow in red sugar as that will be placed on top of the cookie
Set the marshmallow down to dry
Dab some frosting onto the top of the chocolate covered cookie and place the marshmallow on top
Take off any stray red sugar with a clean wet paintbrush
When the decorations have dried – Place the Cat in the Hat decorations onto a frosted cupcake
Follow Me on Social Media
FACEBOOK
Facebook Page: Recipes Passed Down
Facebook Page: Kid Friendly Things To Do
Join my Facebook Groups
Easy Family Recipes – Just Like Mom Used to Make
Kid's Crafts and Activities for the whole family
PINTEREST
Print
{Cat In The Hat} Dr. Seuss Cupcakes
Author:
Prep Time:

20 minutes

Cook Time:

25-30 minutes

Total Time:

53 minute

Yield:

18

cupcakes

1

x
A cupcake frosted with white frosting
Oreo cookies
White chocolate melts – 12 oz. should be plenty for 18 dozen Oreo cookies
a small glass microwave-proof bowl
wax paper

1

regular sized marshmallow – not giant
a small bowl of water
a bowl of red sugar crystal sprinkles
Other equipment:
Instructions
White Chocolate Cookies
Set out some wax paper on your countertop
Melt the chocolate melts
*I usually place the melts into a microwave-proof glass bowl and set the microwave for 1 minute. I stir the chocolates and usually have to put them back in for another 30 seconds. Stir until smooth
Place an Oreo Cookie into the melted chocolate – use a fork to push it under the melted chocolate (flip it around if necessary)
Place the fork under the cookie  pull the cookie up to the side of the bowl and tap off any excess chocolate
Set the cookie onto the wax paper to dry
Marshmallows
Dip both ends of your marshmallow into the bowl of water to wet the marshmallow at the top and bottom – leaving the middle of the marshmallow dry
Here's another way of wetting the marshmallow: Using your paintbrush, paint on the water where you would like to see your red stripes
Dip one end of the wet marshmallow into a bowl of red sugar crystals so that it covers 1/3 of the marshmallow
Sprinkle red sugar on the bottom part of the marshmallow making one more red stripe around the bottom
Set the marshmallow down to dry
*only the top of the marshmallow needs sprinkles. The bottom will not show
2 Ways of Placing the Marshmallow onto the Cookie
Melted Chocolate – Place melted chocolate onto the center of the chocolate covered cookie
Frosting – dab some frosting onto the top center of the cookie to hold the marshmallow in place
Touching up – (if needed)
Take off any stray red sugar with a clean wet paintbrush
Notes
Storing – These cupcakes will stay fresh for about 2 days if covered and stored at room temperature
*There is no need to cover the bottom side of the marshmallow in red sugar as that will be placed on top of the cookie
~Melissa – KidFriendlyThingsToDo.Com – fun foods, party ideas, kid-friendly crafts, recipes, and fun things to do with your family
email – [email protected]