Here's a way to display Truffula Trees at your next Dr. Seuss party. Perfect as a fun Lorax Craft. You can use them as table decorations, and give the pinwheels out a party favors.  So much fun and easy to do.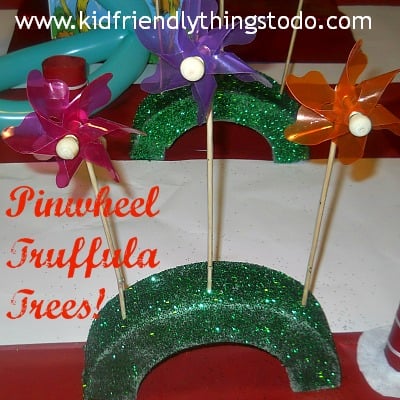 Truffula Tree Lorax Craft
Here's What You'll Need: For Each Hill:
A round Floral Foam Ring
Spray Adhesive (Optional – Only if you want to add glitter for sparkle)
Green Glitter (Optional – It gives it a little sparkle!)
3 small pinwheels
Instruction:
Cut your floral foam ring in half – try to make the ends as even as possible, so it stands level. ( You can always use something behind it as a support.)
If you want some sparkle – Spray the 2 hills with adhesive, and sprinkle liberally with green glitter.
Push the pinwheels into the hill – one in the center, and 2 on either side.
If you are looking for Dr. Seuss Crafts, try some of my other fun projects:
~Melissa – KidFriendlyThingsToDo.com