These Pool Noodle Halloween Candles are the perfect craft and decoration for your Halloween party. Easy to make and so much fun! Recycle pool noodles to make this fun Halloween decor.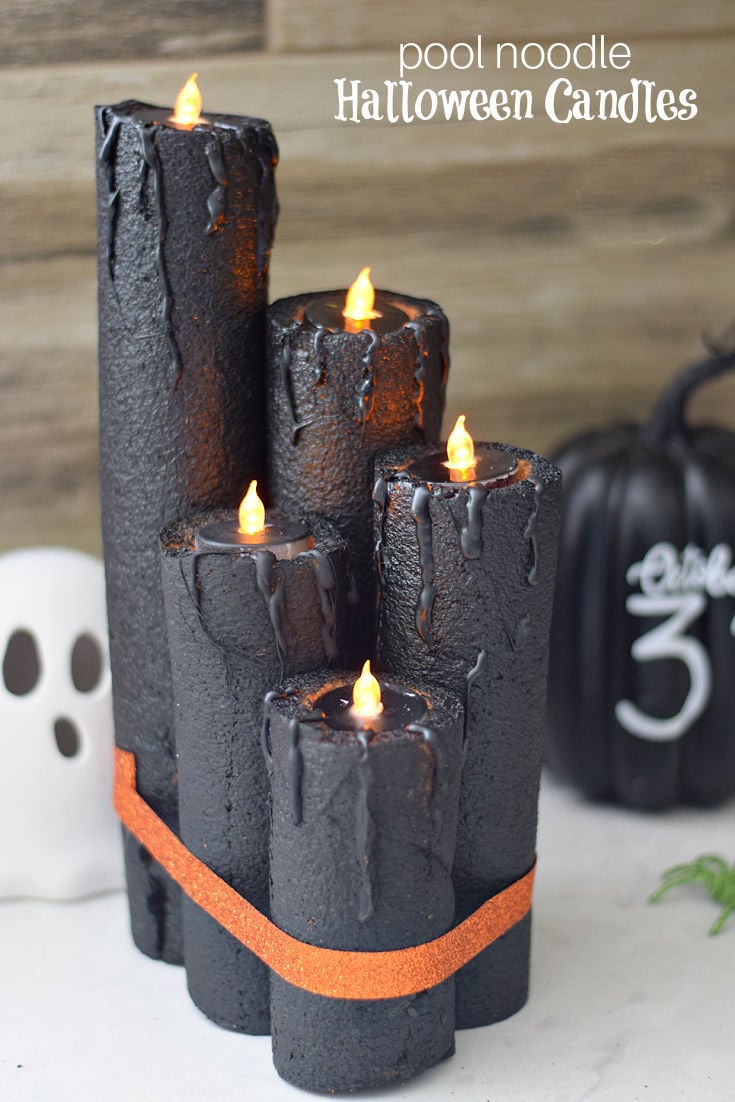 Pool Noodle Halloween Candles
If you are looking for Halloween decorations for your home, you might like this Spooky Tablecloth idea, Over 17 Halloween Porch Decoration Ideas, or How to Make a Fabric Ghost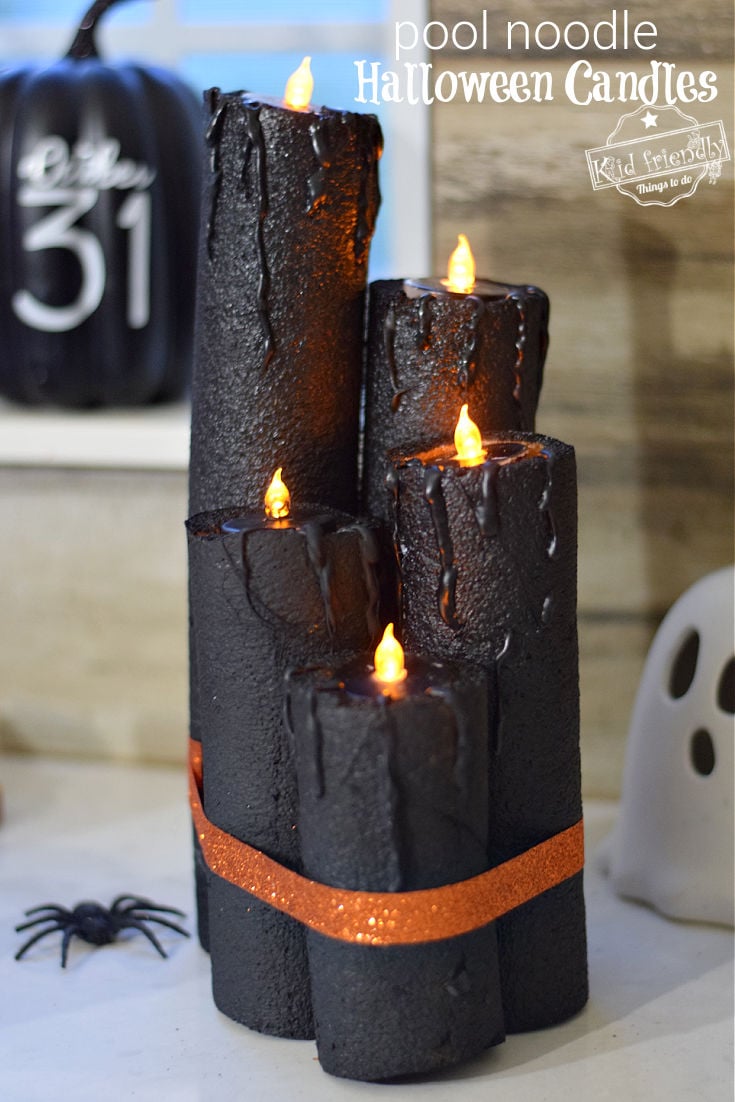 My daughter showed me a tik-tok with these Pool Noodle Halloween Candles, and I knew I had to give them a try. I'm so glad that I did. I love how they turned out and I learned some tips and tricks to share with your along the way.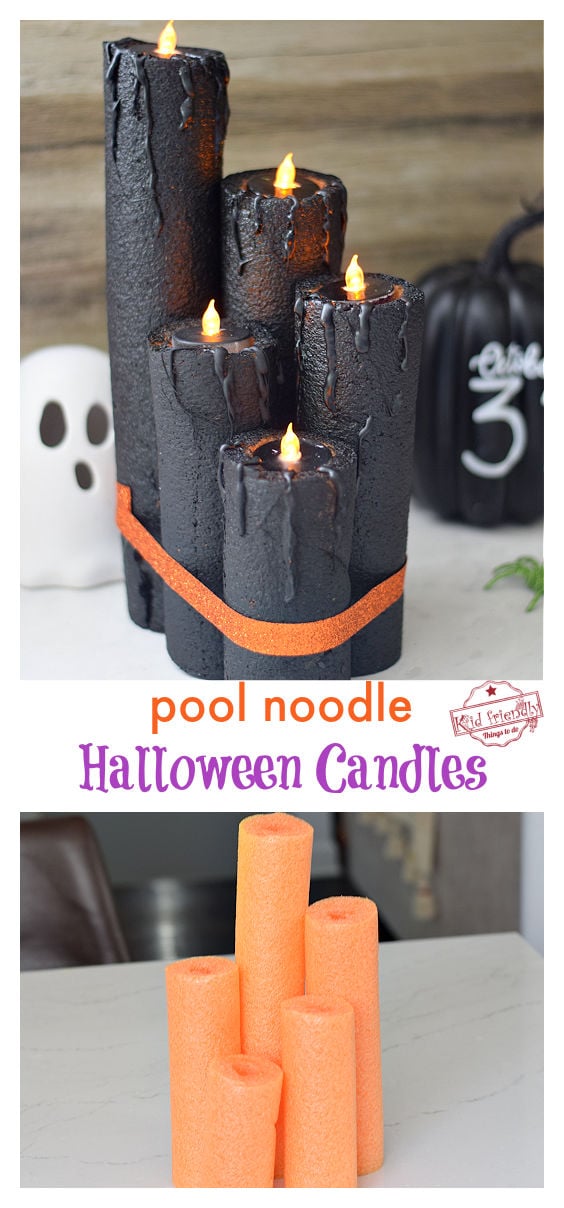 Although this isn't one of my easy peasy crafts for little kids, this is one of those crafts that adults might enjoy making and displaying for them. Kids will love seeing these pool noodle candles light up. They would be such a fun Halloween decorating sitting on the porch on Halloween night.
Are you ready to make your Halloween Decorations? Let's make sure that you have everything you'll need:
Supplies for this Halloween Idea
1 pool noodle
scissors
low temp glue gun and glue sticks
black spray paint – I used a FLAT black Rustoleum enamel spray paint
battery operated tea lights
masking tape
ribbon or string
Instructions: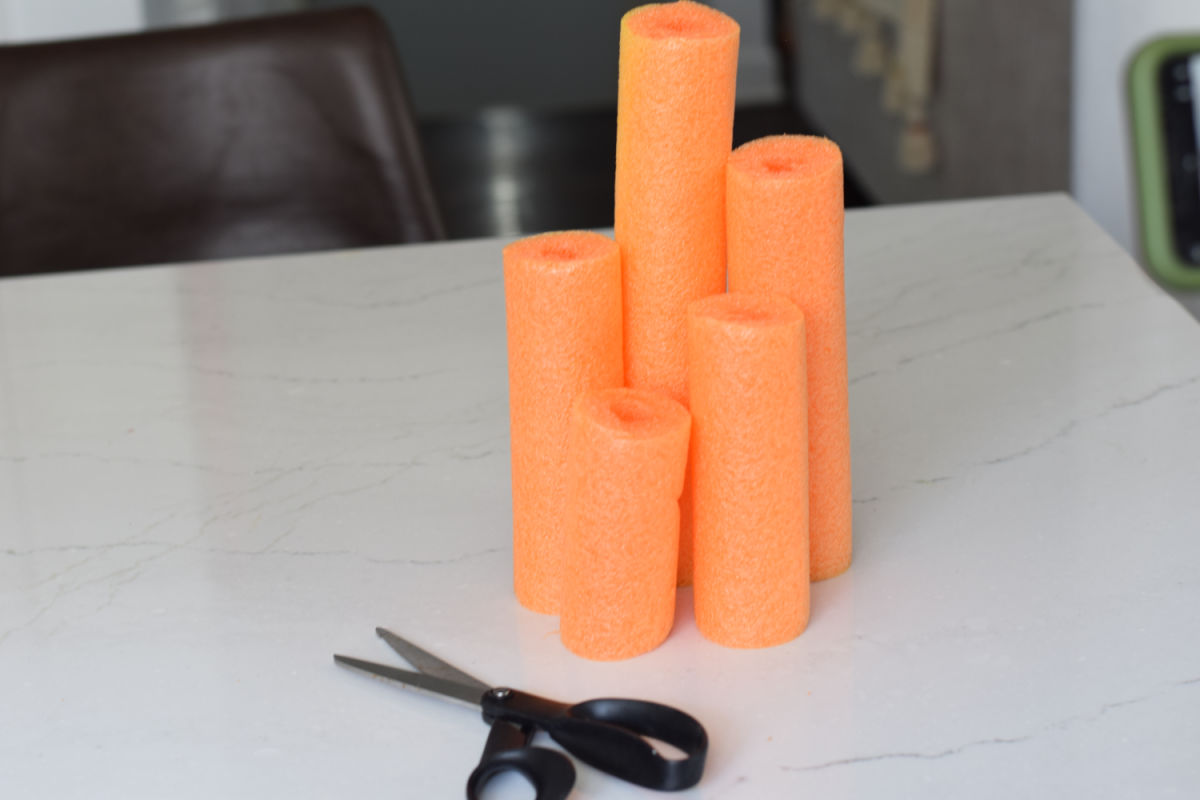 cut the pool noodle at varying lengths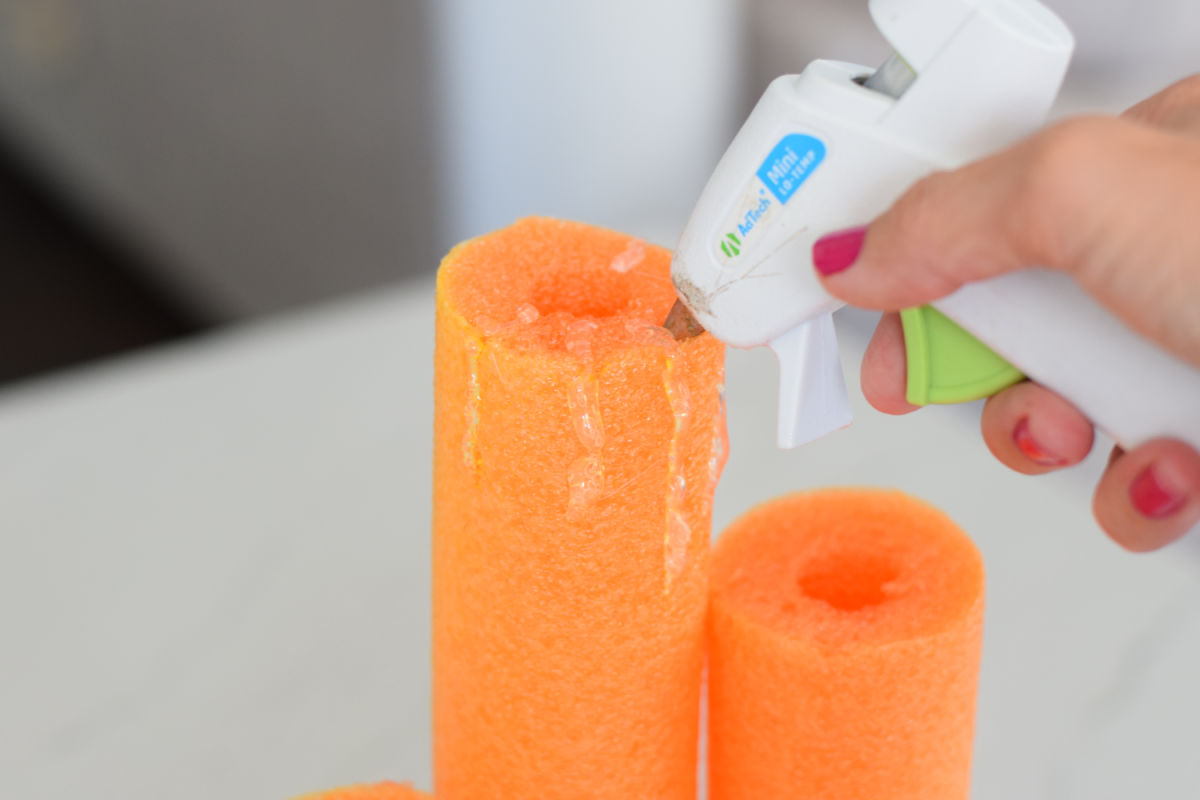 stand your noodles up and squeeze out melted glue at the top of the pool noodles, going down the sides- (this will be your melted wax illusion)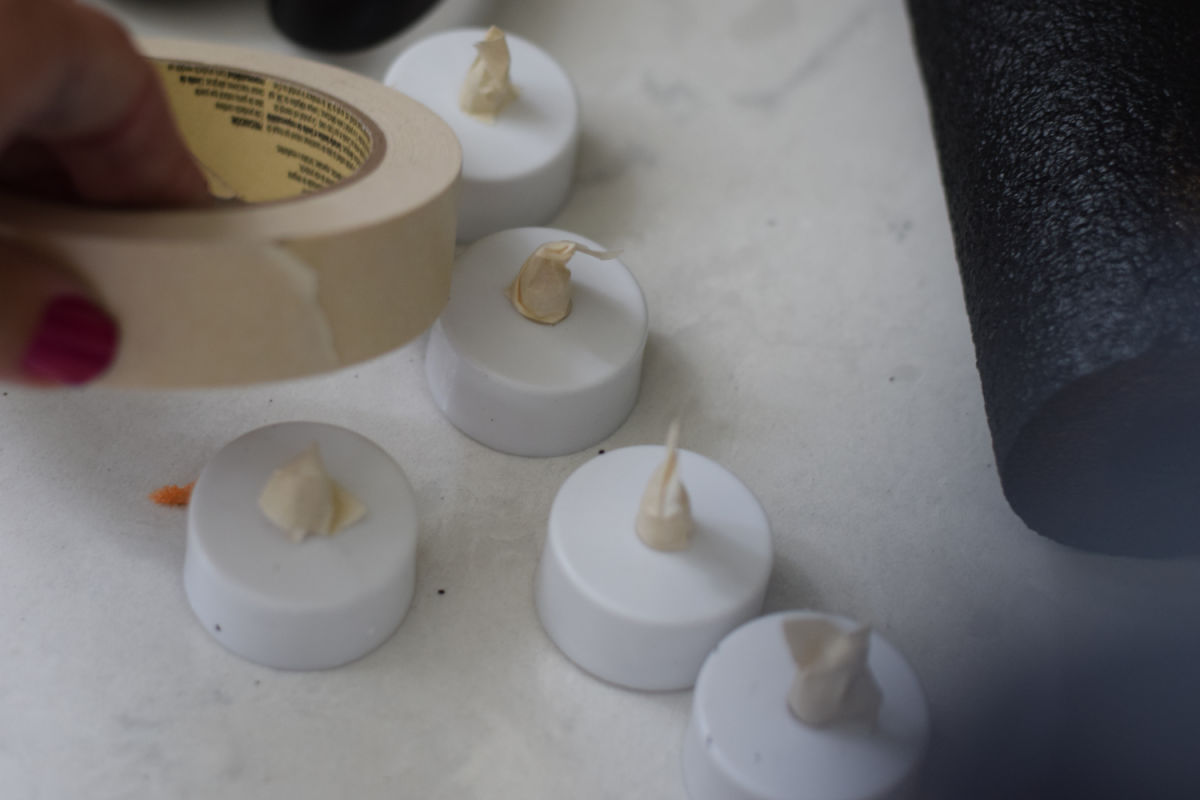 tape the wick portion of the tea lights (this will protect them from the paint)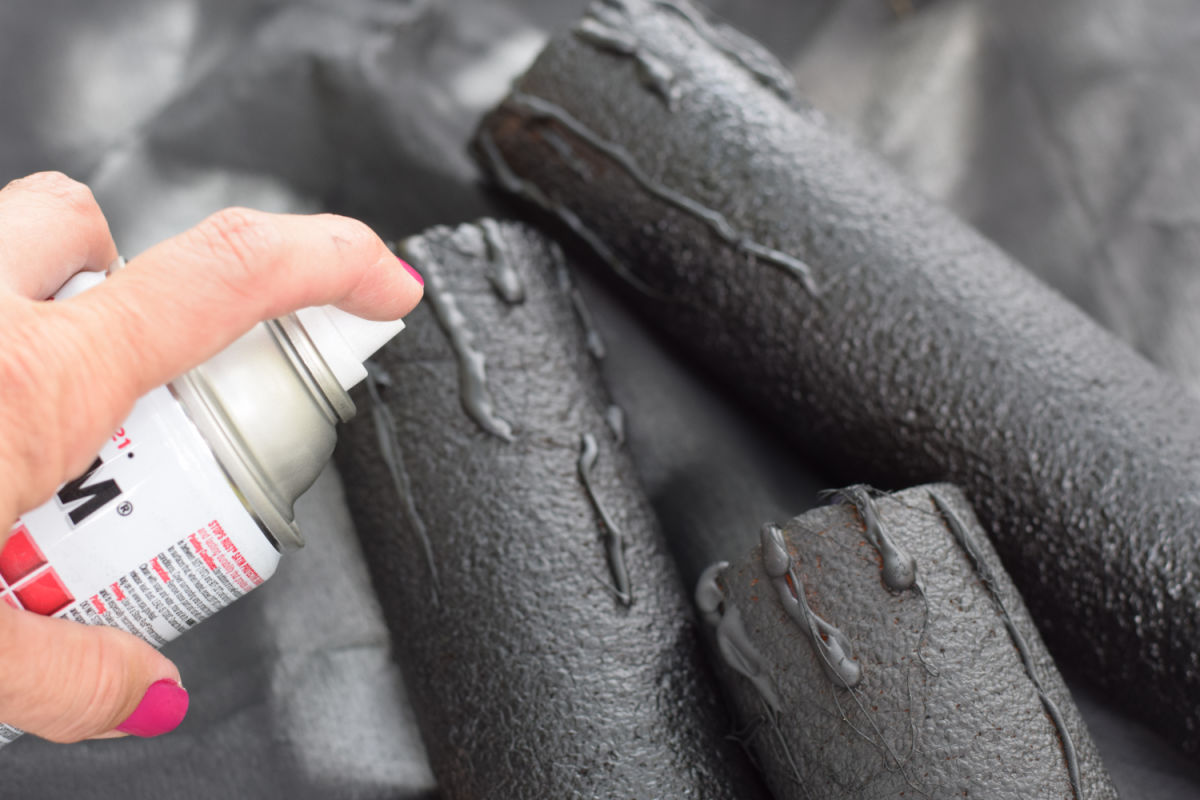 take your pool noodle pieces and the tea lights out to a well-ventilated area (outdoors is best) to spray them with the black paint
spray noodles and tea lights – let dry
turn noodles over and spray the rest – let dry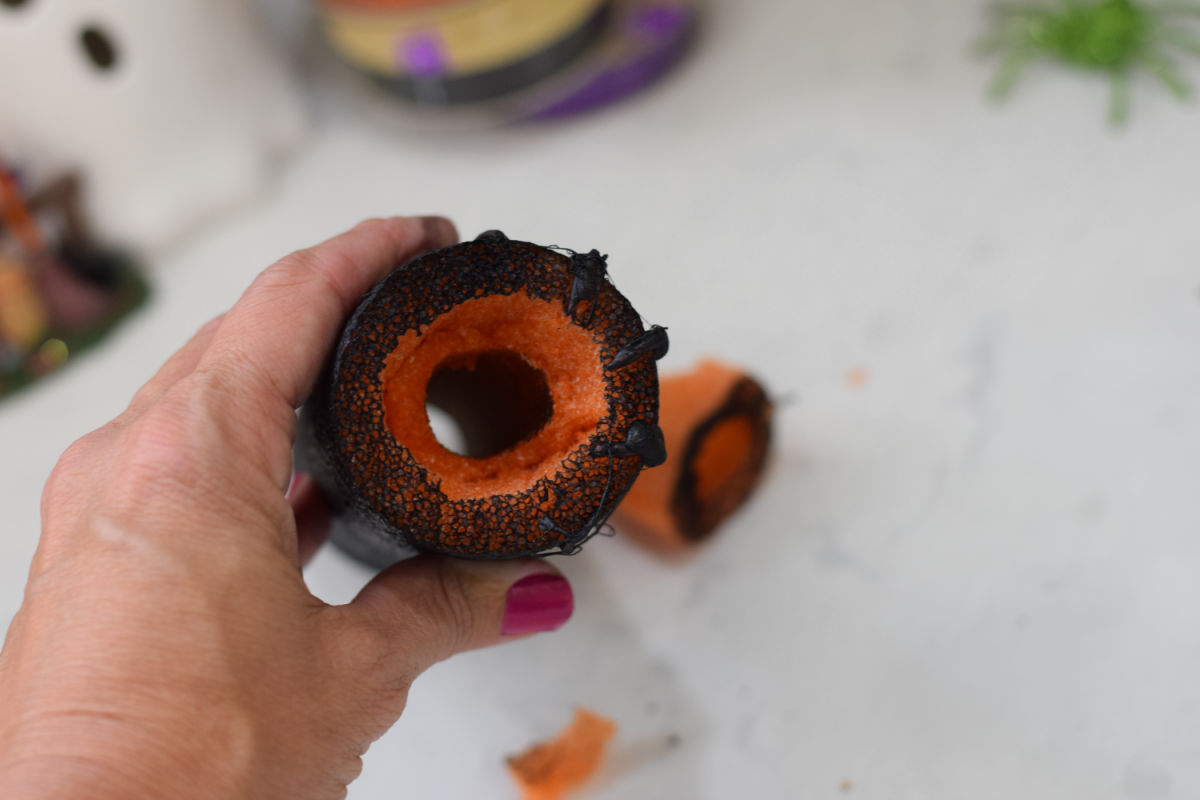 when the noodles are dry, cut the center hole a little wider to fit the tea light inside – (you only need to do this at the top – the same end as the melted wax)
*the hole you make should only be as deep as the tea lights
group the candles together and tie a string to secure or glue ribbon around them to secure them together
when you are ready to light the candles, turn the tea lights on and stick them into the holes you've made at the top of the candles
enjoy!
*Alternative to cutting out a hole for the tea-lights is to simply place them on top of the pool noodles to display
Expert Tips on making Halloween Candles
To make this craft a more Kid-Friendly Craft – simply place the tea lights on top of the noodles without cutting the inside of the pool noodle at all.
you can use scissors to cut your pool noodles at various lengths
try to make one end even, but it's ok if the tops are not even. Candles don't burn evenly, anyway,
you can use scissors or a sharp knife to cut a larger hole in the center of your pool noodle tops for a place to hold the tea lights
if you choose to carve out a place for the tea lights – the enlarged hole only needs to be as deep as the tea light
use a low temp glue gun for the melted wax effect
you can get 5-6 candlesticks out of one pool noodle
use spray paint in a well-ventilated area
place an old sheet or tarp down to protect your work surface from paint
What are Pool Noodle Halloween Candles?
Pool noodle Halloween candles are a fun way to add a spooky decoration to Halloween and Halloween parties. They are pool noodles cut in varying lengths, painted black, and displayed as a group of spooky candles with a tea light shining as a candle light
Can Kids Participate in making Halloween Candles?
They can participate in some of the craft. To make this a more kid-friendly craft, do not cut depression in the pool noodle to hold the tea lights. Instead, place painted tea lights on top of the candles
How do you Make Pool Noodle Halloween Candless?
Pool noodle Halloween candles are made by adding glue to the sides of different sized pool noodles to represent wax dripping down, painting them black, and addint tea lights as the candle light
More Halloween Crafts to Decorate your party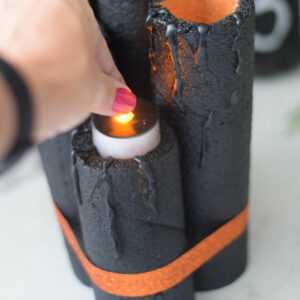 Print
Pool Noodle Halloween Candles Craft {So Fun!}
Materials
1

pool noodle

low temp glue gun and glue sticks

black spray paint

– I used a FLAT black Rustoleum enamel spray paint

5

battery operated tea lights

masking tape

ribbon or string

Halloween colors
Instructions
cut the pool noodle at varying lengths

stand your noodles up and squeeze out melted glue at the top of the pool noodles, going down the sides- (this will be your melted wax illusion)

tape the wick portion of the tea lights (this will protect them from the paint)

take your pool noodle pieces and the tea lights out to a well-ventilated area (outdoors is best) to spray them with the black paint

spray noodles and tea lights – let dry

turn noodles over and spray the rest – let dry

when the noodles are dry, cut the center hole a little wider to fit the tea light inside – (you only need to do this at the top – the same end as the melted wax)*

the hole you make should only be as deep as the tea lights

group the candles together and tie a string to secure or glue ribbon around them to secure them together

when you are ready to light the candles, turn the tea lights on and stick them into the holes you've made at the top of the candles

*Alternative to cutting out a hole for the tea-lights is to simply place them on top of the pool noodles to display