I love this No Carve Pumpkin. It's so simple that the kids can do it and it's so beautiful that you'll want to decorate with it all season long! This Easy No Carve Pumpkin Idea for Kids to Decorate at Halloween features a swarm of bats flying over the moon. Come on in and I'll show you the "how to" on this fun and simple No Carve Pumpkin Idea…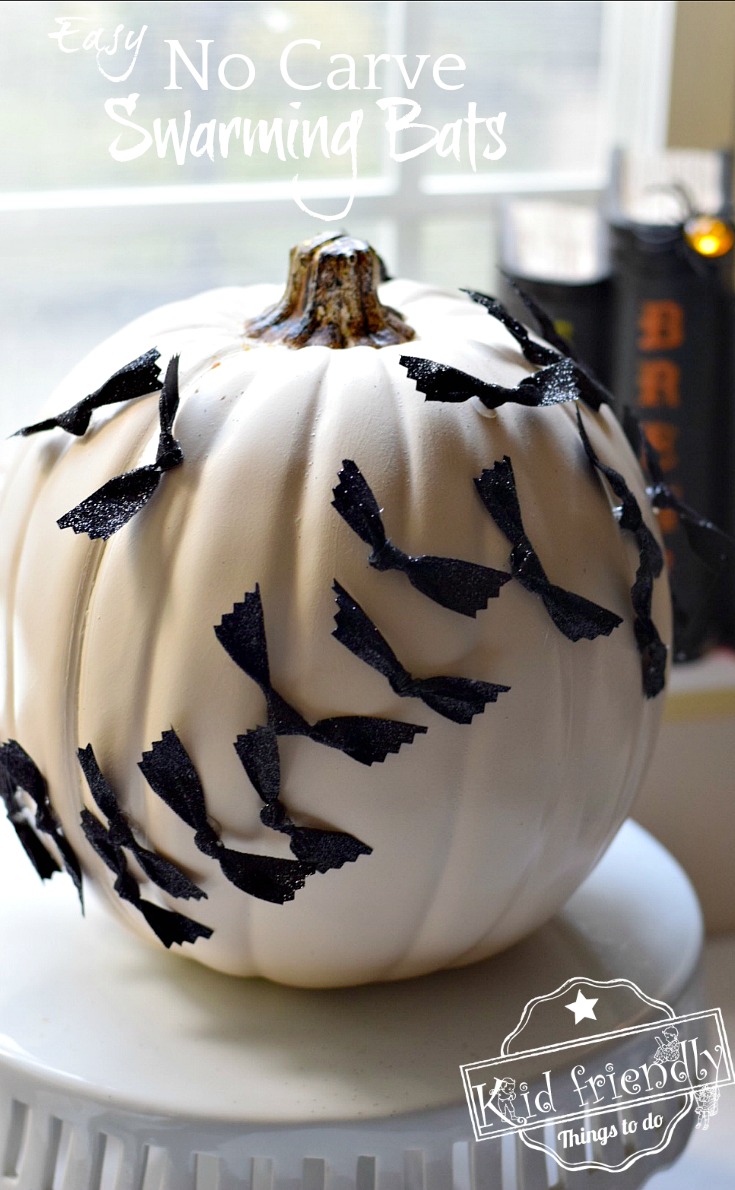 Here's a simple video tutorial to get you started on this fun Halloween Craft
I love, love, love this bat pumpkin. I might just have to do a fun Bat Swarm Theme on my front porch this year.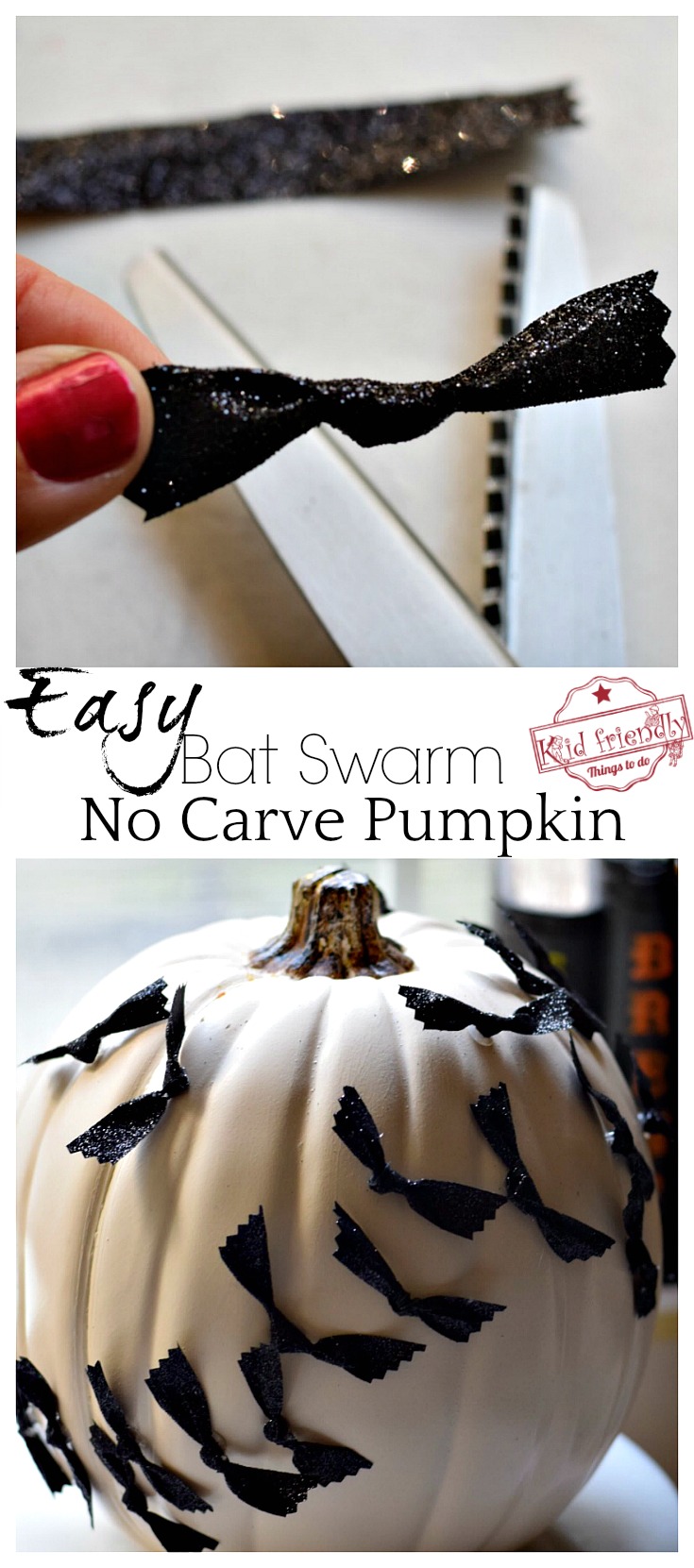 My ten year old daughter had so much fun with our new Zig-Zag Scissors, that she cut out every single one of our bats! She even tied the knots for me. It's really that simple!
Here's what you'll need for this Easy No Carve Pumpkin Idea for Kids to Decorate at Halloween
Black Ribbon – I found some beautiful sparkle black ribbon to use that is 5/8 in. wide
Zig-Zag Craft Scissors
A White Pumpkin – I used a craft pumpkin that I found at Michael's Craft Store, but you could paint a fresh pumpkin
Warm Glue Gun and glue sticks or a great alternative Fabri-Tac Glue – I prefer it to avoid burns and it sticks instantly for something like this
Instructions: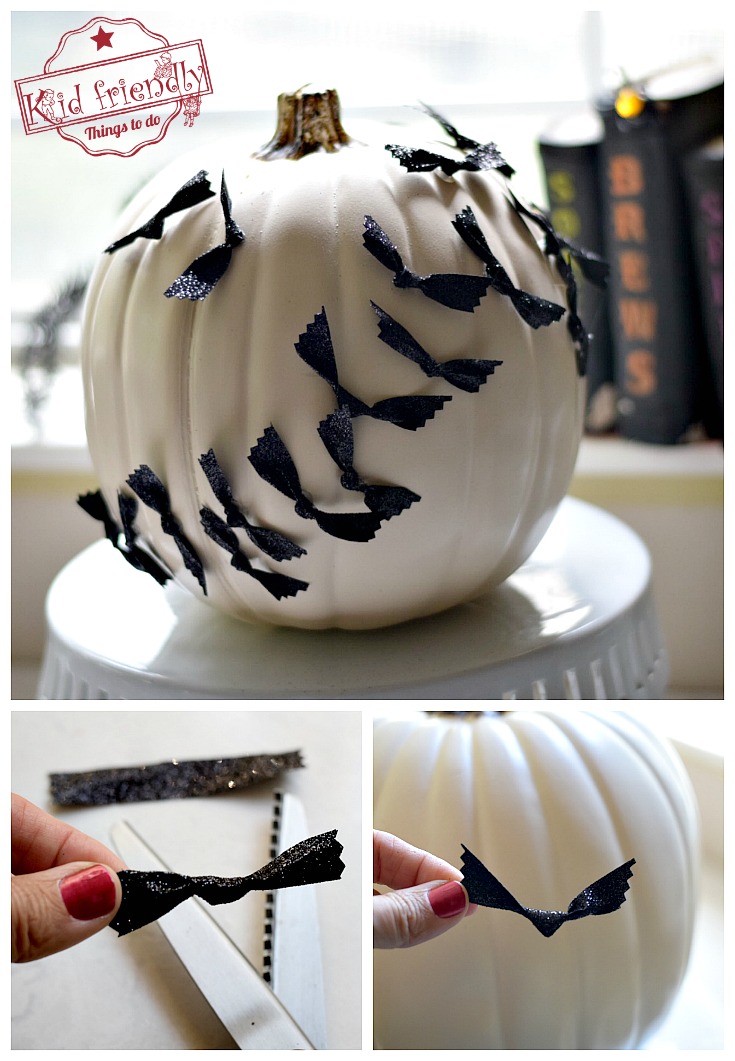 Using your zig-zag scissors, cut 4 inch strips out of the ribbon
Tie a half-knot in the middle of the ribbon
If you want, cut an angle on each end of your ribbon to resemble a flying bat even more!
Now, just glue the ribbon bats using your own Bats flying over the Moon – fun design!
That's really it! See? Easy, Peasy!
Here are my Top Amazon Picks for this
[box] [/box]
Happy Halloween
~Melissa – Kid Friendly Things To Do