This Spiced Wassail recipe, or as my mom called it, Perculator Punch is the one I grew up with. The aroma from this drink fills the house with all the smells and comfort of a cozy home and Christmas time. It's perfect for any winter or cool night.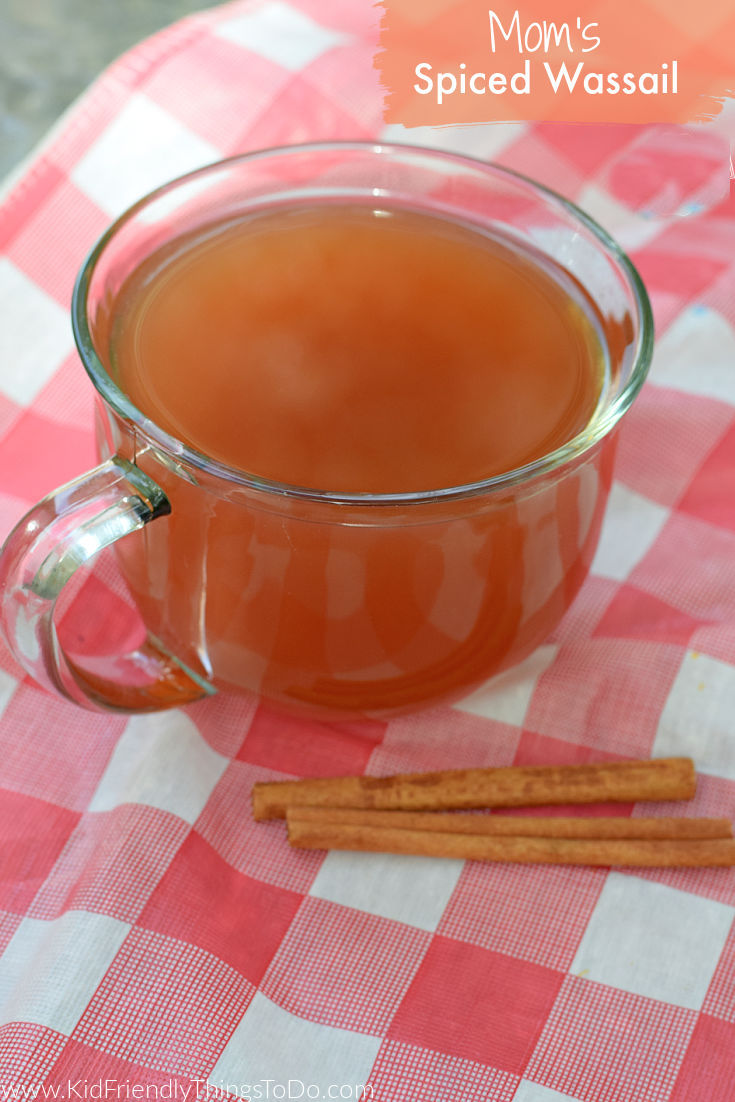 Homemade Spiced Wassail Recipe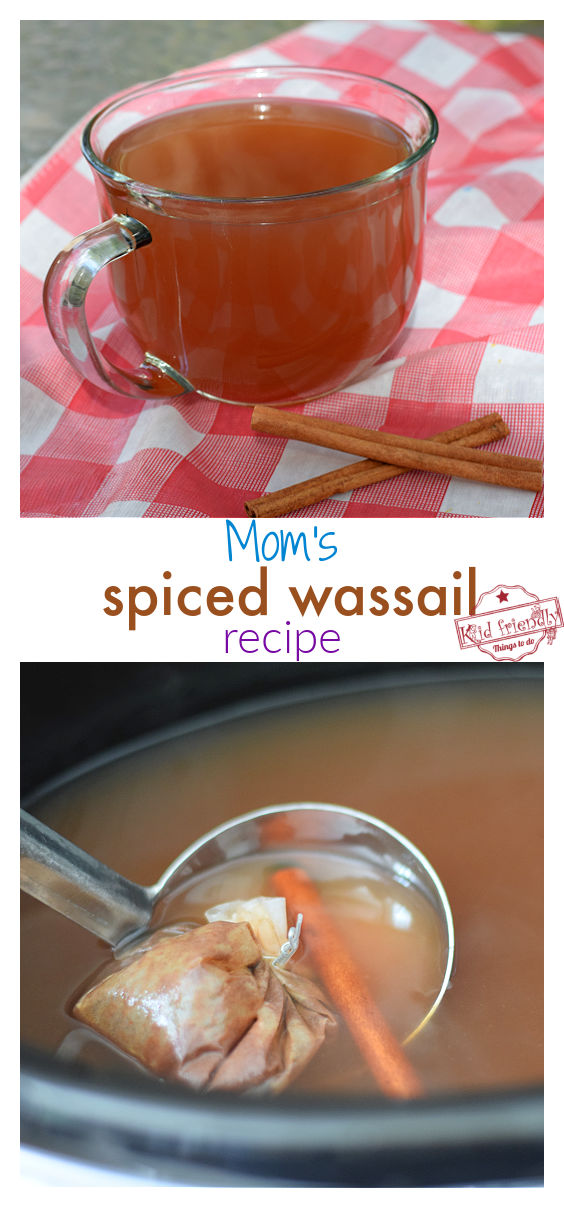 When I was growing up, each year when the temperature dropped outside, my mom would take out the percolator for spiced percolator punch. Those were the days when everyone had a metal-type coffee maker that hissed and boiled liquid on the kitchen counter.
What is a Percolator?
A type of coffee pot that boils coffee by shooting hot liquid up through a tube and into the grounds. The filtered coffee settles down into the bottom of the container.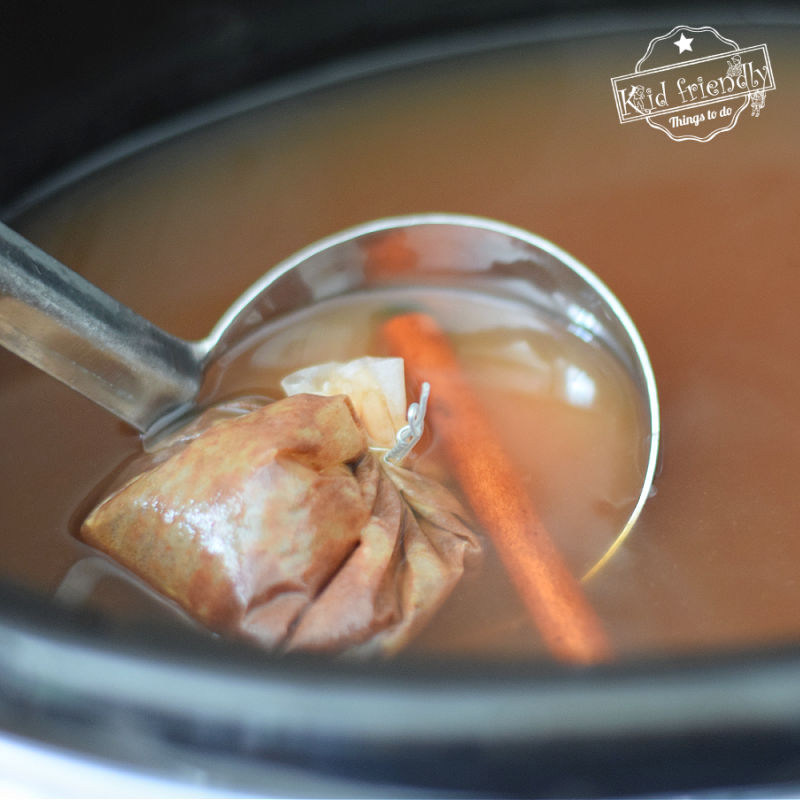 Nowadays, everyone has a slow cooker and percolators are very rare. No worries, this percolator punch is easily made in a slow cooker or over the stovetop. Of course, without the percolator, this punch is referred to as Wassail – which I suppose it was, all along.
What is Wassail?
Wassail is a spiced or mulled drink that is usually served warm and generally made around Christmas time or when it is cold outside.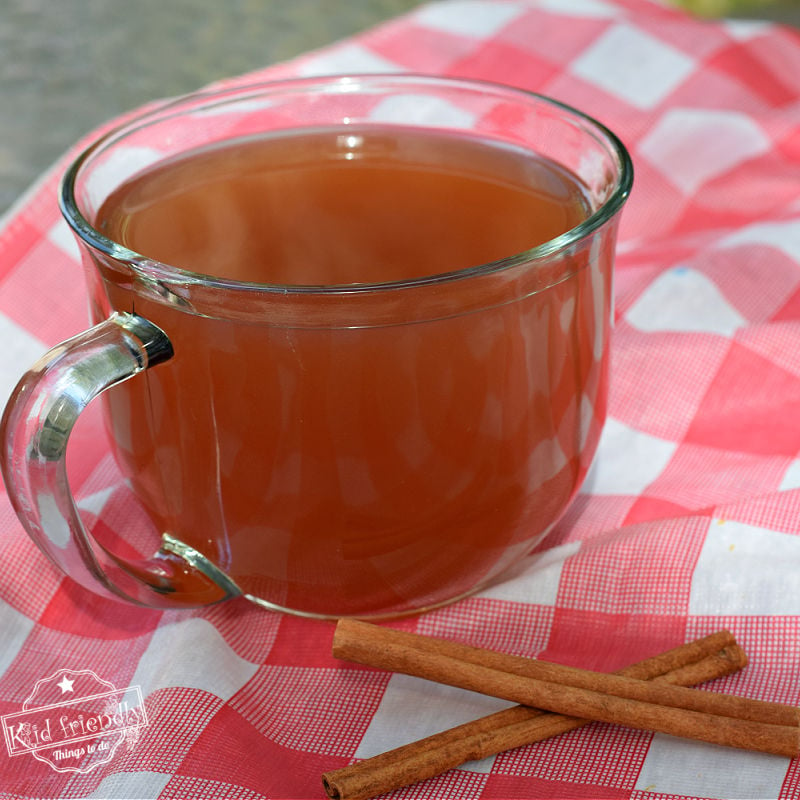 I'm not sure which is better. The aroma from this delicious cider, the warm feeling you get from drinking the spiced punch, or the beautiful look of this drink. Either way, this drink is fun to create and is so satisfying to drink.  If you are having guests over, make some of this drink ahead of time to add an inviting smell to your home. Your guests will go back for more and more of this wonderful tasting hot beverage. But, be careful, after you've tried this drink, you might not want to share it.
If you like cozy homemade drinks, try some of my other drink recipes, like:
Warm Wassail Ingredients:
2 cups of apple juice
2 Cups of Cranberry Juice
1 Cup of pineapple juice
2 Tbsp of brown sugar
1/2 tsp of cloves
1/2 tsp of allspice
1/2 tsp of cinnamon
2 cinnamon sticks
1 round coffee filter
1 twist tie
Tips and Tricks for making Wassail
if you don't have a mulling bag you can use a coffee filter and a twist tie
you can substitute whole cloves for ground cloves – but whole cloves are preferred
Occasionally stir the warm drink so the spices can release into the drink
This drink tastes even better if the spices can sit in the juice overnight.
Print
Mom's Wassail Recipe (the Best!)
Author:
Prep Time:

5 minutes

Cook Time:

25-30 minutes

Total Time:

30 minute

Yield:

10

-

12

servings

1

x
2 quarts of apple juice
2 quarts of Cranberry Juice
1 quart of pineapple juice
2 Tbsp. of brown sugar
1/2 tsp of whole cloves – you can substitute ground cloves
1/2 tsp of allspice
1/2 tsp of cinnamon
2 cinnamon sticks
1 round coffee filter or mulling bag
1 twist tie
Instructions
Lay a coffee filter onto a flat surface
In the center of the filter, add brown sugar, cloves, and allspice
Pull the filter up and around the spices, creating a spice bag
Secure with the twist tie
In a large pot or slow cooker, place cinnamon sticks, and add juices
Next, add the spice bag
Over high heat, bring the drink to a boil
Lower heat to simmer
place a lid on the pot
Allow simmering for about 20 minutes or longer
every once in a while, move the spice bag around – making sure the spices are released and mixed into the cider
Notes
**This drink tastes even better if the spices can sit in the juice overnight.
Serve hot. Add a cinnamon stick for a garnish, if you wish
If you are using a slow cooker, place on a low setting with the lid on and cook until warmed through
~Melissa
KidFriendlyThingsToDo.Com –