This Cauliflower Mashed Potatoes Recipe is rich in flavor. With chicken broth, cheese, and sour cream,  you'd never guess it was cauliflower and not potatoes. A delicious side.
Cauliflower Mashed Potatoes
Are you looking for healthy sides? Try some of my other recipes, like: 
You'll Need:
1 Medium Head of Cauliflower – cleaned and cut into pieces
1 T of cream cheese
1/4 c of grated Parmesan Cheese
1/2 t of minced garlic
1/8 t of powdered chicken bouillon
18 t of ground black pepper
1/4 c of sour cream
1/4 c of grated mozzarella cheese
2 T of butter
1/2 t of salt – hold off on this extra salt until you taste the finished product. There may be enough saltiness from your bouillon.
Now,
Using a Double Boiler, Steam on medium heat for about 5 minutes, or until cauliflower is tender.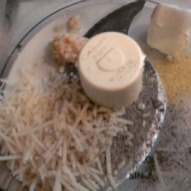 Using a blender or food processor, add cream cheese, Parmesan cheese, garlic, bouillon, ground pepper, sour cream, mozzarella cheese, and butter.
Puree the above
Add cauliflower, a little at a time, until all of the cauliflower is pureed
Taste to see if you need to add the 1/2 tsp of salt before you add it. Then, go ahead and salt to your taste.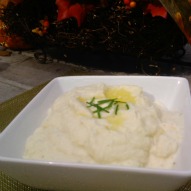 ~Melissa – KidFriendlyThingsToDo.Com