Make this Dove Craft with handprints for wings as a follow up to a lesson on peace, as a Martin Luther King Jr. day craft, Sunday School Craft, and more. So easy and adorable.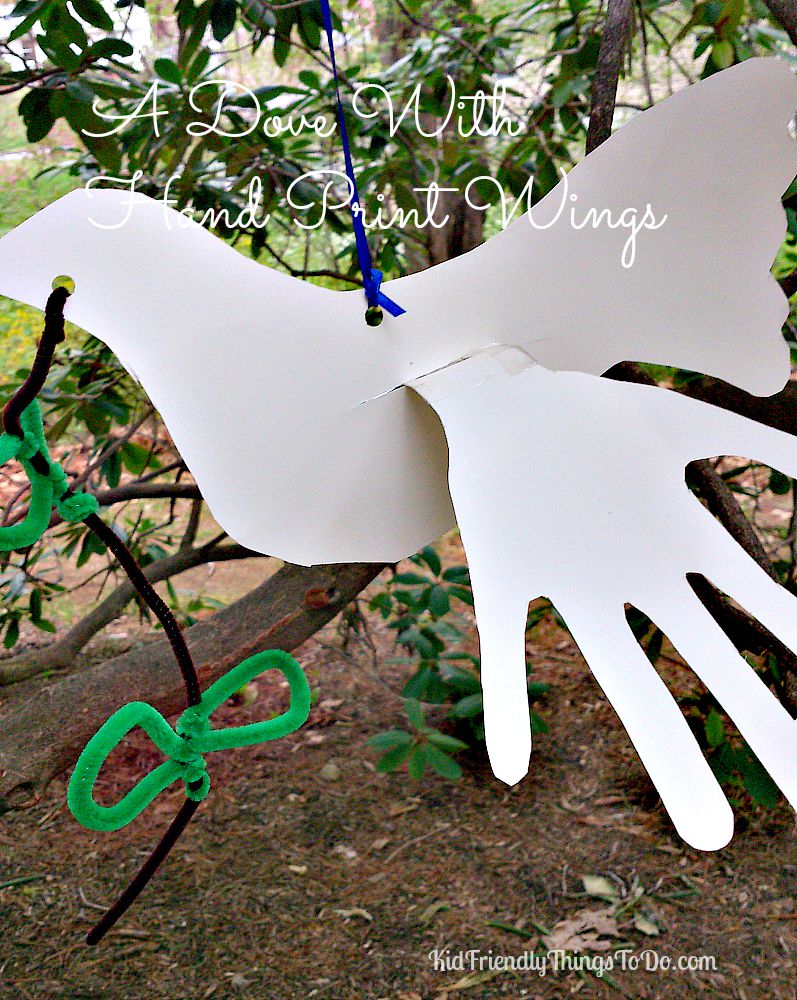 Dove Craft with Olive Branch for Kids – Handprint Craft
Are you looking for handprint crafts? Try some of my other posts, like:
This dove was such a wonderful craft for our Sunday School lesson, yesterday. Our story was about the two brothers, Esau and Jacob, that had a falling out. We used this craft to reinforce love and peace with each other. I think this would also be a wonderful Noah's Ark craft. Or, just a craft to reinforce peace – (something we've been discussing in our sibling rivalry family). This is what we did to make this sweet dove with child handprints for wings:
You'll Need:
Thick white paper like card stock 11×17
Green and Brown pipe cleaner for the Olive branch
Ribbon to hang the dove with
Hole Punch and Scissors
Instructions
Using a large piece of thick white paper  11×17 – I made the shape of the bird's body
*You can use the template below
Dove Template   Here's the template – my first attempt at making you a template. Don't forget to enlarge the image to fit.
Click on the image so you can print it off – you may have to click twice to get it to a large enough size for you 🙂
The kids used this as a template to trace their own
Then we traced hand-prints that were palms together – leaving a little space between the palms (about an inch)
We cut the shapes out and cut a little slit on the dove, in the spot where the wings would go
We folded one hand to fit through the slit and then unfolded it after it was through
We made Olive Branches out of pipe cleaner strips and punched a hole in the beak of the bird to fasten that
Then we punched one more hole for our ribbon to hang the dove
That's it. A sweet keepsake craft. 🙂
Here's some stuff you might need or even want for this craft 🙂
affiliate links:
[box] [/box]