A Kindergarten Graduation Idea for kids to make – Or an End of the year craft for any age. Self Portrait cut out with graduation cap. So cute for every parent to cherish.


Kindergarten Graduation Idea
Are you looking for End of the School Year Crafts? Check out some of my other ideas, like:
I love teachers! Especially the ones that realize how important sentimental gifts are to us. My son's first-grade teacher went over and above making scrapbooks and crafts. I love that. This little graduation cut out is made to resemble my son. The hair is blonde and the eyes are blue, just like my little first grader. There is a real tassel hanging from the hat. And the little writing paper on the robe says: I am proud of myself because in first grade I… This is followed by little first-grade writing.  So cute.
I think this is a wonderful sentimental craft for all grades! How cool would it be to have one for each year of elementary school lined up at their high-school graduation party? To see their handwriting and ideas change from year to year – Priceless.
Here's a close up of the writing sample.: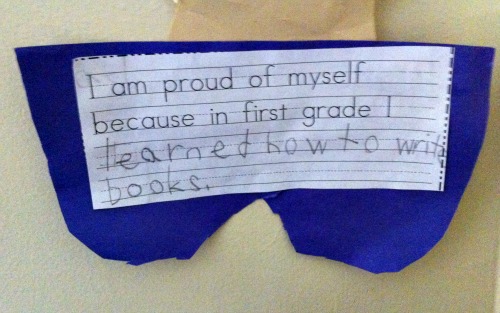 Precious, indeed. Change it to fit your child's grade.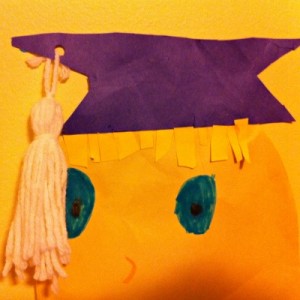 Tassel Made From Yarn,
Hair – construction paper cut in pieces and glued under the cap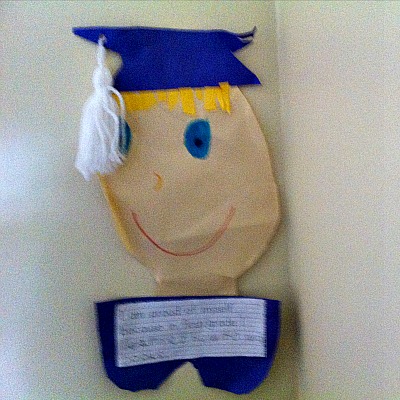 Melissa – Kidfriendlythingstodo.com – kid-friendly crafts, fun foods, party ideas, and fun things to do with the whole family!