Lots of Cinco De Mayo Ideas – Kid Friendly Things To Do .com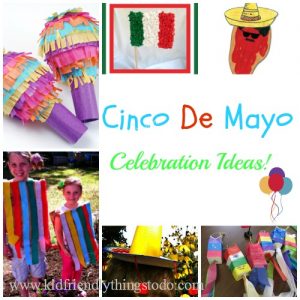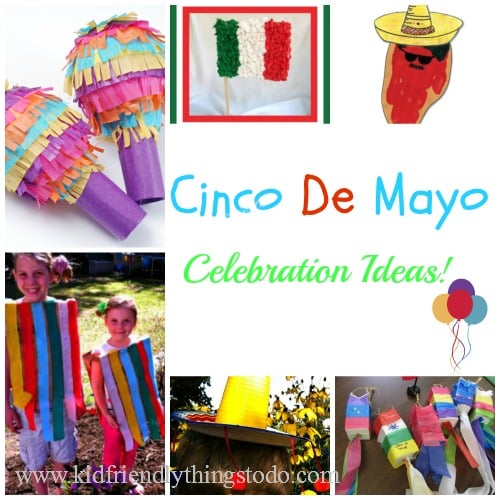 Posted by Melissa in Arts & Crafts, Cinco De Mayo, Game Ideas | 0 comments
I love celebrations, especially ones that provide opportunity for so many colorful, and fun crafts! Cinco De Mayo is coming soon. Here are some fun Cinco De Mayo party ideas that I've found around the web, and some you can find right here, at kidfriendlythingstodo.com!:
I found this picture on Pinterest, who provided a link to lesson plans!
Sadly, I could not locate the page for instruction, but…it looks like streamers were wrapped around, and glued to milk cartons. A hole was punched through the bottom, and some streamers were pushed through, and glued to hang down. Cartons were left open on top, and hole punched. String was tied through the holes for hanging.
School cafeterias are really good about donating milk cartons. All you have to do is ask! If the cafeteria hasn't already…Don't forget to open the tops, and run through a dish washer cycle to clean.
Here's the source for this one – kiboomu kids
Maracas! So fun! Find the instructions here at She Knows!
Cute stuff here! I am a sucker for a hand print craft! This one is linked to The Mailbox!
This page was also missing! 🙁 Hopefully, you can use the image above as inspiration!
Here's a fun poncho made from paper bags! You can find the instructions for this one, right here…on kid friendly things to do
A sombrero to go with the poncho! Awesome! This one is also found here, at kid friendly things to do
That's it, for now! Check back later for more inspiration on your Cinco De Mayo celebration!
Don't miss a thing! Follow along for more crafts, recipes, party ideas, and more!
~Melissa – KidFriendlyThingsToDo.com