This an easy butterfly craft you can do with your kids. You can use it to decorate for spring, or as an Easter craft.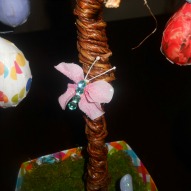 Silk Flower pulled off of the stem- One with 4 petals
A painted & (optional) glittery clothespin – I found little white glittery clothespins in the wedding aisle of a craft store
Floral Sprays – These resemble butterfly antenna, and are found in the wedding aisle of craft stores
Spray Adhesive
Glitter – I prefer extra fine glitter
Self Adhesive Gems
Now, here's what you'll need to do:
Place your flower on a protected surface
Spray with adhesive
Sprinkle glitter
Bend a floral spray in a V shape, so antenna ends are at the top of the flower, glue the V to the flower.
Place your clothespin on the flower, going between the 4 petals – 2 on each side – pinching it together so it forms a butterfly shape with the antenna sticking out of the top.
Add gems to the clothespin
You're Done!
~Melissa – KidFriendlyThingsToDo.Com