When we go to one of my favorite restaurants, Cracker Barrel, the kids head straight to the checkerboard! I've always wanted to create that big porch with rocking chairs, so we can have the same checkerboard experience at our home. So… when I saw a picture in a magazine with a homemade checkerboard made out of material, paint, and soda tops, I knew I had to create a version of one myself!
We are having so much fun, and making lots of family memories with this homemade checkerboard! Here's what we did to make our checkerboard! **Oh, and NO SEWING REQUIRED – YES!!!
For this DIY checkerboard craft, you'll need:
A16x16 inch piece of white material as a background
(32) 2×2 inch colorful material pieces as the checkers squares – I used 2 Handkerchiefs this time, but I have used random fabric before. Either way is beautiful and examples of both are below
Glue gun or Fabri-Tac Glue
8 bottle caps + 8 different colored bottle caps
I used Fabri-Tac Glue to Glue the 2 inch squares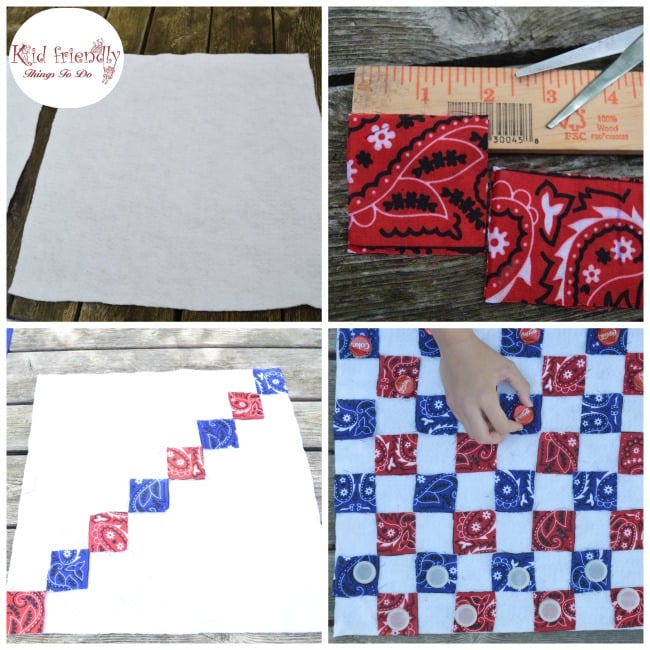 I started in the top left corner, and made a diagonal line with my colorful squares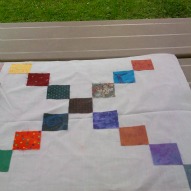 Then I went down to the 4th square and worked my way into another diagonal line creating an X
Then I just filled in the rest
Watch the video below for a better visual
Here's our latest checkerboard made out of Handkerchiefs!

The kids absolutely love this game and I love seeing them play together