This dessert is "the bomb"! Wow! What an amazing combination of flavors. Simply delicious! Tuck this recipe away for those beautiful summer nights! You'll be so glad you did. Here's the recipe for Grilled Peaches With Balsamic & Honey Ice Cream Sauce:
Grilled Peaches With Balsamic & Honey Sauce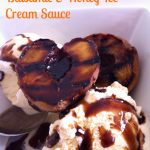 1/2 cup

of balsamic vinegar

1/2 cup

of honey

1/8 tsp

. salt

6

medium peaches, halved and pitted
Vanilla Ice Cream, such as Edy's
Instructions
Using a small sauce pan, pour the vinegar, honey, and salt in
Over low/med. heat, stirr the ingredients until well blended
Take about 1/4 cup of the sauce out for basting purposes
Continue to cook the rest over medium heat, letting it boil, stirring often until the glaze thickens – about 5 more minutes
Apply a small amount of oil to the grill rack
Baste the peaches
Over medium heat, place the peaches down, and leave them alone to get the grill marks
Leave them to cook for about 6 minutes on both sides with the grill lid down – basting occasionally
Serve the peaches over ice cream with glaze
This recipe was adapted from Taste of Home. Find the origanal and more at
TasteOfHome.com
Some Grilling Ideas That Would Be Useful With This Recipe
[box] [/box]
Don't forget to follow along for more recipes, crafts, and ideas! Sign up for my free newsletter to get posts delivered straight to your inbox!
[box] [/box]