Here's an idea I saved from the kid's School Valentine exchange! I thought this was so cute, that I wanted to pass it along!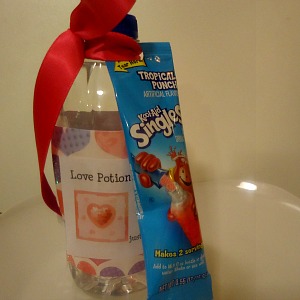 Kool-Aid Love Potion Valentine's Day Gift Idea
Here's What You'll Need for this gift idea…
small water bottles – one for each recipient
a box of Kool-Aid Singles (enough singles for each recipient)
Thick paper for the printer
Instructions:
Pair each water bottle with an individual Kool-Aid mix packet
Type a note that says…
Love Potion. To:                                 From:            
…just add Kool-Aid packet to the bottled water – close lid tightly – shake to mix the potion
Print your typed message off – as many as you'll need
Cut the note into a rectangle – long and wide enough to fit over the original water bottle packaging
Glue the love potion note over the water bottle label
Tie the Kool-Aid packet to the bottle.


~Melissa – KidFriendlyThingsToDo.Com – recipes, kid-friendly crafts, party ideas, holiday ideas, fun foods, and fun things to do with the whole family!