I'm back at it again. I loved the Easter twig wreath so much, that I thought I'd try another one for Spring! I bought some silk flowers at Michael's Craft Store and got to work. Here's what I did to make this colorful wreath.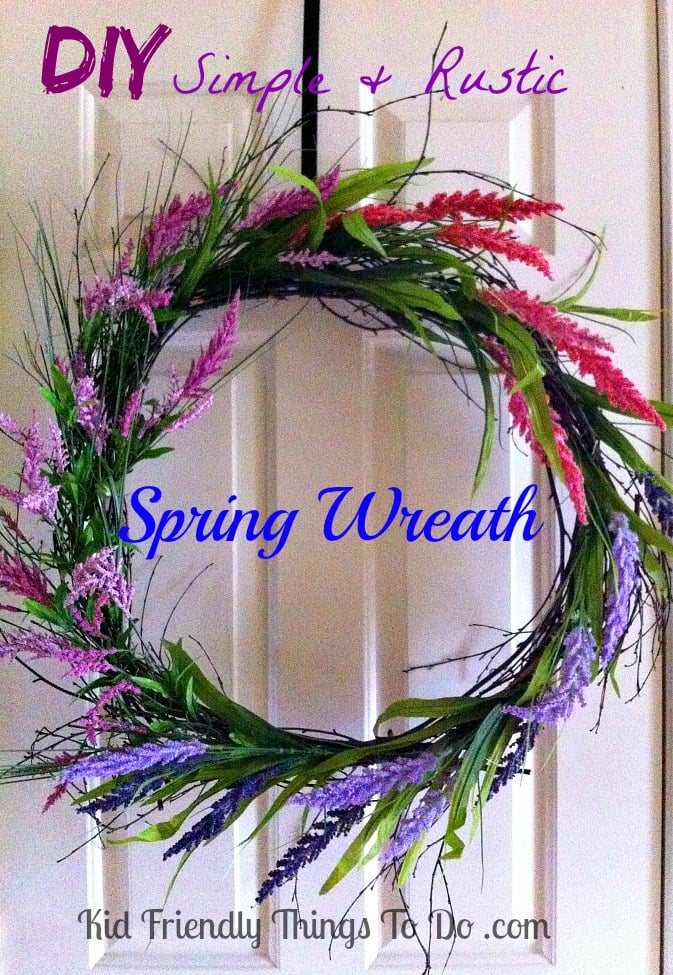 DIY Spring Wreath
Are you ready to make this spring wreath? Let's make sure you have everything you'll need…
Supplies Needed
Silk Flowers – I bought 3 sets. Each set had about 15 flowers. I tried to find 3 colors of the same variety with a Cone Shape
Twigs (lots)- I used river birch and willow from my yard – they have a nice bend to them
Floral wire – something similar is fine, but make sure it blends in like a dark green or brown
Wirecutter
Hot glue gun/glue
Top Amazon Picks for this spring craft idea…
(affiliate links)
[box] [/box]
I made this back when we had snow on the ground. The twigs were nice and wet, which is apparently how your twigs should be to make them pliable.
I didn't know that at the time. I dried mine in front of the fireplace. They held their shape just fine, but keep the wet twig idea in mind for your wreath. You'll have to really submerge them in water for a while – (bathtub, or bucket)
Moving on…I shaped the twigs into a circle, using tons of twist ties to hold them together. This is my first layer. I came back around with one or two more layers to thicken it up a bit
The inside of my wreath is about 15 inches in diameter
This twig base sat around my house for a couple of weeks before I added decorations, and by the time I was ready to tackle it, I had found my green floral wire
I replaced the silver twist ties with the less conspicuous green wire – much better
Then, I just used wire cutters to cut the stems of the silk flowers and pushed them into the wreath, all grouped in colors and facing the same way so they look like they are  a circle of flowers
I used hot glue to secure them in place
That's it!
~ Melissa – KidFriendlyThingsToDo.com