These beeswax shaped candles can be made for any holiday to give out as gifts. Kids love to shape the beeswax into fun shapes and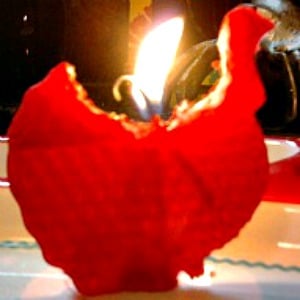 Beeswax Candle Making
I had intended on giving these out as gifts, but the kids beg to light one every night. We started out with at least a dozen, and we are now down to 3. So much for gifts.
With a little help from an adult, these are super fun and pretty simple to do.
Let's make sure you have everything that you need for this fun activity. Here's what you'll need to make some fun shaped candles for yourself or for gifts
Beeswax Sheets – I had some leftover from teaching a colonial unit. But, I remember ordering them online from a company in Canada!
Cookie Cutters
Wick – we used the type with a wire so we could stand the wick upright. I bought this at Michael's Craft Store
Wax Paper
Scissors
Instructions: 
Great Classroom Party Craft – Easy to do, and kids love working with cookie cutter shapes – Adapt it for any Holiday – Just plan ahead and order the colored beeswax sheets, have a cookie cutter for each child.
Give each child a piece of wax paper as a work mat – This way the candle won't stick to your table
Stack Beeswax sheets together, using at least 4 pieces.
Use your cookie cutter as a guide to cut out a square for each cookie cutter. My kids picked out their cookie cutters in advance, and I customized squares to each cookie cutter.
Then for each square/rectangle separate your Beeswax sheets down the center. You should have before you, 2 squares each with 2 sheets of beeswax.
Cut your wick so the wick will run down the length of your square and have an inch sticking out of the top.
Place the wick down the center of one stack of beeswax – I told the kids we were making a wick sandwich!
Put the 2 halves of beeswax sheets together with the wick in the middle.
Line up your cookie cutter, and push it down through the 4 sheets of beeswax
You may need to trim some with scissors. Our cutters did not always cut through the entire shape.
So many designs! So fun!
~ Melissa – KidFriendlyThingsToDo.Com –  A site providing kid friendly recipes, crafts, birthday ideas, and fun ideas! Plus, fun things to do with kids in Connecticut, Rhode Island, and Massachusetts are reviewed including pictures for a better visual!