I think this DIY Rustic Easter wreath could really be used all Spring or just as an Easter wreath. Easy to make with inexpensive supplies.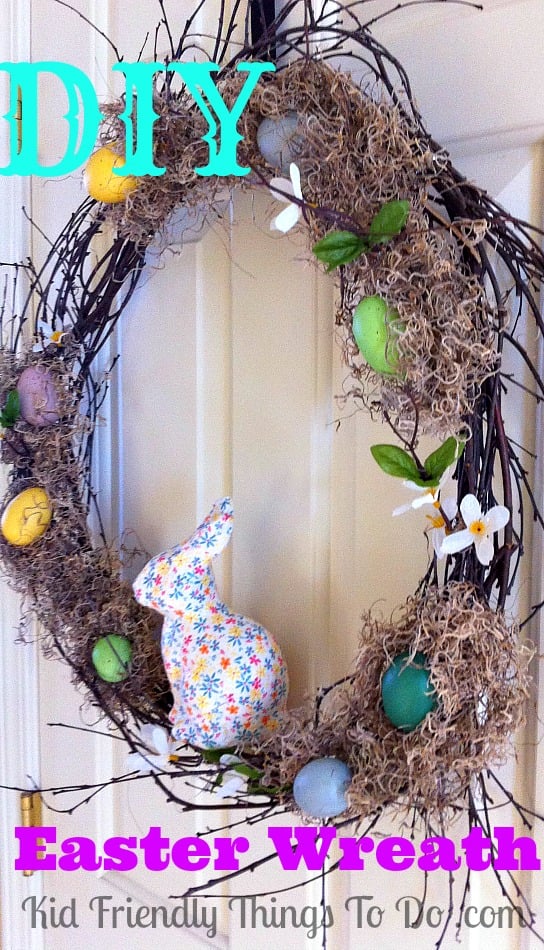 DIY Rustic Easter Wreath
I'm no wreath expert. I believe the only other wreaths I've made are Halloween Wreaths. But, y'all, it's really drab outside, and my house needed something cheerful on the front door. It needed a wreath. Unfortunately, it wasn't in the budget to buy the wreath that I really wanted.
Really, I had no choice, but to make my own. I even gathered my own twigs. Well…, ok, I asked my husband to do it, but close enough. In no way am I comparing this Easter Wreath to some of the design blogger's wreaths, but I really sort of, love it. I think it's pretty cute, rustic, and fits my decor.
So, let's talk cost. I already had the Spanish moss, twist ties, and silk flowers. My total cost aside from those products is $5.50! Even if I added in the Spanish Moss and flowers…I'd still be under $15.00 If you don't mind gathering branches from trees, and shaping them into a circle, this might just be the wreath for you. Here's what I did, and where I purchased my stuff for my DIY Rustic Easter Wreath:
For this wreath, You'll Need:
Supplies for Easter Wreath
Lots of long twigs – about 2 ft. in length – I used twigs from a River Birch.
Crafting Wire or Twist Ties
Glue gun and glue sticks or an alternative glue to secure items
Speckled Bird Egg Bag – I found mine at Michael's, but I also found some at Amazon – the link is below. If you get them at Michael's, don't forget to take a coupon.
Bunny – I found mine in Target's Dollar Bins $3
Spanish Moss
Silk Flowers
Some Suggested Items For Your Wreath 🙂 I paid around $2.50 after I used a coupon, for the eggs. I wish I had seen these cute supplies on Amazon. And, don't get me started on wanting those tulips.
(affiliate links)
[box] [/box]
Instructions: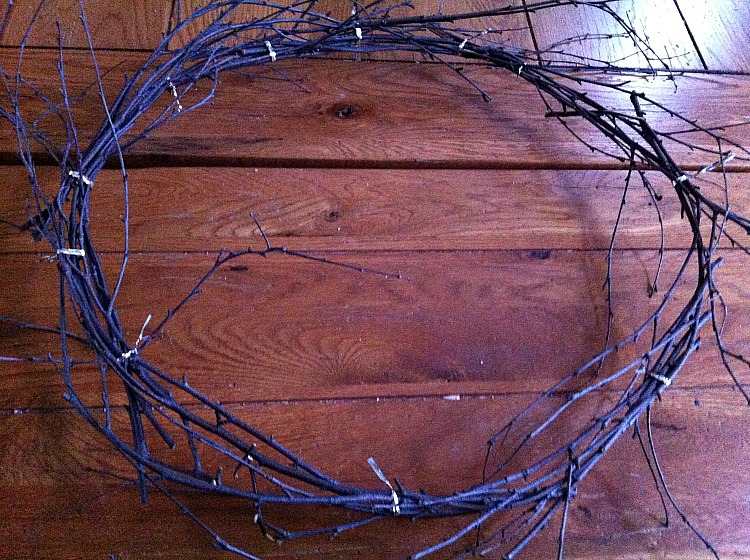 My husband gathered twigs in our backyard. They are from River Birch and Willow Trees. They are perfect because they will bend easily. Try to find twigs that are not brittle, so you can bend them
My twigs were submerged in snow, so I set them in front of the fireplace to dry. Apparently, you are supposed to use wet twigs to make it easier to shape them. Oops! They still curved for me
Once you've gathered your twigs, shape them into a large circle and secure them with twine or twist ties
This is my first layer. I went back around with more twigs to make it full and really twiggy.
I kept the stray ends sticking out. I liked the wispiness of it
The inside diameter of my circle is about 15 inches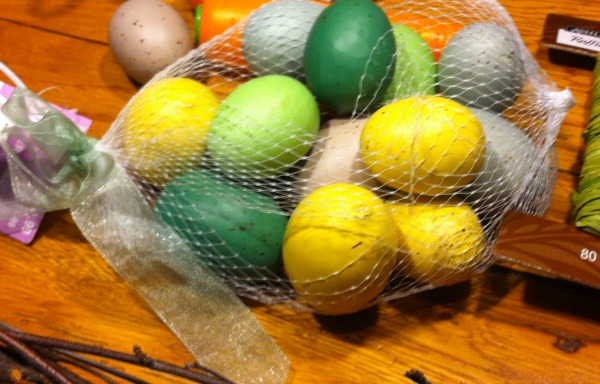 The hard part is over. Phew!
Now add your decorations.
I chose sections of my wreath to decorate, leaving some twigs exposed in their bare form
I glued the eggs first
I wrapped Spanish Moss around them making them look like they are in nests
I also added more Spanish moss between "nests" to fill that section up with "stuff", and hide my silver twist ties
I stuck a few flowers in here, and there
I finally figured out where I wanted the top to be and added my bunny – bottom center with glue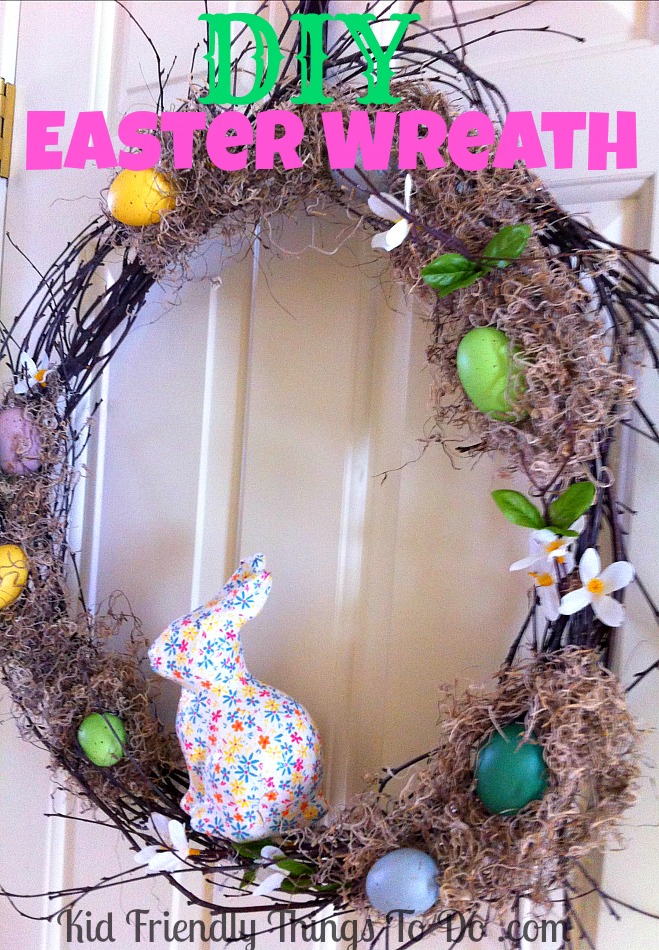 My bunny seems like it's a paper mache-type figurine. It has a sealant over it. I'm a little nervous to see if he is affected by the nasty weather we are still experiencing here, in the Midwest. I'm also curious to see how the glue holds up. I'll keep you posted to let you know how they are all doing in a few days. If this outlasts the Windy City weather, we're good to go!
And, here's my update – Over 1 week later, everything looks perfect. Nothing has succumbed to the nasty weather. Hot glue works!
I hope I've inspired you to get out in your yard and start working on your own wreath. I'd love to see pictures, and I'd love to hear about them. Leave me a comment. And…
~ Melissa – KidFriendlyThingsToDo.com