Make some summer memories with a kid-friendly garden. These easy to make garden markers are the perfect way to label the plants that you and the kids have planted in your garden. Come on in and I'll share how to make these Easy DIY Paint Stick Garden Markers with the kids…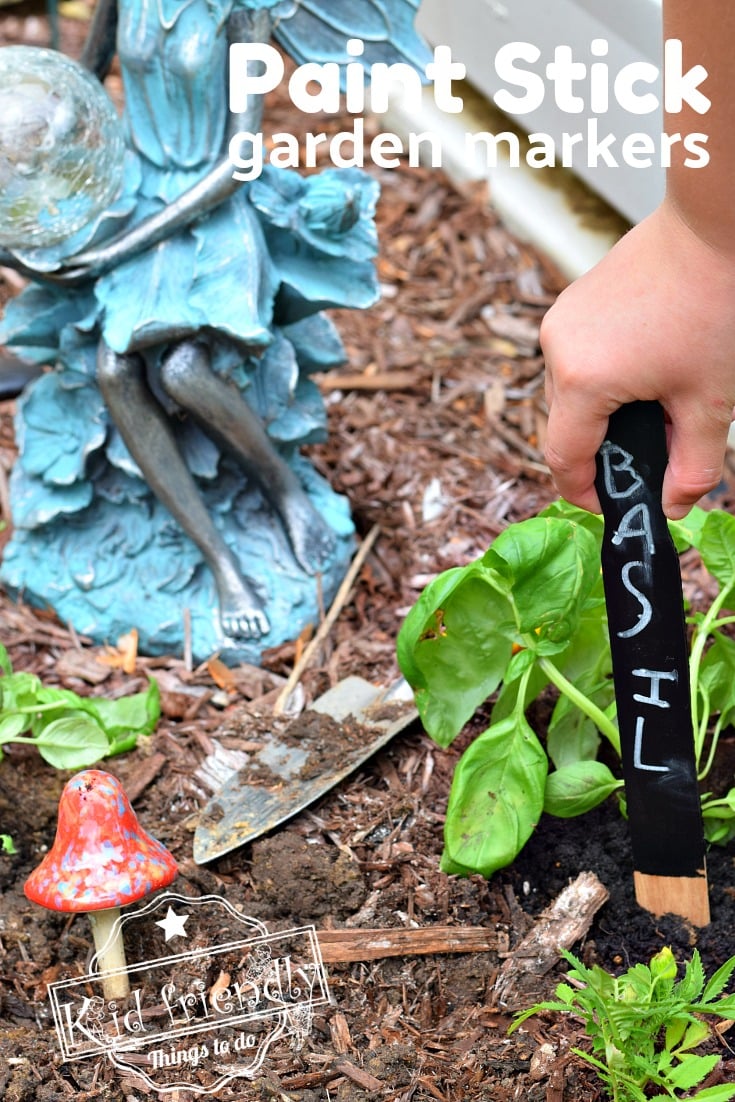 I love walking over to the garden and seeing the kids handwriting on our Garden Markers. They are so sweet.

With all of my past painting projects, I've accumulated a few paint mixing sticks. If you don't have them hanging around, you can also purchase them. I know that Home Depot and sells them for less than $1.00 and Amazon sells them in bulk, as well.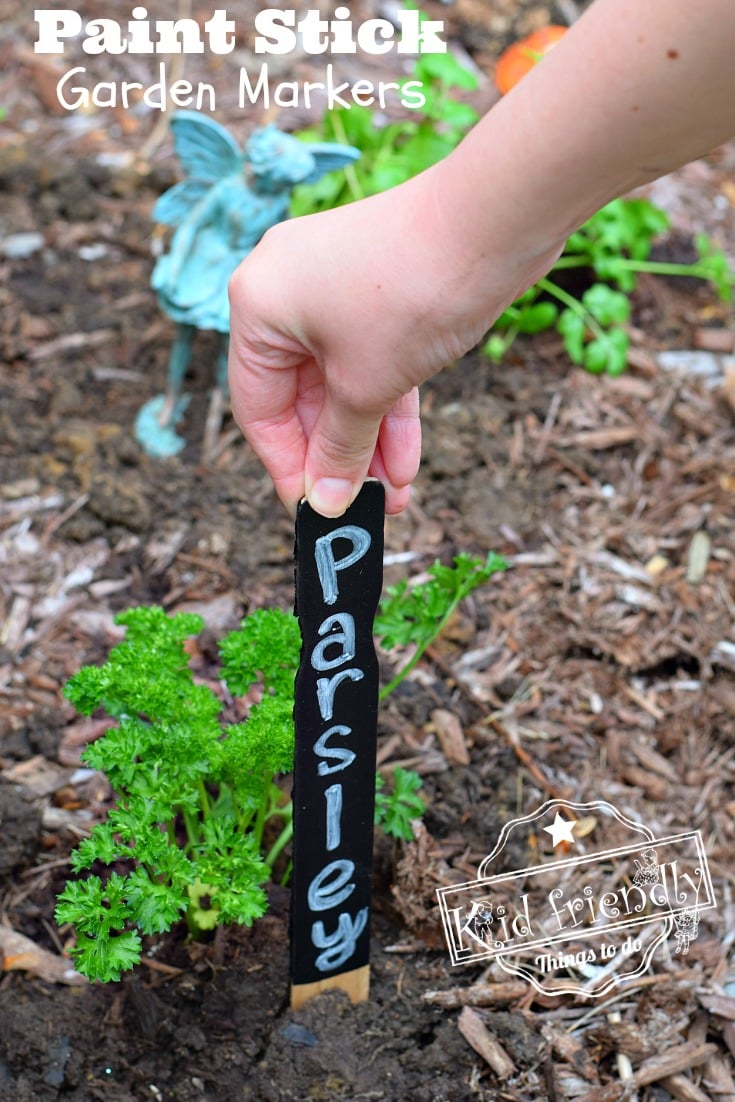 When you are buying your chalk paint, you can also ask one of the store clerks for some sticks to go along with your paint. In my experience, they happily give them away.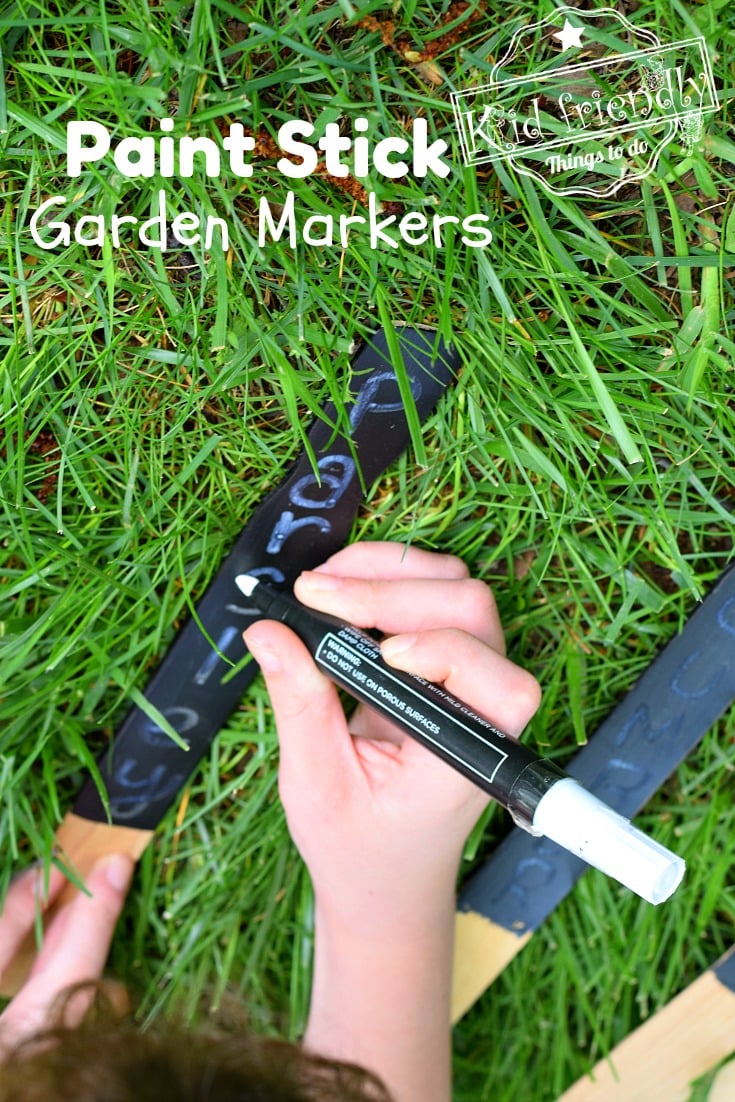 Once you have your paint sticks and other supplies, you'll have labels ready to place in your vegetable garden, in no time.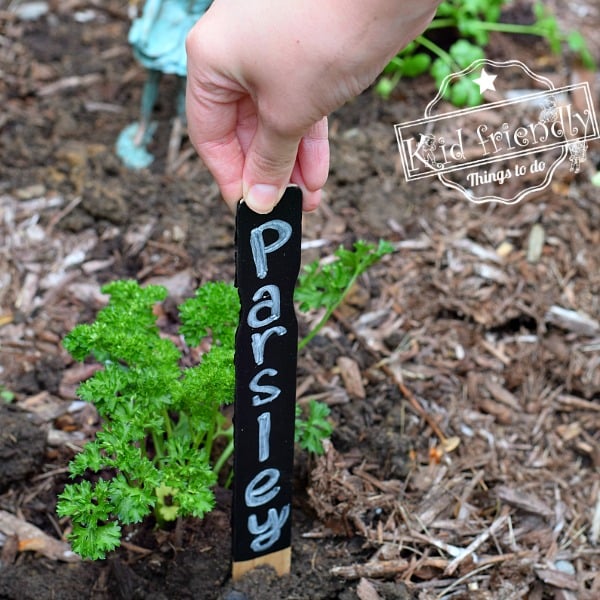 These garden markers are such a fun craft to do with the kids. Kids will enjoy painting and decorating their garden labels.
How do you garden with children?
Let the kids go with you to pick out the plants they want to grow in the garden – squash plants are a fun plant and yields several vegetables, watermelon, strawberries, pumpkins, and tomatoes are more fun garden plants
Designate an area in the garden for the kids to plant their fruits, flowers and vegetables
Help them dig holes for the plants
Let the kids put the plants in and cover root or seed with dirt
Label the plants with a garden marker
Consistently water your plants
Enjoy!
What can I plant with the kids?
Here are just some suggestions for planting a garden with your kids…
zucchini – this is very hardy and yields much squash
tomatoes – cherry tomatoes are fun to pick and just pop in your mouth
cucumbers – they are a lot like the zucchini plant
lettuce – as long as the bunny rabbits don't eat your lettuce, it's a fun plant to watch and nibble on
potatoes – this is so much fun. Take old potatoes that have sprouted. Cut the sections with the sprouts and plant them. Watch them grow!
radish
onions
herbs
flowers for color and fun
varieties of peppers
Here are my top Amazon Picks for this Garden Marker Craft to make with the kids…
(affiliate links)
[box] [/box]
Here's what you'll need for this fun DIY Garden Marker Craft…
chalkboard paint – this comes in several colors, we went with classic black
paint stir sticks
paintbrush – we like to use disposable sponge brushes
white chalk marker
Instructions for Garden Markers made from Paint Stir Sticks…
Place a protective cover over your work surface
paint the pain sticks from the narrow portion of the handle all the way to the bottom
*we just painted one side of the stick
wait for the chalk paint to dry
using the chalk marker, label the paint stir sticks with your plant names
*the chalk marker will look transparent at first. As it dries, it will darken up to a nice bold white
After the chalk marker dries, push sticks into the ground near your plants to label your vegetables, flowers, and herbs
~ Melissa – Kid Friendly Things To Do